21 Accomplishments to Celebrate in 2021
The COVID-19 pandemic has created adversity and uncertainty over the last year and a half, impacting nearly every aspect of life. It has also yielded valuable lessons in resilience. Through all of the trials and tribulations, a few constants kept us grounded: the Greenway NHA landscape that offered outdoor respite for so many of us; the support of our donors; and the power of teamwork and collaboration. Even during such challenging times, so much great work is being done across the Greenway NHA every day, and we hope you are proud to be part of this community!
Around this time each year, we like to pause and reflect on all that we've achieved together. While it's impossible to fully acknowledge every worthy person and accomplishment, we invite you to join us in recognizing and celebrating 21 highlights from 2021!  You can also read about our award winners from this year, along with previous recipients, here.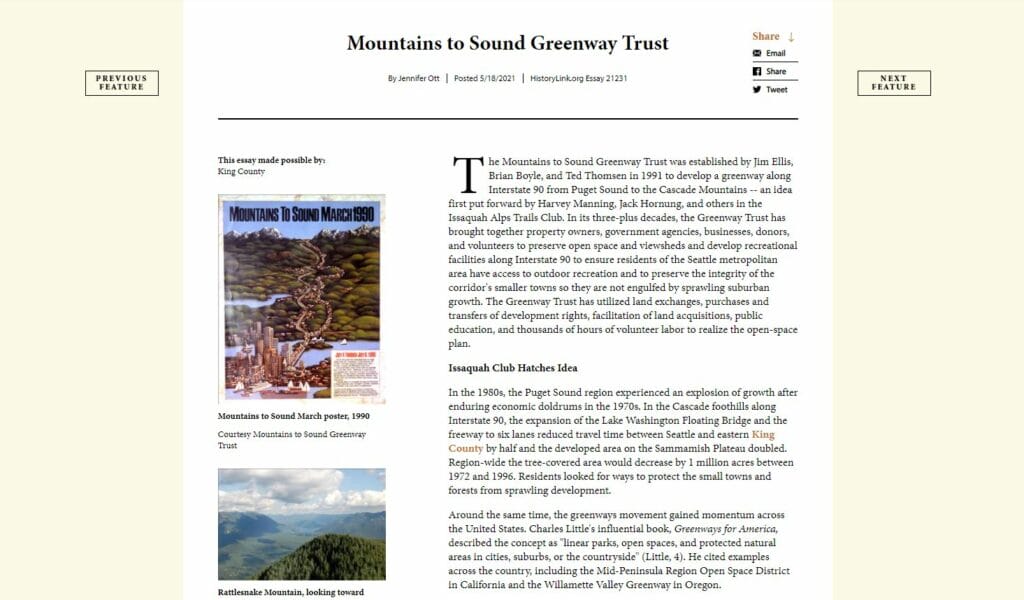 1. HistoryLink Article on the Mountains to Sound Greenway Trust
Anyone close to the Greenway Trust has heard the oft told story of the march that started the Mountains to Sound Greenway some 30 years ago. Now HistoryLink, the local historic preservation website, has published a detailed account about how the Mountains to Sound Greenway Trust got its start, with narratives about many of the major chapters and accomplishments in the organization's history from 1991 through the spring of 2021. Learn more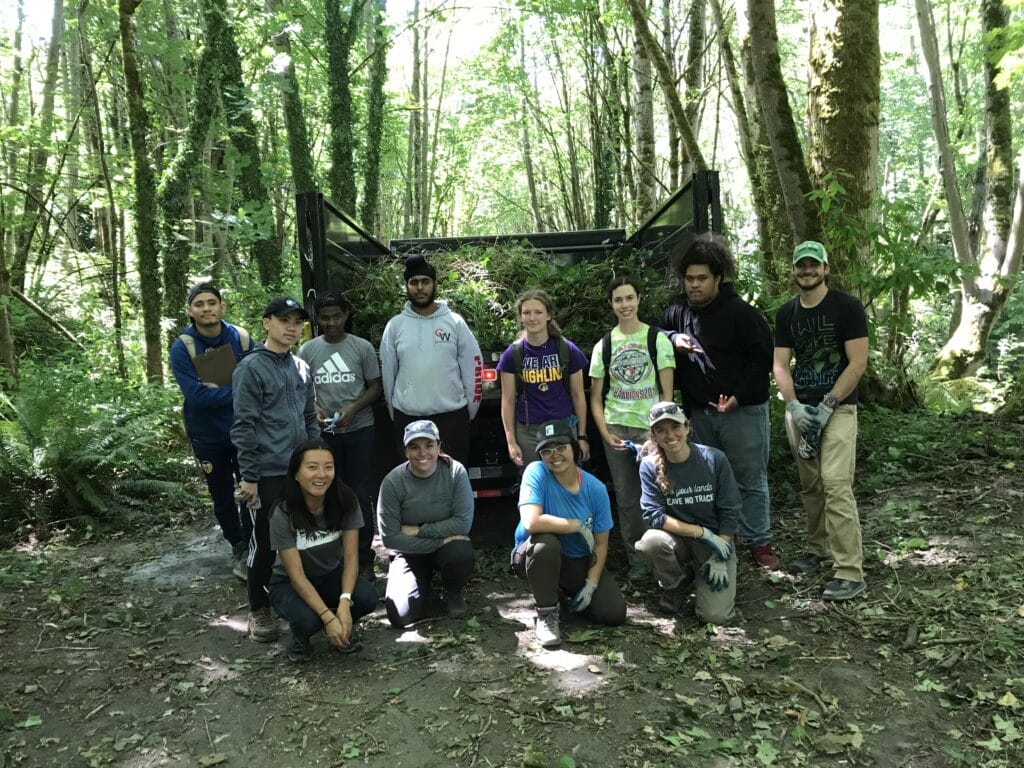 2. Equitable Green Opportunities for Youth in Highline
The Greenway Trust partnered with the Highline School District and Pacific Education Institute to launch a new summer internship. Equitable Green Opportunities for Youth in Highline is building up the next generation of environmental leaders by offering high school students an opportunity to get hands-on restoration ecology experience while earning a stipend and graduation credit. Along the way, they work alongside land manager partners such as the US Forest Service; Washington State Department of Natural Resources; City of Burien Parks, Recreation & Cultural Services Department; and Seattle Parks and Recreation. Twelve students participated in this pilot program in 2021. Learn more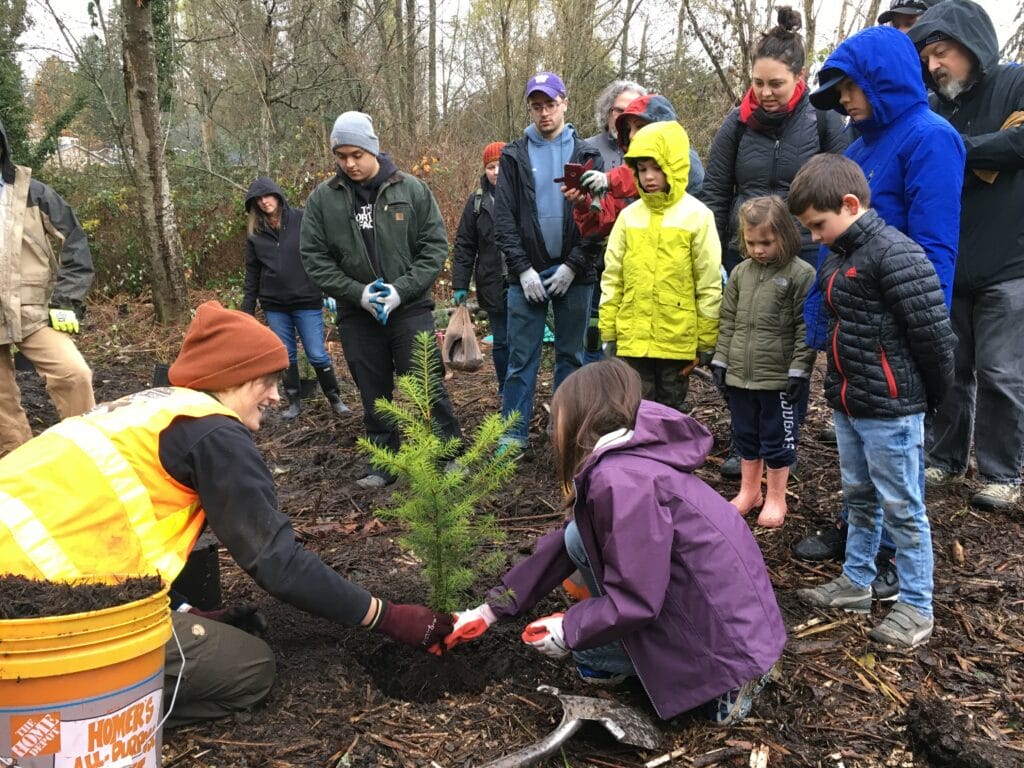 3. Ballinger Open Space Restoration
Ballinger Open Space is a once-neglected natural area in a densely populated neighborhood in Shoreline. For the past 3 years, the City of Shoreline and the Greenway Trust have cleaned out trash, removed invasive weeds, and planted more than 2,000 native conifers and understory plants to restore a streamside forest and make it accessible for surrounding residents. The Greenway Trust also collaborated with City Forest Credits to verify that the restored forest will absorb more than 2,200 tons of carbon emissions as the trees mature, and will sell the credits to help fund long-term maintenance of the site. Learn more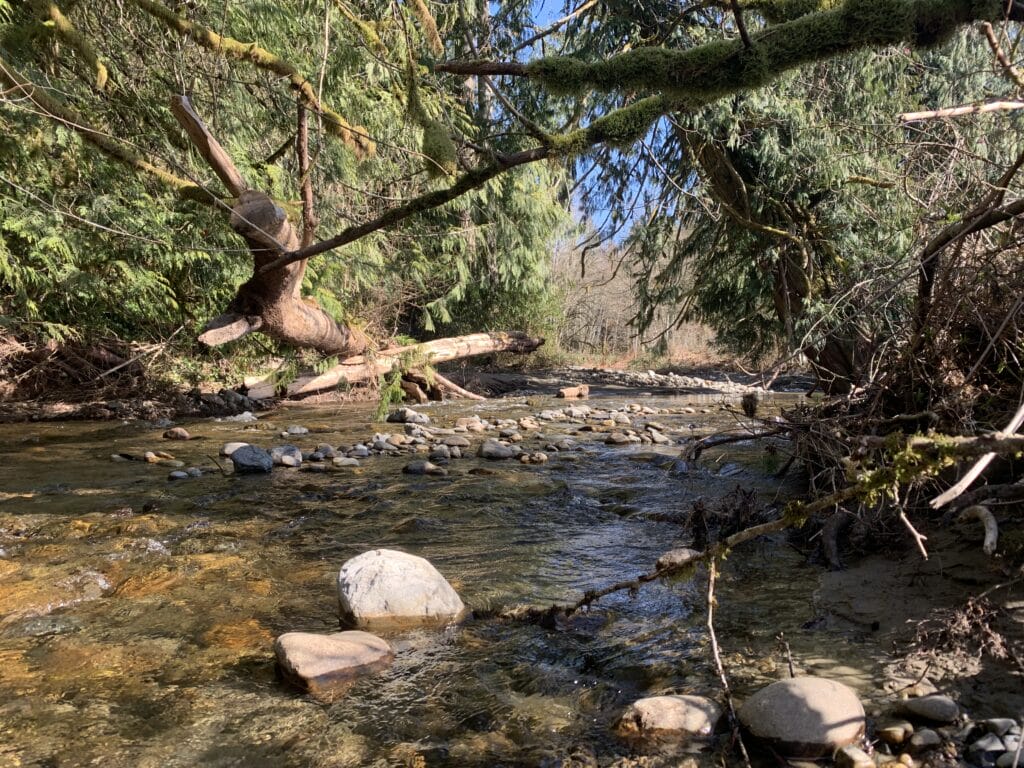 4. Land Conservation Across the Mountains to Sound Greenway National Heritage Area
The Greenway's Annual Celebration traditionally includes many crucial public land acquisitions, and this year is no exception. King County's Land Conservation Initiatives marked several significant accomplishments including 11.5 acres of wetlands added to Carnation Marsh Natural Area; 5 acres of riverfront riparian area along the Snoqualmie River; a 20-acre parcel in Fall City adjacent to the Snoqualmie Valley Trail; 1/3 of an acre between the Little Si Trailhead and Middle Fork Snoqualmie River that protects a small but important wildlife corridor; and 1/3 acre next to Tennant Trailhead Park which will eventually enable a public trail connection from North Bend to Rattlesnake Mountain and Raging River State Forest. Learn more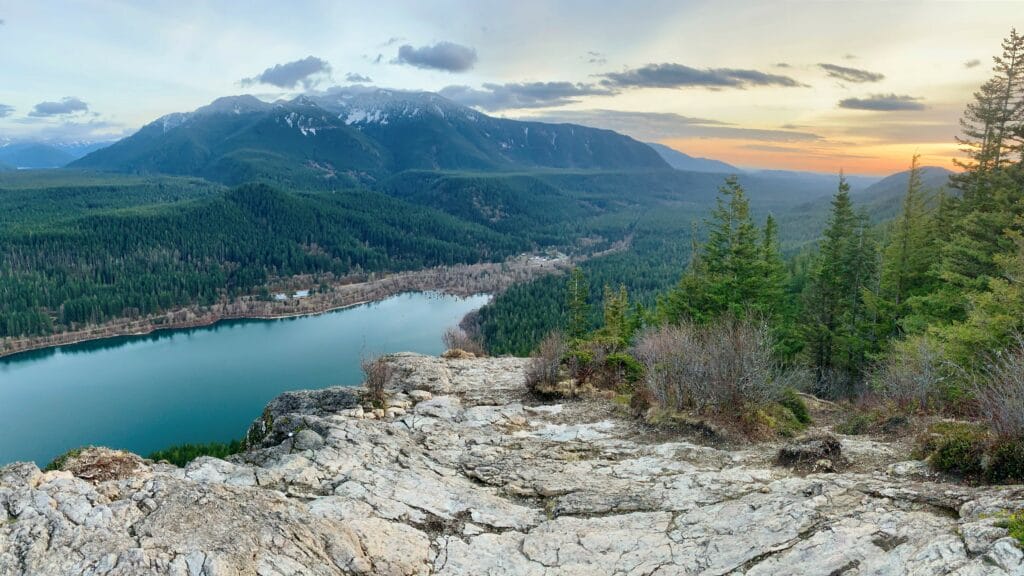 5. Rattlesnake Ledge Trail Improvements Underway
The Rattlesnake Ledge Trail received some much-needed maintenance and improvements in 2021. With more than 300,000 visitors annually, this is an example of a popular trail that has been "loved to death." Seattle Public Utilities, who owns and manages the trail, teamed up with the Greenway Trust, Backwoods Contracting, the Washington Trails Association, EarthCorps, and the Washington Conservation Corps to improve these challenging conditions. The team focused on major trail improvements that protect the natural environment by reducing erosion, protecting existing trees, and planting new ones to improve forest health and provide a safe, sustainable, and positive user experience. Learn more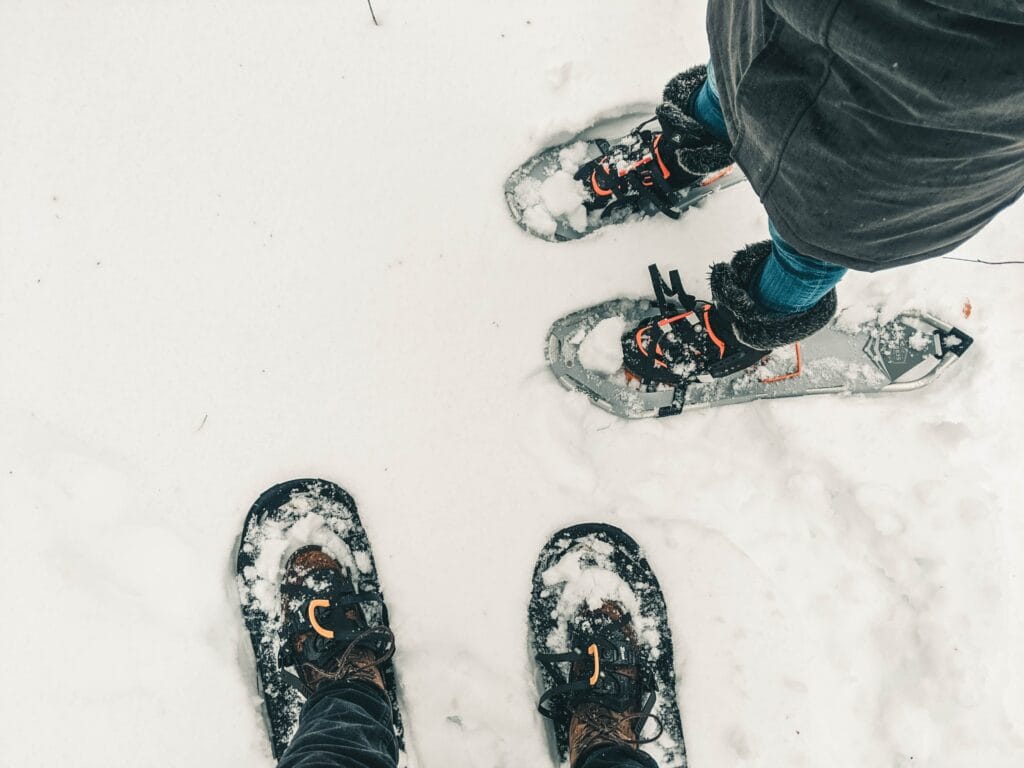 6. Partnerships Lead to Temporary Sno-Parks
Pandemic restrictions meant that more people than ever turned to the outdoors for recreational opportunities, and playing in the snow was an especially popular wintertime activity. When established Sno–Parks along the I-90 corridor became overcrowded last winter, Washington State Parks collaborated with the US Forest Service and Washington State Department of Natural Resources to establish three temporary Sno-Parks east of Snoqualmie Pass at 29 Pines, Easton, and the Cle Elum River Campground. Learn more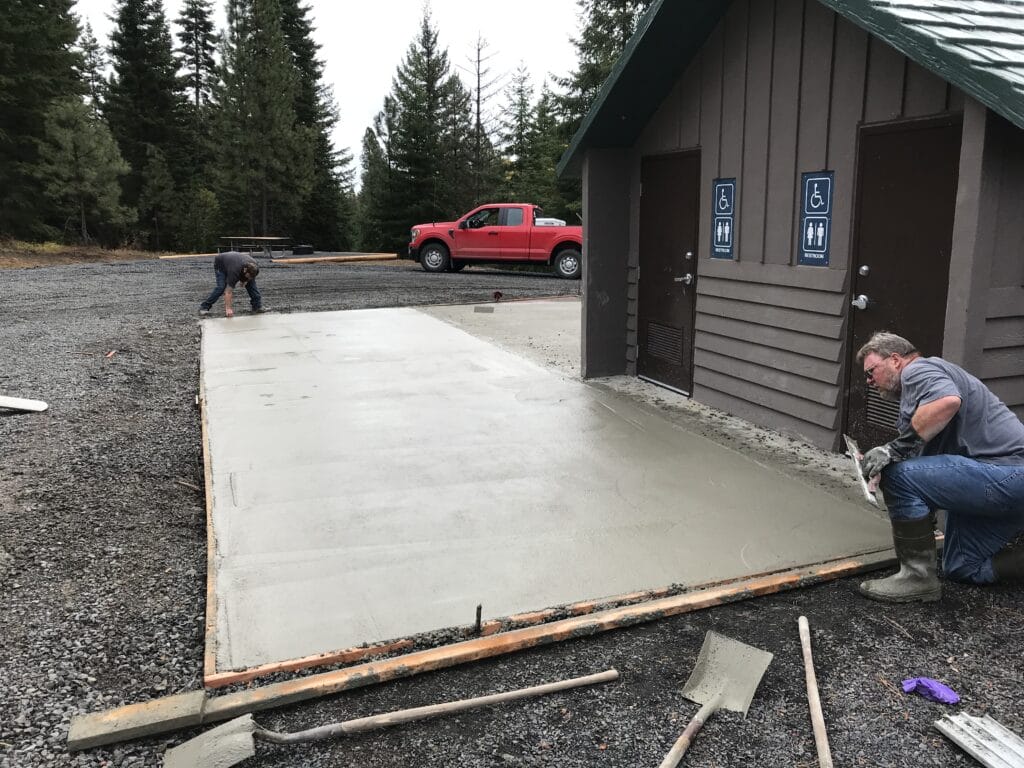 7. West Fork Teanaway and Indian Camp Campgrounds
As the Teanaway Community Forest draws more visitors, Washington State Departments of Natural Resources and Fish and Wildlife (co-managers of the Teanaway Community Forest) have been hard at work transforming two popular camping areas. Utilizing Recreation and Conservation Office funding, they created 67 campsites (equipped with fire rings and picnic tables) at Teanaway Camp on the West Fork. Teanaway Camp also boasts multiple ADA accessible toilets, shared river access sites, and a disc-golf course! Meanwhile, Indian Camp on the Middle Fork was expanded with 8 pull-through trailer campsites, 3 back-in sites, ADA accessible toilets, and a large group campsite, all meant for visitors with horse trailers. The existing mixed-use campsites were upgraded with new fire rings and picnic tables, and an ADA mounting ramp will be added after the snow melts in 2022.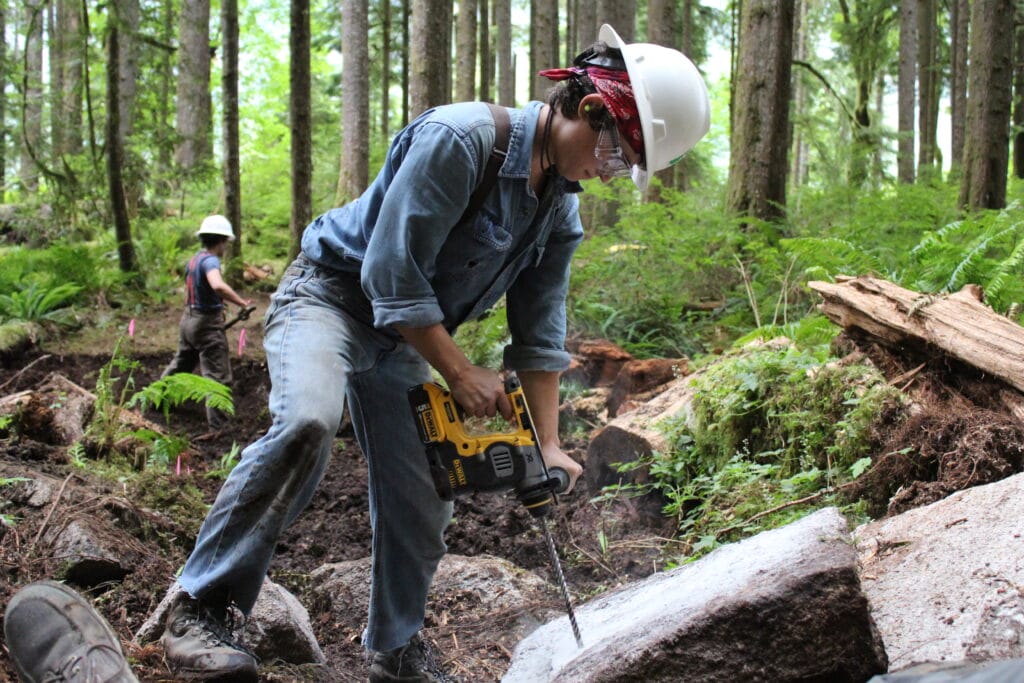 8. Middle Fork Snoqualmie Valley Accomplishments
The Greenway Trust's campaign for the spectacular Middle Fork Snoqualmie Valley seeks to fund improvement of front–country trails, trailheads, sanitation, and signage needed to keep this wild place wild despite its easy accessibility. One of the first projects was rehabilitation of the main Middle Fork Snoqualmie River Trail, but then a landslide washed the trail out in 2018. This fall, the eagerly-awaited re-route of the Middle Fork Snoqualmie River Trail was funded by the Recreation and Conservation Office , and was completed by the US Forest Service, the Greenway Trust, Washington Trails Association, Backcountry Horsemen of Washington, Evergreen Mountain Bike Alliance, Oregon Woods contracting and hundreds of volunteers. This multi-use trail offers day–hike opportunities along the Wild and Scenic Middle Fork Snoqualmie River, and for the more adventurous, connects to a backcountry route across the Cascades through the Mt. Baker-Snoqualmie National Forest and Alpine Lakes Wilderness, to the Okanogan-Wenatchee National Forest. Learn more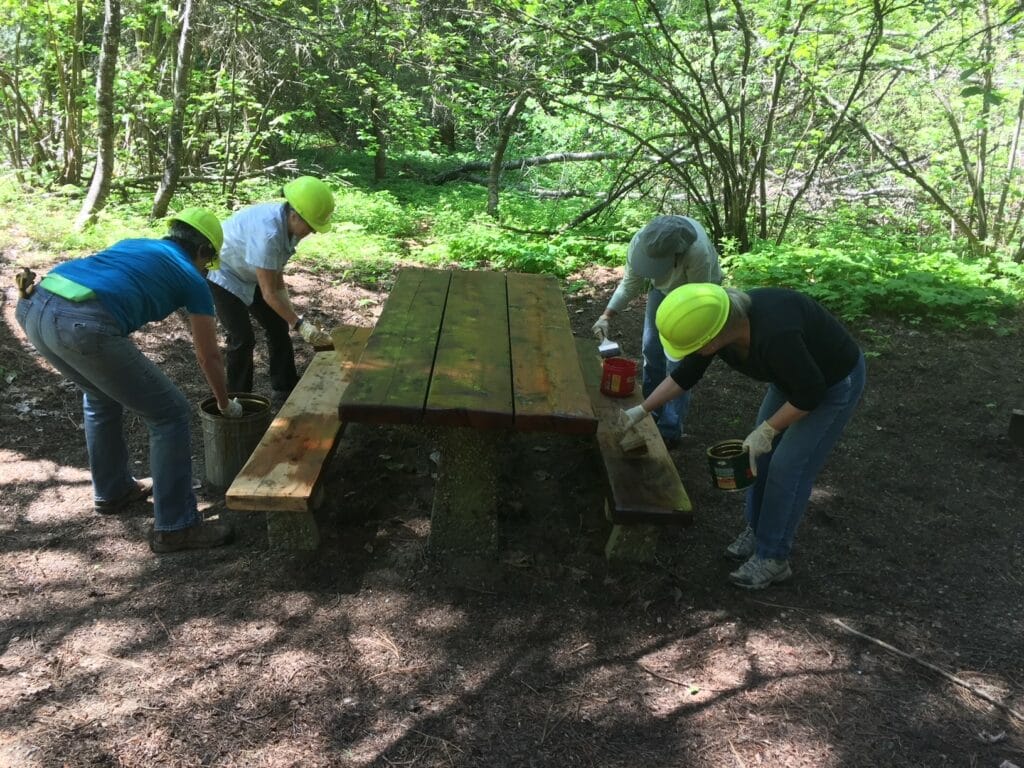 9. Great American Outdoors Act Funding Deferred Maintenance Projects in the Okanogan-Wenatchee and Mt. Baker-Snoqualmie National Forests
In August 2020, the Great American Outdoors Act (GAOA) was officially signed into law, marking a historic investment in America's public lands. Within the Greenway NHA, signed agreements are now in place between the Greenway Trust, the Okanogan-Wenatchee National Forest, and Mt. Baker-Snoqualmie National Forest for a package of projects within the broader "Mountains to Sound Greenway National Heritage Area Multi-Asset Investment Corridor," a collaborative proposal put forth by the two national forests. 
The package includes much-needed maintenance and improvements at popular locations such as Denny Creek and Franklin Falls, Annette Lake, Snow Lake, the new Pratt Bar trail in the Middle Fork Snoqualmie River Valley, Asahel Curtis Nature Trail, and more. Forest Service staff have also requested the addition of bear proof food storage containers, fire rings, and fee tubes for popular campgrounds including Tinkham, and Wish Poosh; road improvements and a new gatehouse for Kachess Campground; trail maintenance work on and near the Pacific Crest Trail; and funding to support youth conservation corps crews, volunteers, and nonprofit partners to help tackle significant maintenance projects.  Learn more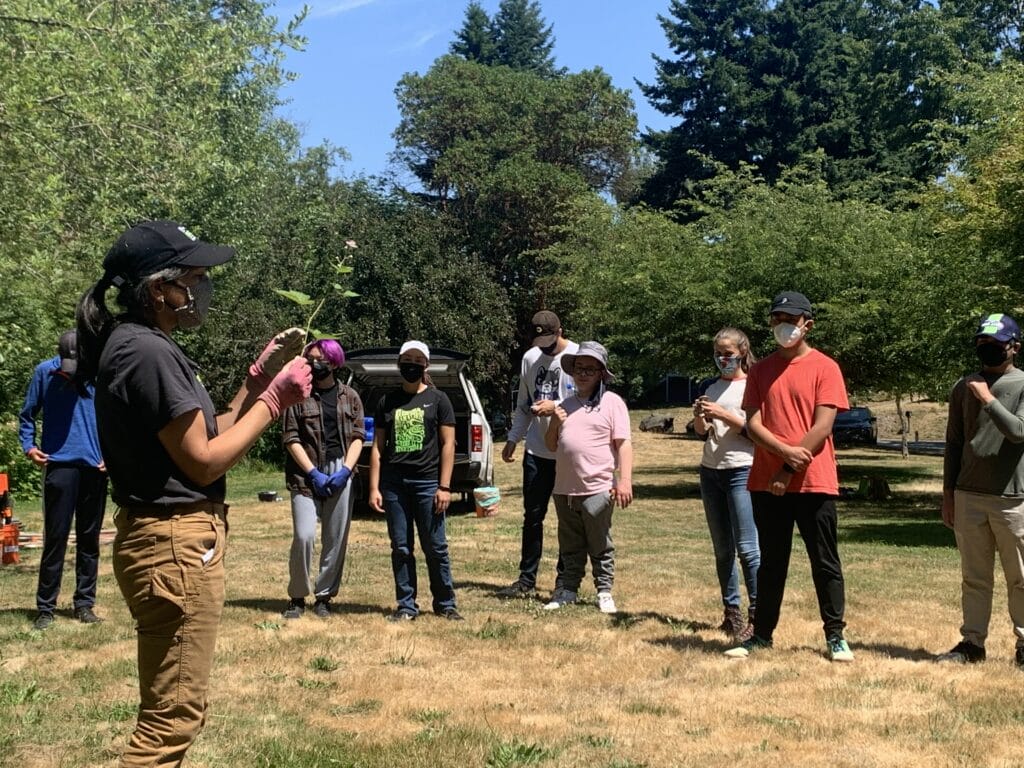 10. Clean Water Ambassadors Program Receives Governor's Youth Employer of the Year Award
2021 was the sixth year that the Greenway Trust has partnered with King County Wastewater Treatment Division to offer the Clean Water Ambassadors internship. This year, it was a four-week online course open to all high school students in the King County region. Approximately 40 students completed the program and 32 professionals joined as guest speakers and facilitators. 
For the first time, we partnered with the Washington Department of Services for the Blind (DSB) by hosting two visually impaired youth who were enrolled in DSB's Remote Internship Program. We sought guidance from DSB staff to make our program as accessible as possible for these youth, and we are proud to share that the Clean Water Ambassador's internship was honored at the Governor's Employer Awards Program, which recognizes and promotes the achievements of employers, organizations, and individuals who have improved employment opportunities for people with disabilities. Learn more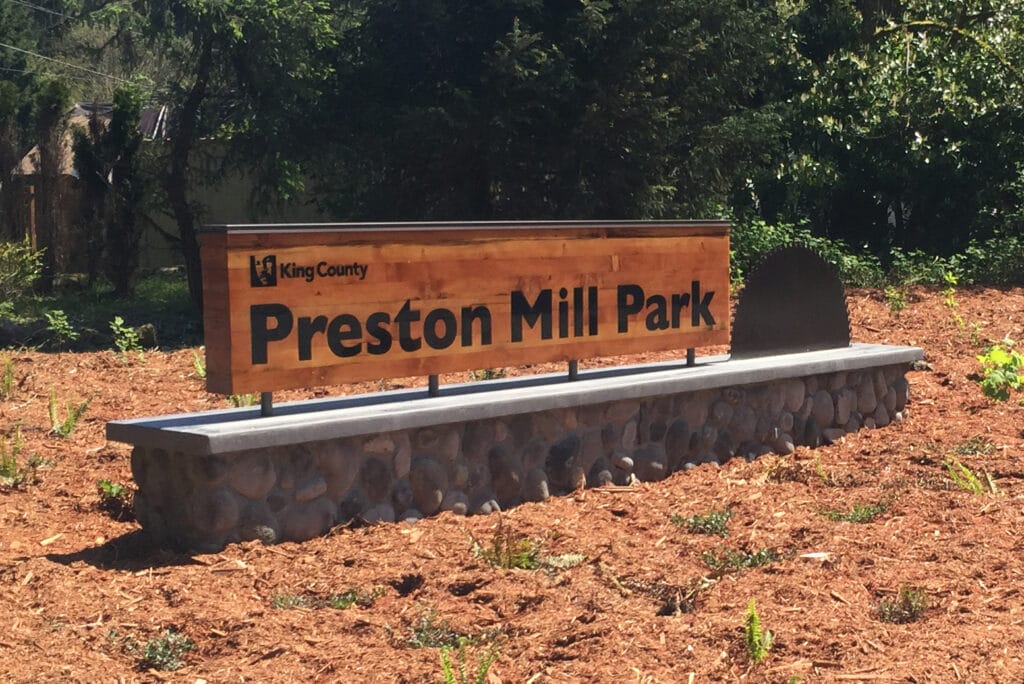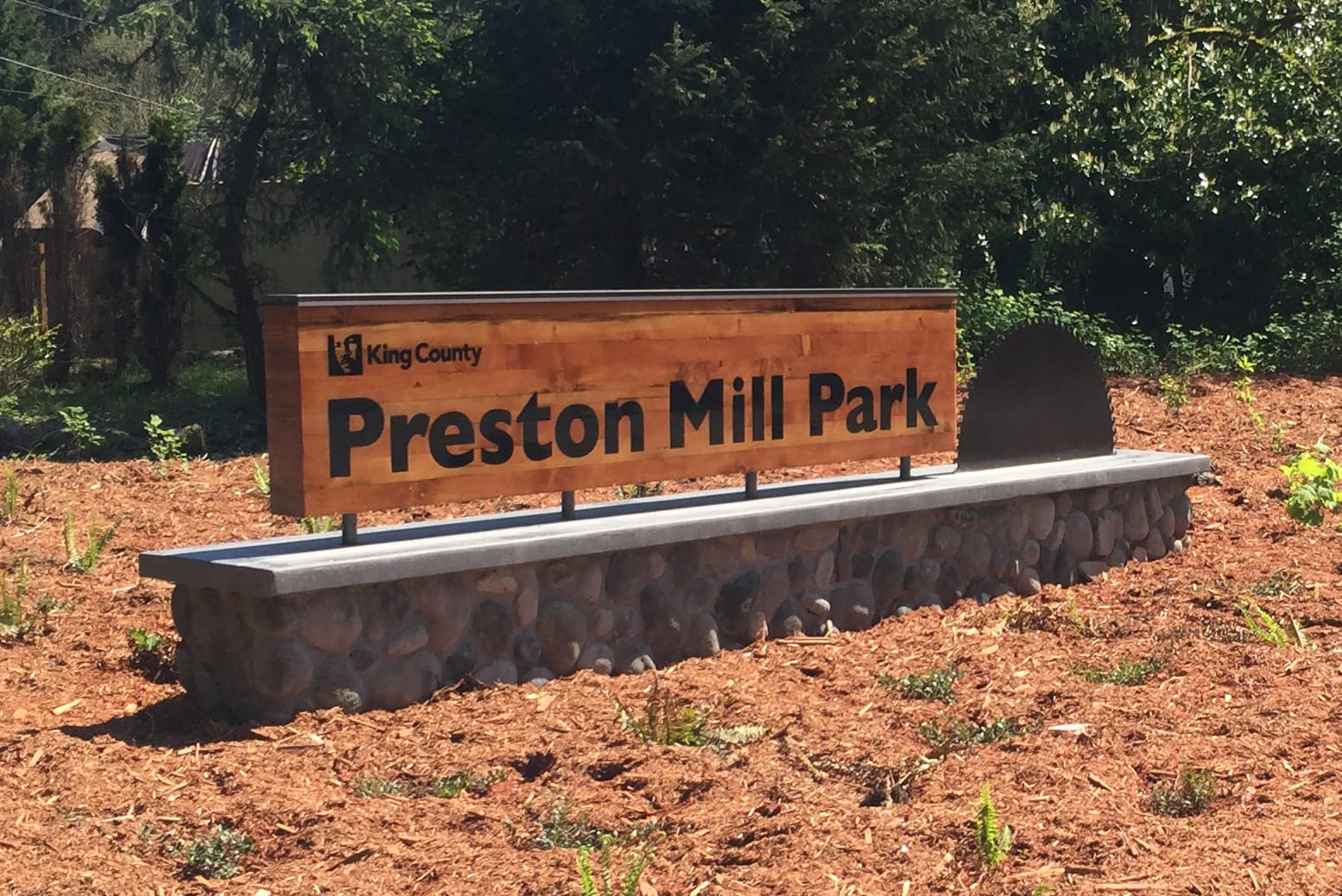 11. Park Complex in Preston Named for Jim Ellis
The King County Council announced in February 2021 that the parks in Preston would be renamed to honor regional conservation hero Jim Ellis, a storied civic leader and founder of the Mountains to Sound Greenway.
Preston Mill Park, the Preston Athletic fields visible from Interstate 90 exit 22, and the already-renamed Jim Ellis Preston Community Center will all be known as the Jim Ellis Memorial Regional Park at Preston. This honors Jim's extraordinary life and work, and his family's deep appreciation for the Preston community. Learn more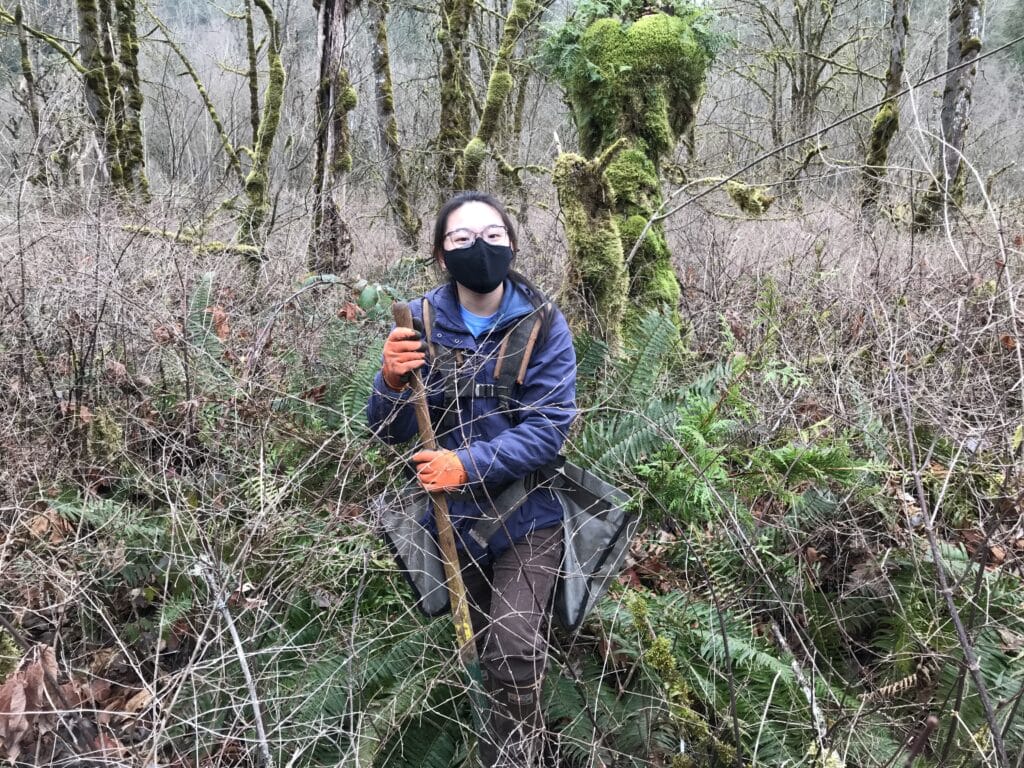 12. Cedar River Restoration at Belmondo Natural Area
The Cedar River is one of the most important rivers in the Greenway for Chinook salmon, a species listed as threatened under the Endangered Species Act. Salmon need cool and clean water, with suitable habitat along the edges of streams to feed, hide, and rest. That is why it is so critical to restore the riparian buffers along our salmon bearing streams! 
There are many partners working together to improve salmon habitat along the Cedar River, and the Greenway Trust is excited to now be a part of those efforts. In partnership with King County, and with funding from the King County Flood Control District and Boeing, the Greenway Trust Restoration Crew initiated restoration of eight acres of riparian habitat within the Belmondo Reach of the Cedar River this year.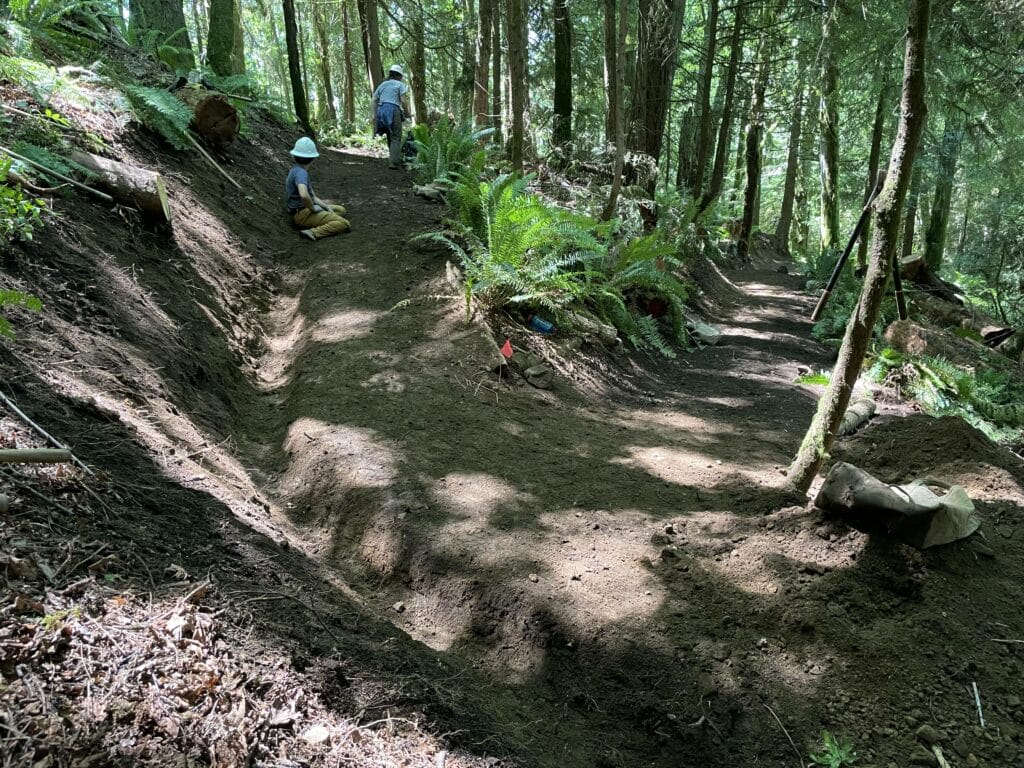 13. Poo Poo Point Trail Work
For many years, the most popular and direct route to Poo Poo Point was by way of the Chirico Trail, which departs from the Poo Poo Point Trailhead on Issaquah-Hobart Road SE. In recent years, many people discovered they can also reach the viewpoint by way of the somewhat less steep, and only slightly longer, Poo Poo Point Trail, departing from Tradition Plateau.
The growing popularity of this trail prompted the Washington State Department of Natural Resources to undertake extensive maintenance and reconstruction to ensure it remains usable for many years. With funding secured, and through a partnership with the Greenway Trust, work began on trail improvements in the spring of 2021. Learn more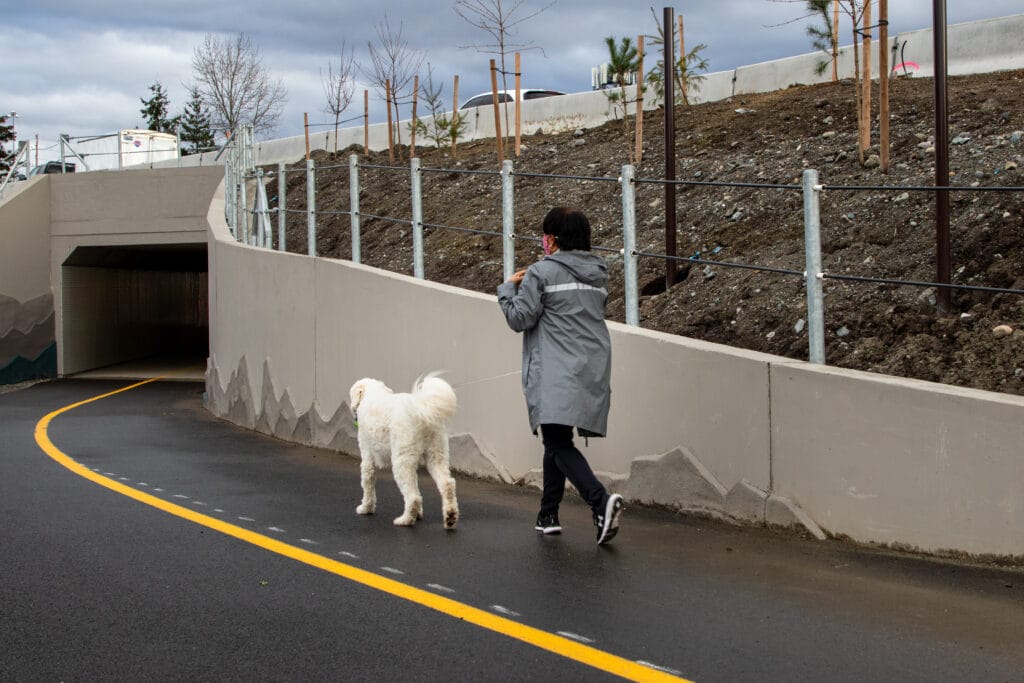 14. City of Bellevue Builds Key Connection of the Mountains to Sound Greenway Trail
The City of Bellevue built the next phase of the Mountains to Sound Greenway Trail from 132nd Avenue SE to 142nd Place Southeast. This section includes a 12-foot-wide paved pedestrian and bicycle path on the north side of Southeast 36th Street, walls, traffic signal modifications, new lighting and new pavement, and connects to the bridge over I-90 to Bellevue College. This builds on the previous year's progress, when the city completed a new, .8-mile section from the I-90/I-405 interchange east to 132nd Avenue Southeast, including a bridge over busy Factoria Boulevard, a tunnel under existing freeway ramps, and a 12-foot path heading eastward on the south side of Interstate 90. Learn more
15. Eastrail Progress in 2021
New connections built on the Eastrail this year include a southern section from Coal Creek in Bellevue to the Virginia Mason Athletic Center where the Seahawks practice. The trail crossing over May Creek in Renton expanded from a single-file walkway to full-width bridge. Willows Road was completed in Kirkland, which will connect the future trail sections from Kirkland to Woodinville and Redmond. Amazon invested $7.5 million to finish two projects – the remaining funding needed to convert the 100-foot-tall Wilburton Trestle into a trail, and to build the Wilburton Trail Segment, running from the Trestle to NE 8th at the light rail station in Bellevue. Learn more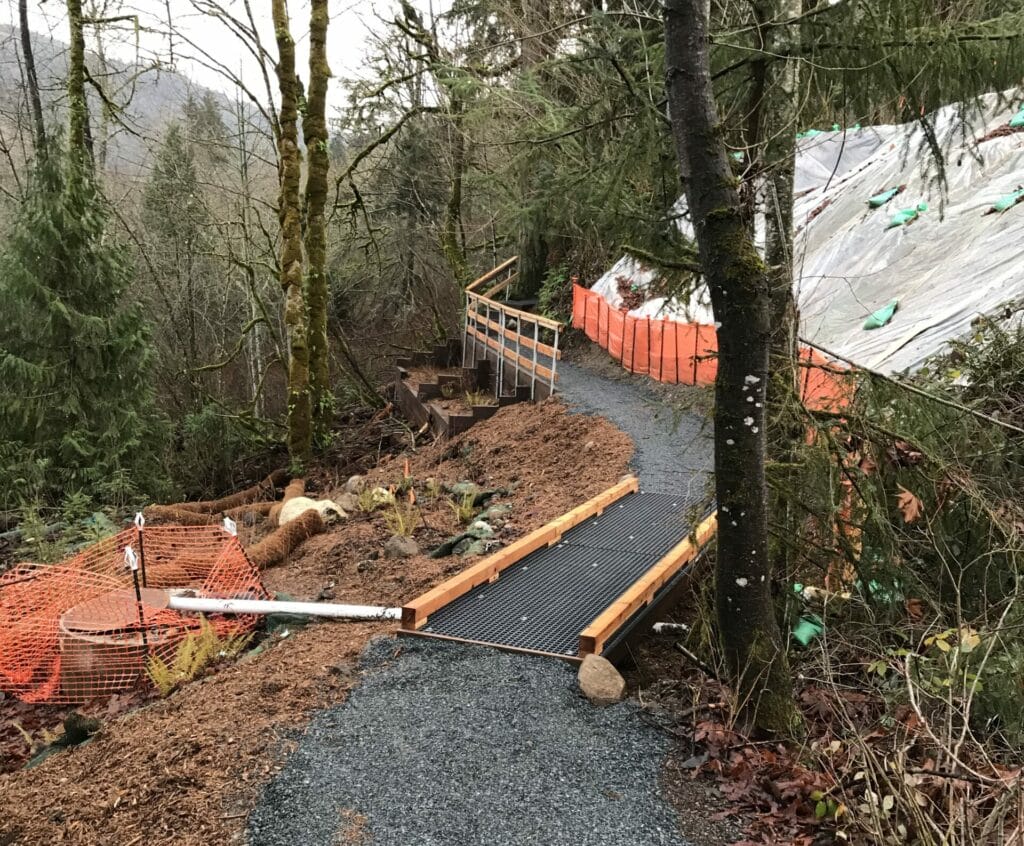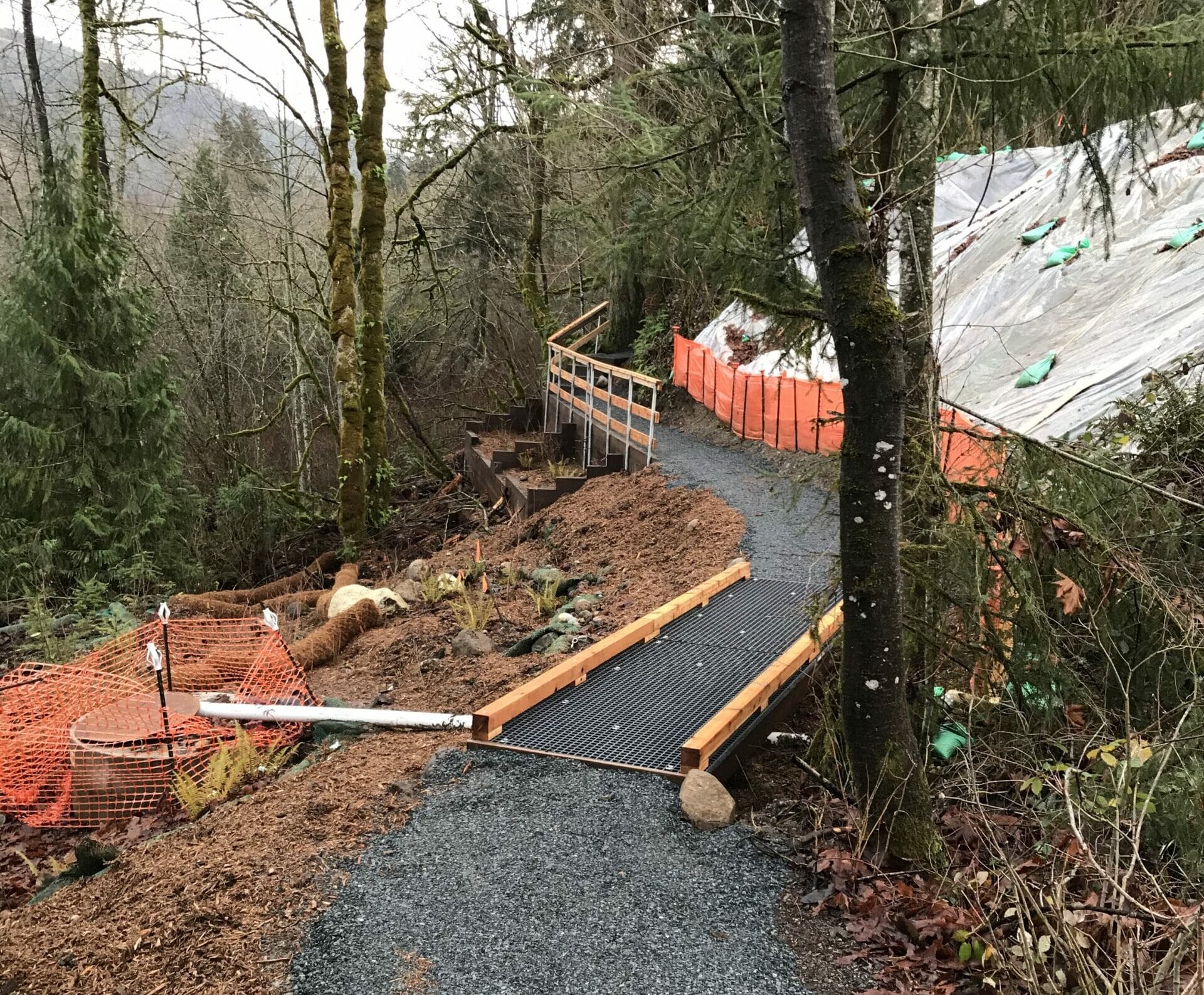 16. Rebuilding the Squak Mountain Access Trail
The Squak Mountain Access Trail, which connects downtown Issaquah with Squak Mountain, was built in the late 90s. The trail threads its way between newly constructed neighborhoods to reach public lands and forests. Unfortunately, in 2019 the trail had to be closed due to safety concerns over partial trail collapse and unsafe conditions. The City of Issaquah and community (including Issaquah Alps Trails Club) identified this as a priority trail repair. When they asked the Greenway Trust if we wanted to partner on this repair, we jumped at the opportunity. Learn more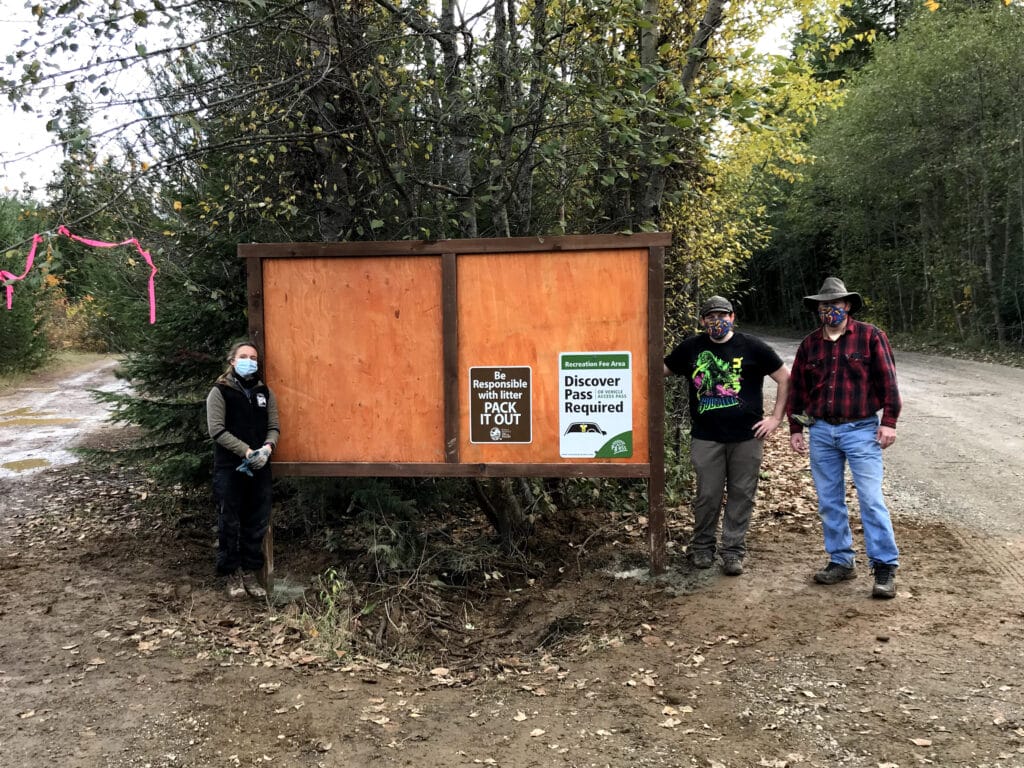 17. New LT Murray Kiosks
Despite pandemic conditions, Greenway Trust staff and Washington Department of Fish and Wildlife (WDFW) partners managed to successfully complete six volunteer-constructed-and-installed kiosks on the LT Murray Wildlife Area, which will help visitors navigate the landscape. Two additional kiosks were installed, and interpretive panels were printed and designed, all using WDFW Aquatic Lands Enhancement Account (ALEA) funds procured by Greenway Trust staff in 2018.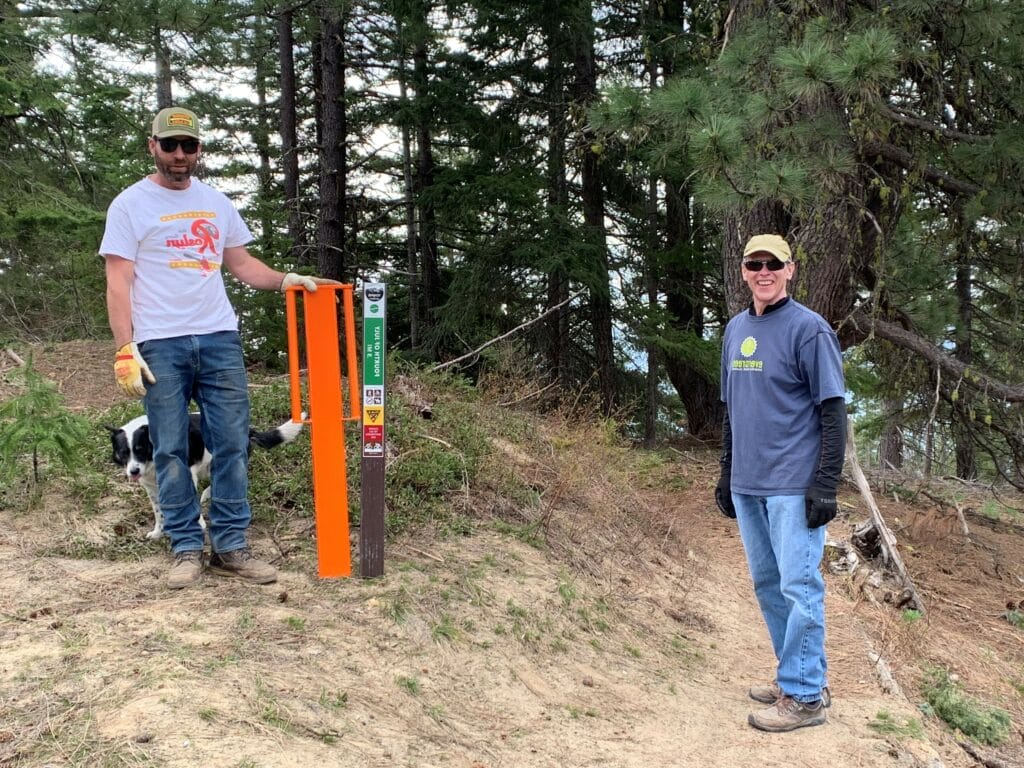 18. Towns to Teanaway Progress
Towns to Teanaway successfully applied for $20k in grants, which will be used to purchase permanent easement access for the trail system. The Implementation Committee also successfully petitioned Kittitas County to formally adopt T2T as a sponsored Public Works project. Lastly, signage consistent with Washington State Department of Natural Resources' wayfinding and reassurance markers were designed, printed, and installed along existing trail lengths. Learn more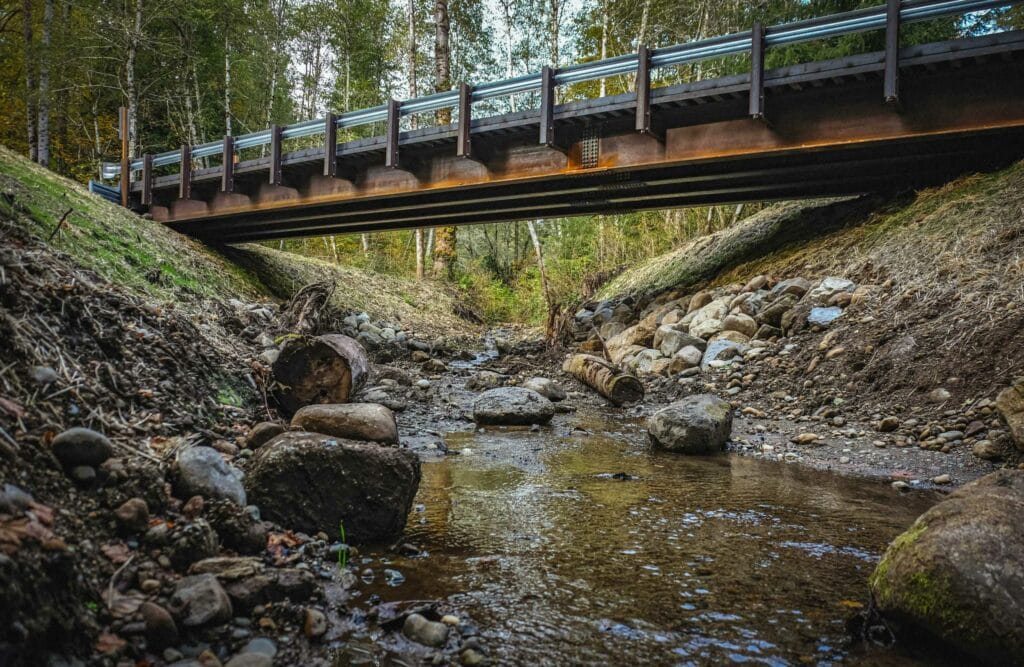 19. Taylor Mountain Forest Trail Improvements
As part of efforts to improve trail sustainability and protect habitat at Taylor Mountain, King County Parks is making a series of improvements to Taylor Mountain Forest's trail system, including replacement of two trail bridges along Carey Creek. The project started in August and just wrapped up in October. All trails not closed seasonally are now open and await your feet, hooves, and wheels! Learn more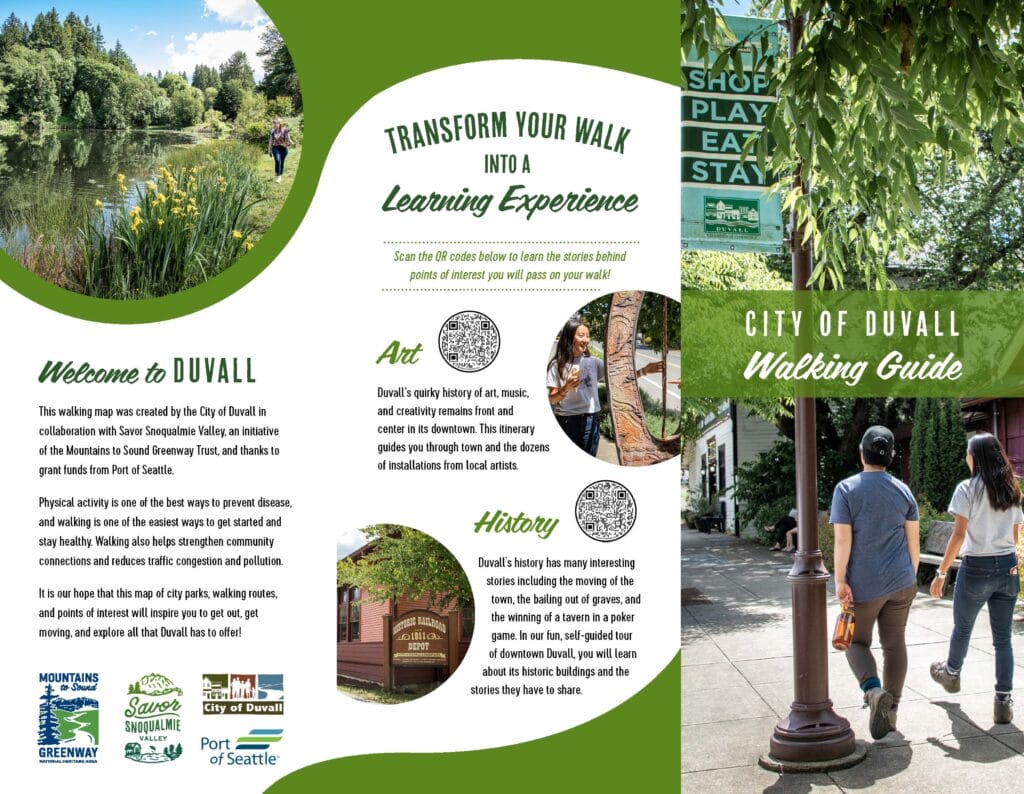 20. Savor Snoqualmie Valley – Duvall Walking Guide
With great public art, beautiful parks, interesting history, and a vibrant Main Street, there's so much to explore in Duvall. This new Duvall Walking Guide will help residents and visitors to experience it all with several different routes taking you past the city's best highlights. The walking guide was created in partnership with the City of Duvall thanks to grant funds from Port of Seattle. View the Guide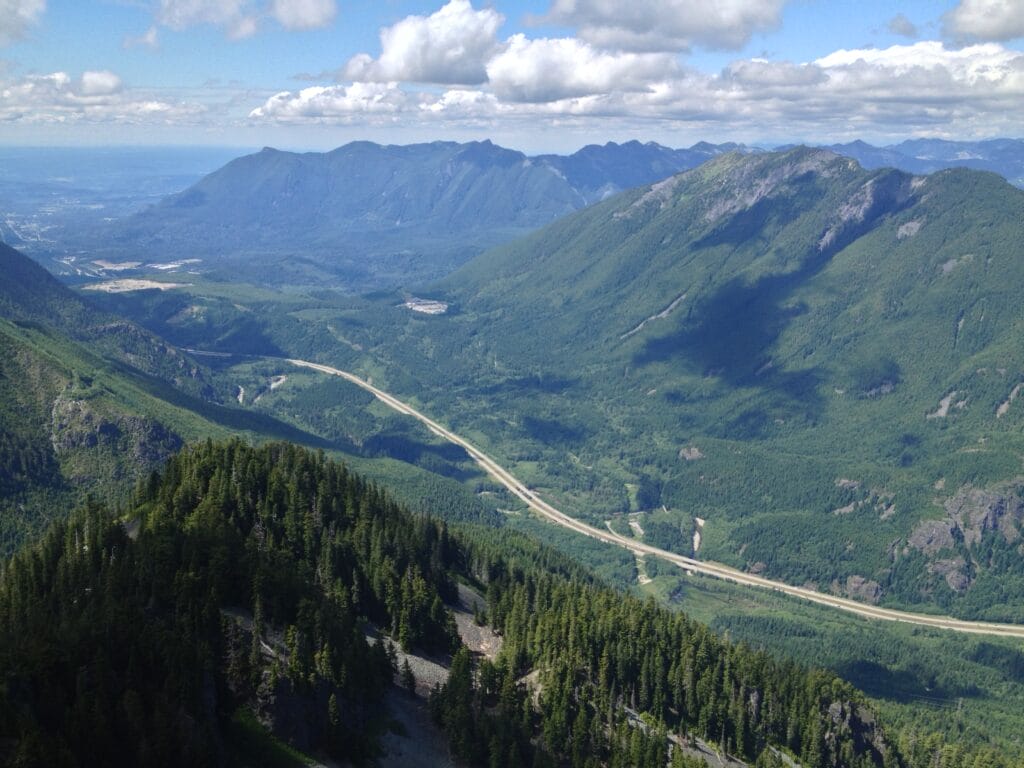 21. New Mountains to Sound Greenway National Scenic Byway Itinerary on Scenic Washington
Locals and visitors alike can now easily explore nearly 20 stops along the Mountains to Sound Greenway National Scenic Byway thanks to a new itinerary published on the Scenic Washington website.  Check it out