Each year at our Annual Dinner, we celebrate individuals and organizations who have made a great impact within the Mountains to Sound Greenway and embody our values. You can read more about the awards and recipients below, and click here to view the achievements celebrated in our 2021 Parade of Accomplishments (plus a few bonus items!).
Greenway Hall of Fame
The Greenway Hall of Fame honors those whose contributions have left a permanent and positive legacy on the Mountains to Sound Greenway, and who inspire all of us to do our own part to care for this amazing place.
2020 Recipient: Charlie Raines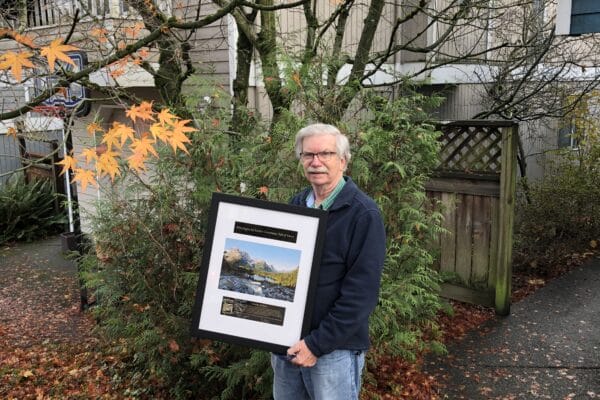 In honor and recognition of a lifetime of achievements in land conservation, ensuring the magnificent forestlands of the central Cascades are preserved for future generations; for his leadership in pursuing the most important parcels for conservation and value to the public; in appreciation for his ability to act as mentor, teacher, and writer; for his capacity to wear more hats than humanly possible, including, but not limited to, the Mountains to Sound Greenway Trust, Forterra, the Sierra Club, the Cascade Checkerboard Project, the Washington Wildlife and Recreation Coalition, and the I-90 Wildlife Bridges Coalition; and in gratitude for his tireless devotion to protecting our natural environment.
Past Recipients:
1995 – Builders
Charles Bingham, Priscilla Collins
2000 – Builders
Jennifer Belcher, Slade Gorton
2002 – Builders
Ron Sims, Cleve Pinnix
2007 – Builders
The Osberg Family, Nancy Keith
2012 – Builders
Peter Goldmark
1995 – Pathfinders
Brian Boyle, Harvey Manning
2000 – Pathfinders
The Boeing Company, Martin Rosen, Ted Thomsen
2002 – Pathfinders
Jim Ellis
2003 – Pathfinders
Ken Konigsmark
2012 – Pathfinders
Sally Jewell
2014 – Pathfinders
Bill Chapman
2016 Hall of Fame
Doug and Kristi McClelland, Peter Goldmark
2018 Hall of Fame
Tom Gibbs
2019 Hall of Fame
Terry Lavender
---
Jim Ellis Spirit Awards
The Jim Ellis Spirit Award honors the example that he set from the very beginning of the Greenway, recognizing individuals who embody the Greenway values of collaboration, inclusion, trustworthiness, positivity, and pragmatism.  These values guided Jim's life of service and they infuse every aspect of our work.
2022 Recipients: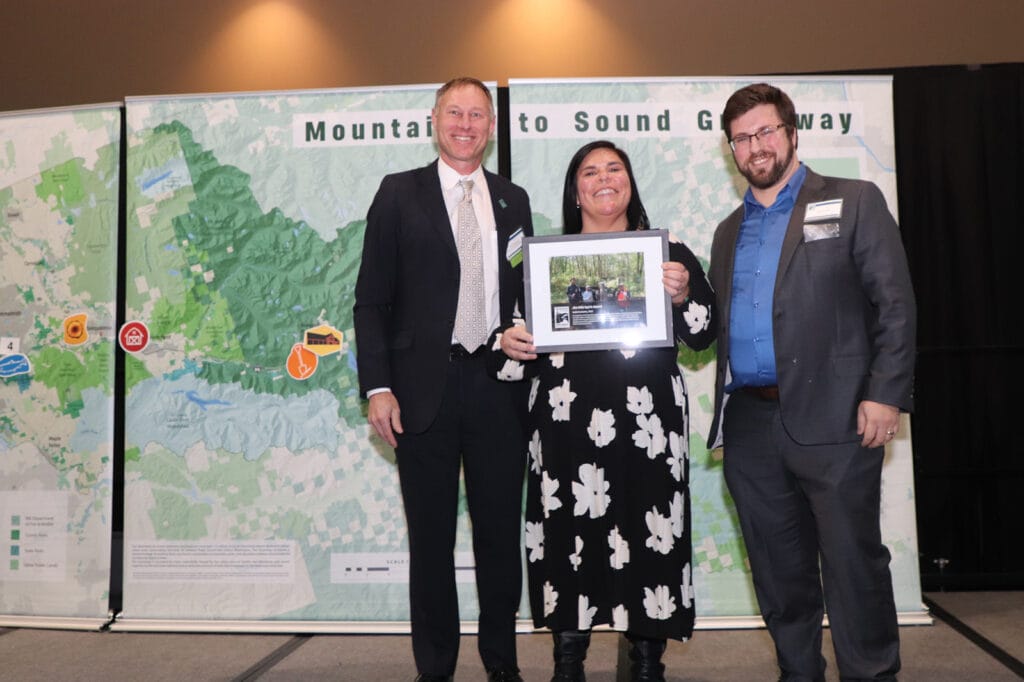 Gabbi Gonzales
In recognition of her passion for engaging young people in stewardship of natural lands and launching new internships including Youth Engaged in Sustainable Systems and Burien Green Teens; for her cheerful advocacy and relentless support of outdoor programming; and for her natural aptitude for building partnerships among diverse constituencies and driving collaborative action to inspire future community leaders
Deb Davis
In recognition of her 42 years balancing the continued existence of wilderness with the growing demand for recreation, providing access to natural areas while minimizing impacts on soils, water, vegetation, and wildlife; for establishing herself as a leader in a historically male-dominated workforce through commitment and creative problem solving; for preserving knowledge of trails, traditional tools, blasting, and silviculture; and for working to pass on those skills to the next generation of foresters and trail professionals in the Okanogan-Wenatchee National Forest.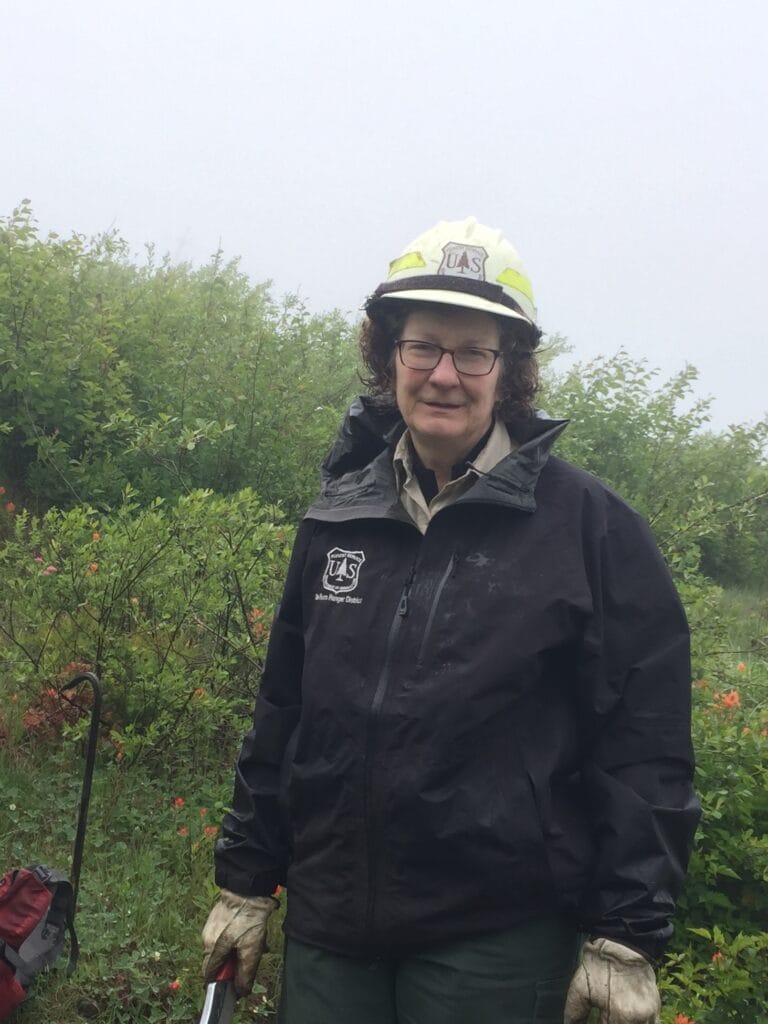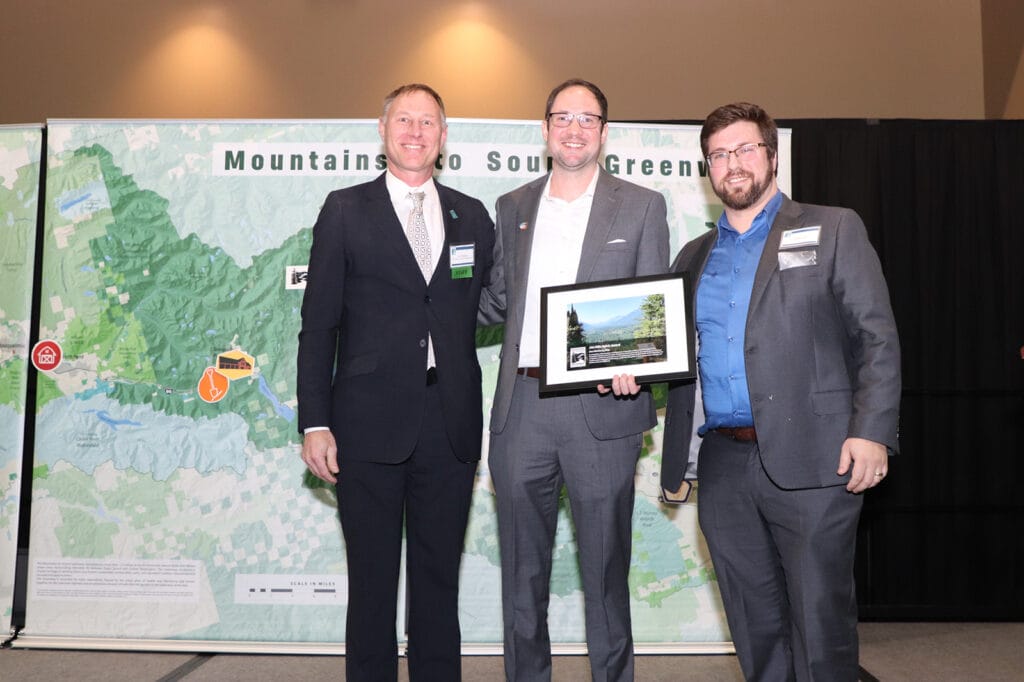 Alex Weinberg
In recognition of his steadfast commitment to sustainable outdoor recreation access in the Snoqualmie District of the Mt. Baker-Snoqualmie National Forest; for sharing his passion for forest ecosystems and his leadership in encouraging stewardship of public lands; for his enthusiasm for creative partnerships and collaboration; and for his dedication to connecting people of all ages and abilities to the natural world.
Past Recipients:
2017
Aleta Eng, Dave Peterson
2018
Craig Mabie, Matt Mechler, Kelly Heintz
2019
Nikki Fields, Scott Nicolai, Sasha Shaw, Brian White
2020
Paul Schmitt, Andrea Imler, Taldi Harrison
2021
Cristy Lake, Katherine Hollis, Patricia Garvey-Darda 
---
Certificates of Merit
1995
Joanna Buehler, Craig Lee, Gary Locke, Cleve Pinnix, Terry Wallgren
1996
Mark Boyar, Michele Brown, Aubrey Davis, Pete Machno, Lee Springgate
1997
Paul Carkeek, Wade and Tania Holden, Jack Hornung, Maryanne Tagney Jones, Larry Phillips, Arlene Wade
1998
Bill Dues, Ruth Ittner, Morris Jenkins, Cascade Land Conservancy, Doug McClelland, Osberg Family, Ron Sims
2000
EarthCorps, Jim Lyons, Faith Roland, Mark Sollitto, Washington Trails Association, Everett White, Youth Volunteer Corps
2001
Jeanne Ehrlichman Bluechel, Bonnie Bunning, Jerry Henry, Tara Houck, John Karlson, Peggy Leonard,Margaret Macleod, Mary Norton, Paul Schell
2002
Sally Luttrell-Montes, David MacDuff and Talus, Harry Morgan, Charlie Raines, Staff of Lake Sammamish State Park, Ira Spring/Spring Family Trust for Trails, Washington Wildlife and Recreation Coalition
2003
Paul Cooke, Joan Simpson
2004
Dave Battey, Fuzzy Fletcher, Leon Kos, Faris Taylor
2005
Rich Grillo, Louis Musso, Janet Wall
2007
Sue McLain, Dennis Neuzil, Joan Thomas
2008
Peter Spiro, Doug Sutherland
2013
Carter Subaru, Ava Frisinger