Mountains to Sound Greenway Annual Celebration
The Greenway Annual Celebration brings together supporters from across the region to celebrate our coalition's accomplishments in land conservation, ecological restoration, recreation projects, and connecting people with nature over the past year. From corporate, civic, and nonprofit partners to agency staff, forest rangers, and trail and restoration crews, all our guests play a role in keeping this region beautiful and accessible for everyone.
Saturday, December 4, 2021 at Meadowbrook Farm
Thank you to everyone who attended in person or virtually for our 2021 Annual Celebration! You can watch a recording of the event program, including the Parade of Accomplishments and Jim Ellis Spirit Awards, below. You can also read about the Parade of Accomplishments items that we celebrated, along with a few bonus items as well! And click here to read about our 2021 Jim Ellis Spirit Award winners, as well as all of our past recipients.
Make a Donation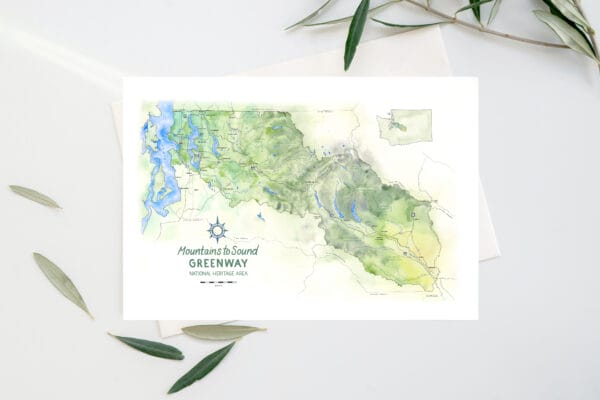 So many of these accomplishments are made possible by the generosity of people just like you! We hope you'll be inspired to support the Greenway Trust's work by making a donation today.
DONATE
Gifts of $100 or more will also receive a digital download of a brand new, custom watercolor map of the Greenway NHA! The artwork was created by hand by local artist Elizabeth Person and would make a great gift or keepsake for yourself to commemorate this incredible landscape.