2020 Parade of Accomplishments
2020 has brought many challenges, but the Mountains to Sound Greenway Trust and our partners have continued to carry out important work for the benefit of this incredible landscape and all those who engage with it. Perhaps more than ever, we are thankful for this opportunity to come together and celebrate some of the accomplishments from the past year, reflect on the collective impact of the last 30 years, and look ahead to all that's yet to come.
The Greenway Annual Dinner brings together supporters from across the region to celebrate our coalition's accomplishments in land conservation, ecological restoration, recreation projects, and connecting people with nature over the past year. From corporate, civic, and nonprofit partners to agency staff, forest rangers, and trail crews, all our guests play a role in keeping this region beautiful and accessible for everyone.
We'd love it if you could join us on December 9th for our virtual dinner!
Read on for this year's project line-up in the Parade of Accomplishments, and click here to learn more about the Greenway Hall of Fame and Jim Ellis Spirit Awards and recipients.
Let's start this parade with the latest achievement for the Greenway's Middle Fork Snoqualmie Campaign. The Mt. Baker-Snoqualmie National Forest has a new day-use site on the beautiful Middle Fork at historic Camp Brown, with a loop trail winding through towering evergreens to reach riverside picnic areas. Most exciting of all, this new site is one of very few places in the nation to offer an ADA-accessible trail along a designated Wild and Scenic River! This former North Bend Timber Company camp and Forest Service guard station is now a place for people of all ages and abilities to experience nature along a magnificent riverfront, thanks to: the Forest Service; the Greenway Trust; and special thanks to funders of the Middle Fork Campaign, who made this possible–including REI Co-op, The Boeing Company, National Forest Foundation, Washington State Recreation and Conservation Office, and private donors. Add a riverside picnic at Camp Brown to your Greenway bucket list!  Full story.
(video: © 2020 Morven Balmidiano)
Land Conservation on Tiger Mountain
Tonight we celebrate the "finish" of conservation on Tiger Mountain! Since the 1980s when the Issaquah Alps Trails Club began to encourage public purchase of Tiger Mountain and surrounding peaks, many organizations have worked to conserve this 13,000-acre forest and ensure its ecological health. The Hailstone homestead and Hill properties represent the small but mighty conclusion to public land conservation, thanks to these transactions completed by the Washington State Department of Natural Resources and The Trust for Public Land. This terrific conservation story kicks off a fundraising campaign in honor of Greenway Founder Jim Ellis to enable future land transactions in the Greenway.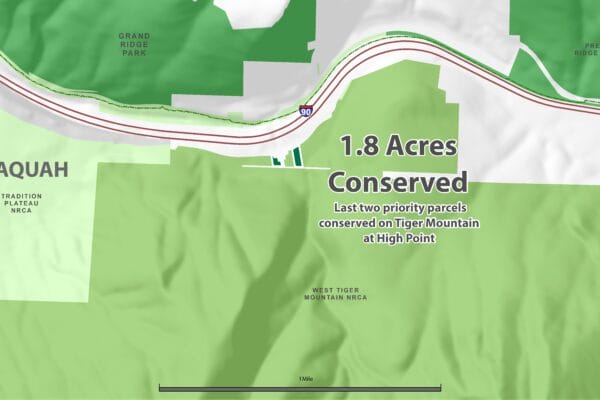 The City of Bellevue constructed a new section of the Mountains to Sound Greenway Trail, from the I-90/I-405 interchange east to 132nd Avenue Southeast. The new segment includes a bridge over busy Factoria Boulevard to separate bicyclists and walkers from automobiles, a tunnel under existing freeway ramps, and a 12-foot path heading eastward. This is a major milestone in a decade-long effort to connect this regional trail corridor through densely-populated Factoria, and the Greenway Trail will eventually connect cyclists and pedestrians from the I-90 floating bridge all the way to Issaquah and will be an integral connection in the Leafline Trails network. Let's watch this historic trail connection coming to life! Full story.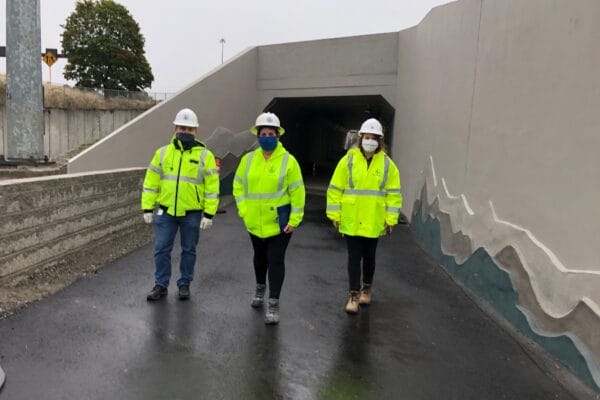 ECOSS Sustainable Futures Fest
Once again this year, ECOSS was able to meet challenges by creating something positive. Through their Sustainable Futures Festival in October, ECOSS shared stories of community-based solutions to environmental injustices and promoted environmentally sustainable practices during what became a week of action. This virtual series included conversations on clean water, clean energy, waste management, environmental stewardship, cultural experiences, and environmental justice. The festival raised funds to keep ECOSS staff on the ground supporting communities and programs in South Seattle and beyond.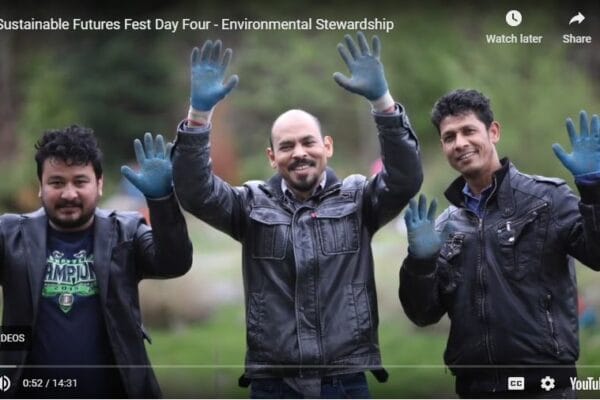 Raging River Forestland Acquisition
The Trust for Public Land purchased 25 acres of lush forest along the Raging River between rural Preston and Fall City. This property will be owned by King County and will help bolster connectivity of publicly-owned forests offering year-round recreation. Protection of precious riparian habitat along this important stream is a big win for recovering fish populations, including threatened Chinook salmon and steelhead.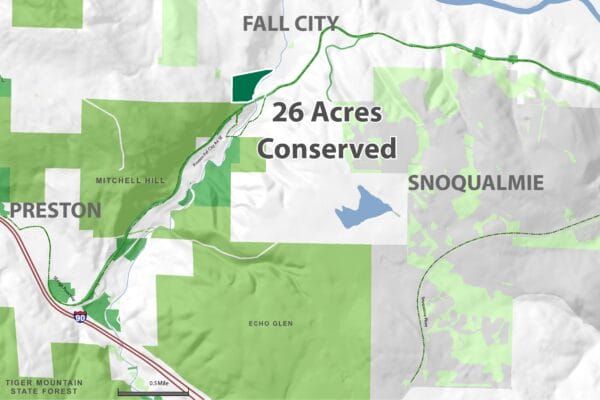 The Mountains to Sound Greenway Trust, Seattle City Light, Seattle Public Utilities, and Northwest Natural Resource Group teamed up to launch an exciting climate-adaptation project in Carnation. The partnership conserved 154 acres of forest along Stossel Creek and launched a restoration project that is testing new methods to establish forests that are more resilient to climate change. Test plots are growing trees from more southerly regions, where current climates are similar to projected climates in Western Washington in coming decades. This innovative project will help inform climate resilience in our region and is made possible by a grant from the Wildlife Conservation Society through its Climate Adaptation Fund, which is supported by the Doris Duke Charitable Foundation, as well as being supported by Carter Subaru's "On The Road to Carbon Neutral" program. Full story.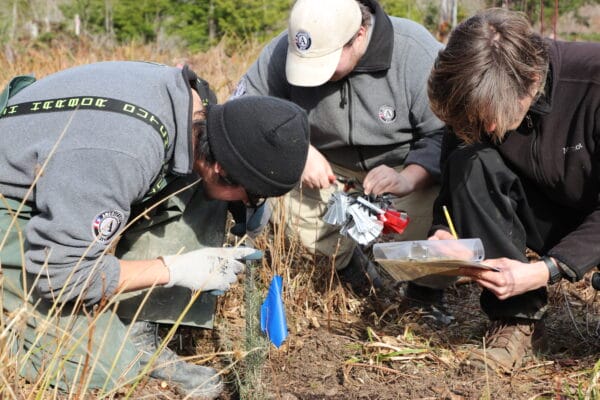 Explorers of the eastern Mountains to Sound Greenway have a new trail to enjoy this year, courtesy of Towns to Teanaway. Tamarack Trail Builders constructed 3.4 miles of what is affectionately dubbed 'Paul's Trail', in honor of local conservation hero Paul Schmitt, spanning the top of the ridge above Cle Elum. Local volunteers put finishing touches on this multi-use trail over the summer across private lands managed by the Nature Conservancy. When fully built, the Towns to Teanaway trail system will connect the historic Coal Mines Trail and the communities of Cle Elum, Roslyn and Ronald, through private and public lands, into the Teanaway Community Forest. Full story.
(video: © 2020 Morven Balmidiano)
Central Cascades land acquisition
The Nature Conservancy transferred nearly 1,000 acres of forestlands to the Okanogan-Wenatchee National Forest, thanks to their Washington Cascades / Yakima River Watershed project, using funding from the Land and Water Conservation Fund. The parcels are located just southeast of Stampede Pass, above the Upper Yakima River, adjacent to a segment of the Palouse To Cascades State Park Trail, and within 2 miles of the Pacific Crest Trail.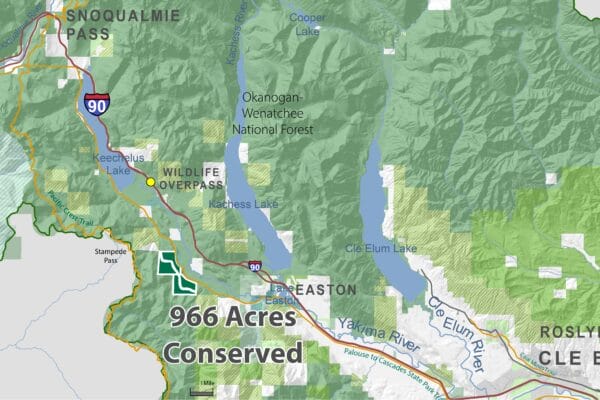 The historic Salmon La Sac Picnic Shelter was built in the 1930s by Civilian Conservation Corps crews. After nearly 90 years of use, the US Forest Service was forced to close the structure due to deteriorating logs and safety concerns. The Greenway Trust and the Okanogan-Wenatchee National Forest have partnered with a historic restoration specialist – David Rogers – to return the picnic shelter to its former glory, working by hand and utilizing period-appropriate building techniques. Greenway trail crews assisted the contractor with bucking and peeling logs for this structure, and five volunteers participated in a week-long skills workshop to learn historic log-construction techniques to erect a kiosk in the style of the picnic shelter. Full story.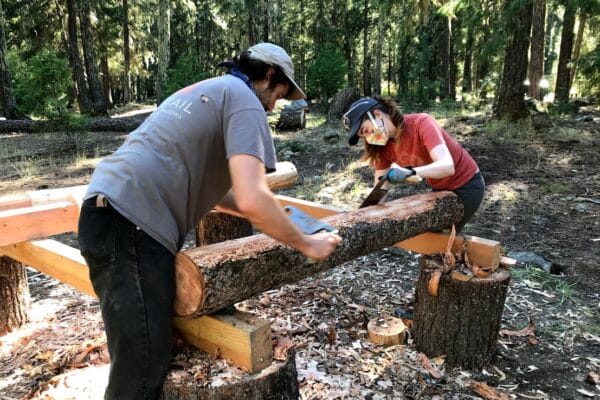 I-90 Snoqualmie Pass East restoration and planting
Thanks to the Washington State Department of Transportation, Okanogan-Wenatchee National Forest, and Conservation Northwest, we have a world-class transportation project that protects wildlife habitat and connectivity through the Central Cascades. Greenway crews are supporting the efforts to control invasive weeds across Snoqualmie Pass, and the Forest Service oversaw planting of 90,000 trees and shrubs on the new wildlife bridge over I-90. Thanks to this amazing partnership effort, bear, deer, bobcats, coyotes and more are now crossing the interstate safely!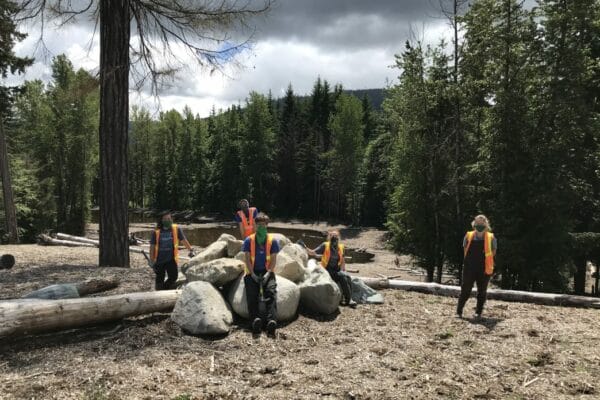 Want to know what else is going on in the Greenway? Check out our blog.