The Mountains to Sound Greenway National Heritage Area encompasses a world-class regional trail system connecting Puget Sound urban areas and the Leafline Trails Network, through the Cascade Mountains to Central Washington, and beyond. The vision for its future is that a person walking, rolling, or biking could travel for recreation, commuting, or daily business on safe, enjoyable, non-motorized trails.
A key component of the our organization's vision has always been completion of an east-west trail route across the Greenway NHA. Progress is being made to build the Mountains to Sound Greenway Trail through Seattle, Mercer Island, Bellevue, and Issaquah, with additional connections in planning stages that will reach the Palouse to Cascades State Park Trail that heads east from North Bend and across the Greenway NHA and beyond.
Current plans are underway to develop the Eastrail between Renton and Woodinville; fill the final gap in the Burke-Gilman; make improvements to the Palouse to Cascades State Park Trail; and much more.
The Greenway Trust supports federal, state, and local funding requests to assist communities and government agencies with connecting trails and active transportation facilities throughout the Greenway NHA. We are happy to support these large, complex projects in order to reduce carbon emissions, improve the health of community members, and ensure a high quality of life for all.
Signature Regional Trails in the Greenway NHA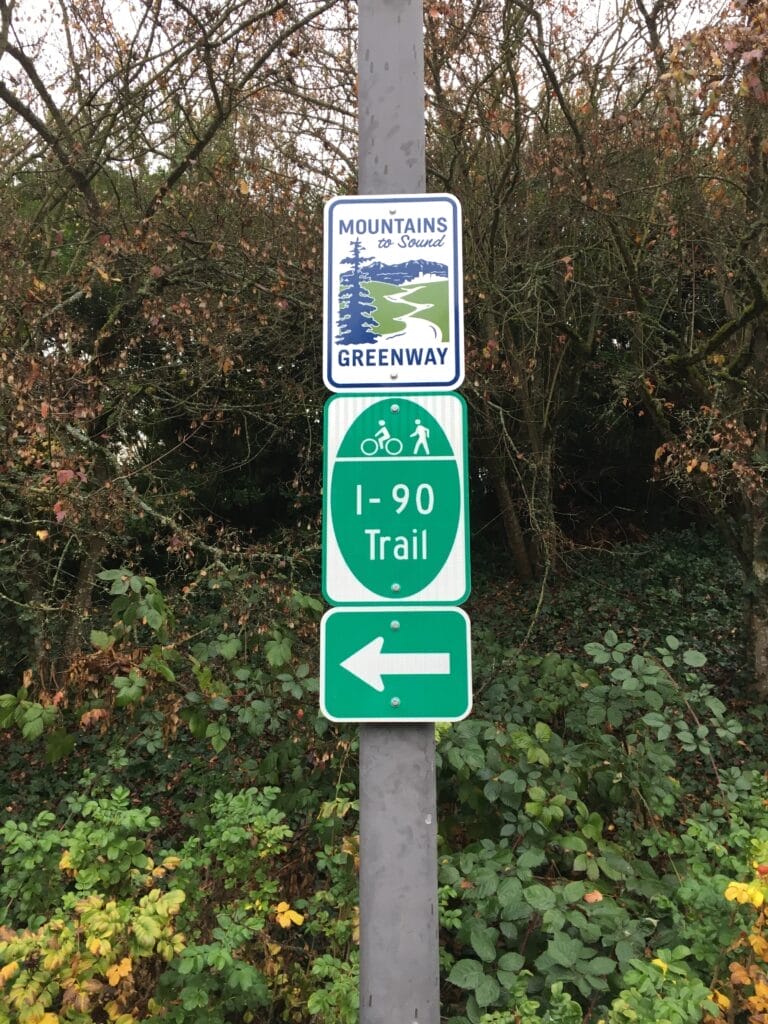 Mountains to Sound Greenway Trail
The vision for the completed Mountains to Sound Greenway Trail begins at a western terminus on the Seattle Waterfront near the sports stadiums and ferry terminal, traverses the Interstate 90 floating bridge across Mercer Island, connects Bellevue, Issaquah, Preston, Snoqualmie to North Bend and to the Palouse to Cascades State Park Trail.
Eastrail
The Eastrail is a 42-mile corridor from Renton to Woodinville, connecting Eastside communities by trail. This former Burlington Northern Railroad corridor serves as a utilities corridor, shares right-of-way with Sound Transit, crosses a major interstate highway and utilizes a historic train trestle. When completed, this corridor will transform active transportation east of Lake Washington.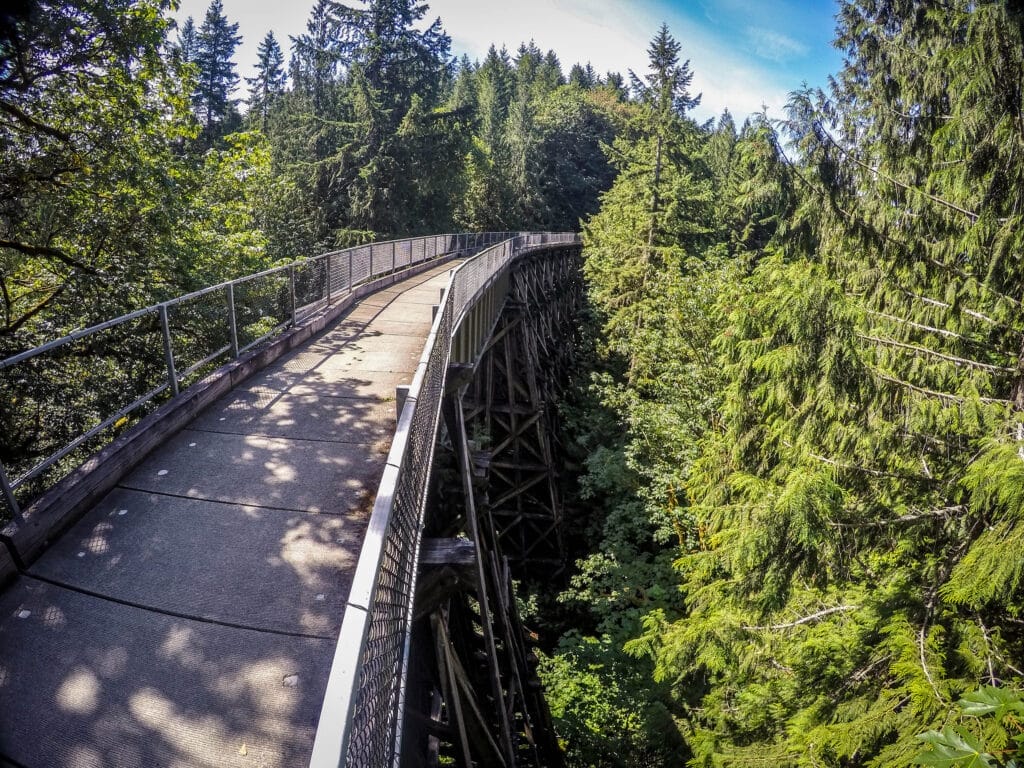 Snoqualmie Valley Trail
A key component of collaborative work in the Snoqualmie Valley includes making community trail connections and installing wayfinding along the Snoqualmie Valley Trail to link to main street businesses and rural towns for transportation and recreation.
Palouse to Cascades State Park Trail
The former Milwaukee Road railway serves as the backbone east-west trail through much of the Greenway NHA and continues east across Washington State. The Greenway Trust has long supported tunnel and trestle repairs, campground and trailhead facilities, interpretive displays and trail improvements undertaken by Washington State Parks and Recreation Commission. The Palouse to Cascades State Park Trail Coalition continues to advocate for continued connections and improvements to this signature trail.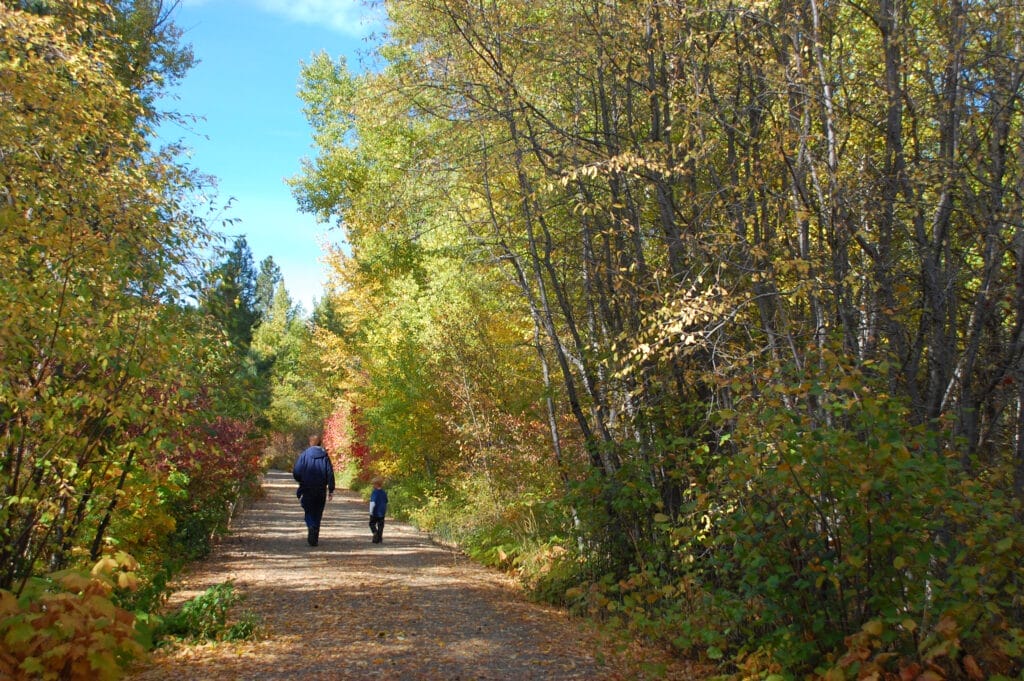 Coal Mines Trail
The Coal Mines Trail follows the right-of-way of the Northern Pacific Railroad branch line, which was built in 1866 to export coal. Today, the Coal Mines Trail connects the communities of Cle Elum, Roslyn, and Ronald on a route through the forest while offering a glimpse of the region's past. Piles of tailings, 19th century cemeteries, and remnants of mine shafts bear witness to a century of coal mining.
Eastrail photo by Merrill Images; Snoqualmie Valley Trail photo courtesy of King County