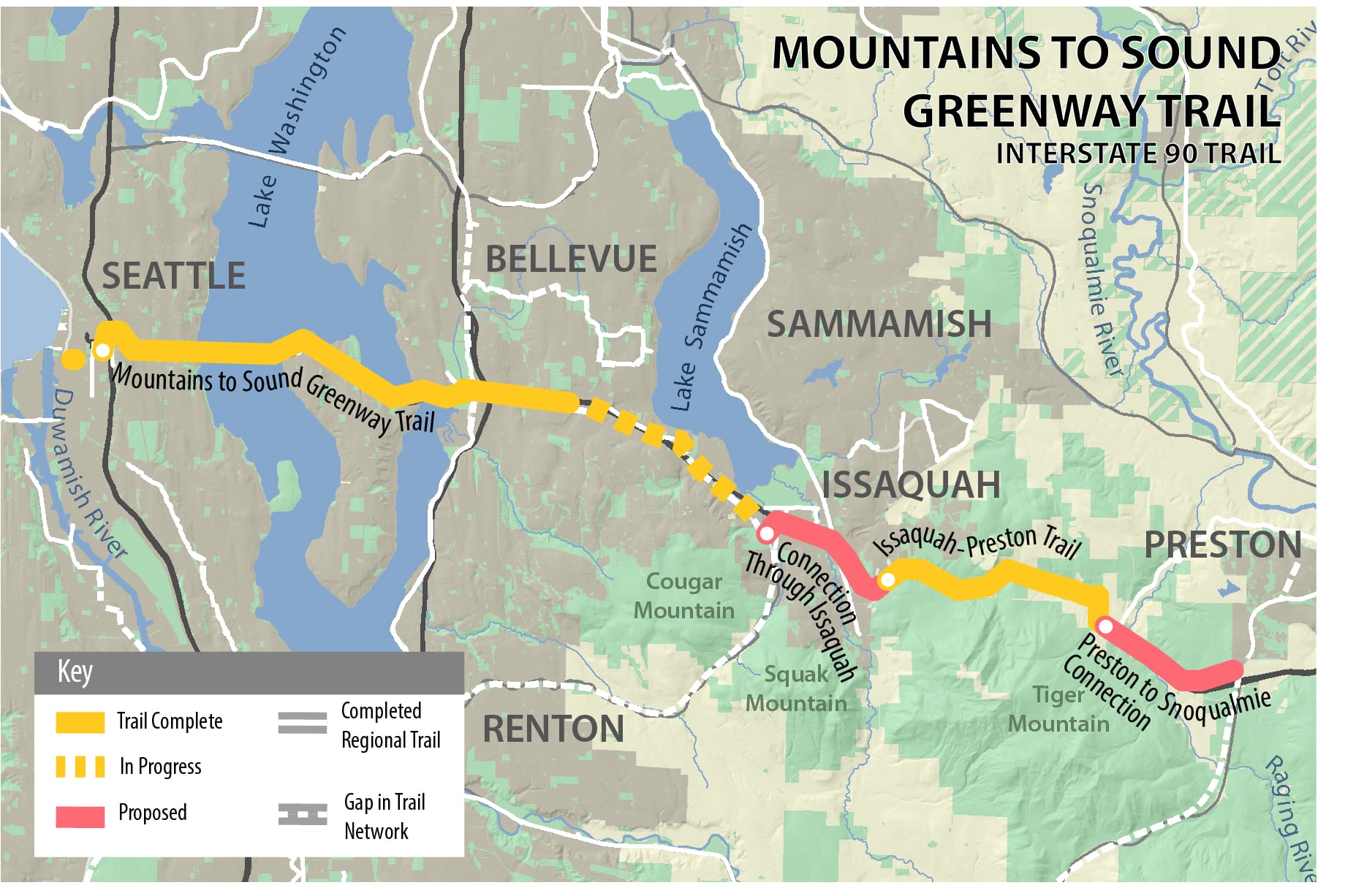 The Mountains to Sound Greenway National Heritage Area encompasses a world-class regional trail system. The vision for its future is that a person walking, rolling or bicycling could travel for recreation or commuting or daily business on safe, enjoyable, non-motorized trails, connecting Puget Sound urban areas and the Leafline Trails Network, through the Cascade Mountains to Central Washington State.
The official "Mountains to Sound Greenway Trail" will eventually connect Seattle, Mercer Island, Bellevue, Issaquah, Preston and Snoqualmie.
In Seattle, The Mountains to Sound Greenway Trail originates near the Seattle Waterfront, sports stadiums, and ferry terminal. A challenging gap exists between downtown and Beacon Hill, where the trail curves around Dr. Jose Rizal Park with its splendid views, before crossing the Interstate 90 floating bridge across Lake Washington.
The Mountains to Sound Greenway Trail crosses Mercer Island through Aubrey Davis Park and boasts new Greenway logo wayfinding signs.
The City of Bellevue built the first two phases of a new link through the urbanized Eastgate neighborhood, which provides a much-needed, safe connection through a densely populated area. Visit City of Bellevue for more info, project partners, and future plans to extend the trail.
Once the trail travels through Issaquah, it will traverse the side of Newport Way, which will be redesigned into a boulevard with street trees, separated bicycle and pedestrian facilities, and access to the Issaquah Transit Center. A route through central Issaquah is still to be determined.
East of Issaquah to Preston, King County Parks manages the Issaquah to Preston Trail on the north side of I-90. It is our hope that this gravel trail section will one day be paved and renamed the Mountains to Sound Greenway Trail. This section is also proposed to be part of the Great American Rail-Trail from coast to coast.
And from Preston, a new route is needed to the community trails at Snoqualmie Ridge at the State Route 18 / Interstate 90 interchange. Construction of the new, diverging diamond interchange by the Washington State Department of Transportation in the coming years will provide opportunities to secure a portion of this trail corridor.
From the SR 18 / I-90 interchange, a traveler can walk, roll or bike to downtown Snoqualmie and eventually to the Snoqualmie Valley Trail and a connection to the cross-state Palouse to Cascades State Park Trail.
Visit our Advocacy page to support funding for these important trail connections!
Regional Trail Network
With current plans to develop the Eastrail between Renton and Woodinville, fill the final gap in the Burke-Gilman, make community trail connections and install wayfinding to the Snoqualmie Valley Trail, make improvements to the Palouse to Cascades State Park Trail and many more, communities and agencies are connecting active transportation throughout the Greenway for both health and a high quality of life.