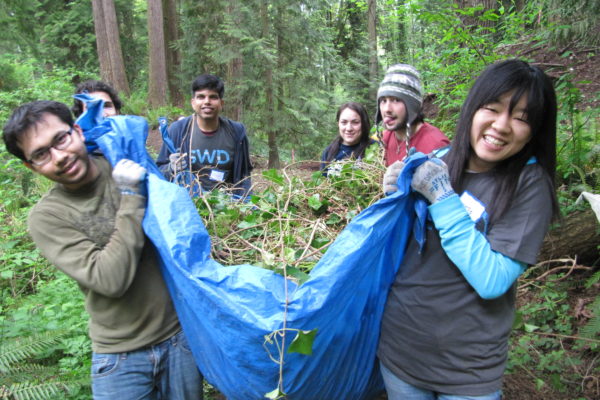 We offer a wide variety of stewardship projects designed for corporate and community groups including youth and school groups. We work with your interests and needs to find the right project for you and your team!
Greenway Volunteer Events offer:
Team-bonding activity
Customizable experience
Fun, engaging opportunity to learn
Way to give back to your community
Join over 5,000 volunteers who donate their time each year to protecting and enhancing the lands and recreational opportunities along the Mountains to Sound Greenway.
Project Locations
Projects take place across the region – including Issaquah, North Bend, Redmond, and more – and include invasive plant removal, hiking trail maintenance and construction, native plant nursery maintenance, and native tree and shrub plantings (fall only). Check out our current projects for ideas.
Project Types
We have two main options for groups interested in volunteering: weekend volunteer events or customized mid-week events.
Weekend: Every Saturday we offer volunteer events. These projects, while open to the general public, also can easily accommodate small to medium sized groups. Check out our Calendar of Events for upcoming dates and to register your team.
*Note: occasionally we are able to reserve a Saturday project solely for a group of 30 or more participants.
Mid-Week: For groups of 15 or more we are able to customize weekday events. We work with a group's needs and wishes to find the ideal project, site, and event duration. Please contact us (see below) for more information.
All events are lead by trained Greenway staff knowledgeable in trail and restoration techniques, safety, and local history that work to ensure a safe, fun, fulfilling volunteer experience for groups.
If you have any additional questions or wish to register your team, please contact volunteer@mtsgreenway.org.
Corporate Philanthropy
Support from our corporate partners allows us to leverage resources to further our on-the-ground efforts, including offering Saturday volunteer opportunities at no cost for members of the public and community and school groups who also volunteer with us.  Does your team have financial capacity to help support the volunteer experience?
Learn more about Corporate Support, Sponsorships, and Workplace Giving.