Pitch In To Keep Trash Off Our Trails
The summer of 2020 has set records for recreational usage across the entire state of Washington. While it's great to see so many people connecting with nature, we are all witnessing the unfortunate impacts that come with overuse, such as an overabundance of trash. We, together with our partners, have been working hard over the last several months to spread the word about how to #RecreateResponsibly, and now we're excited to offer an opportunity for people to get out and make a difference: National Public Lands Day 2020!
Make A Difference This National Public Lands Day
Considering the pandemic, we will not be hosting a large, in-person volunteer event for National Public Lands Day as in past years. Instead, we've transformed this day into a week of giving back through individualized volunteering. From September 19-26, members of the public can join us and several of our partners (in spirit) to "pitch in for public lands." The week-long cleanup effort will focus on clearing litter from parks, trails, and other outdoor spaces.
"The Forest Service is pleased to once again partner with the Mountains to Sound Greenway and the public in the ongoing effort to care for our public lands," says Brian Speeg from the Cle Elum Ranger District and Okanogan-Wenatchee National Forest. "The National Public Lands Cleanup is an opportunity to repair some of the impacts from this summer and to restore our precious landscapes."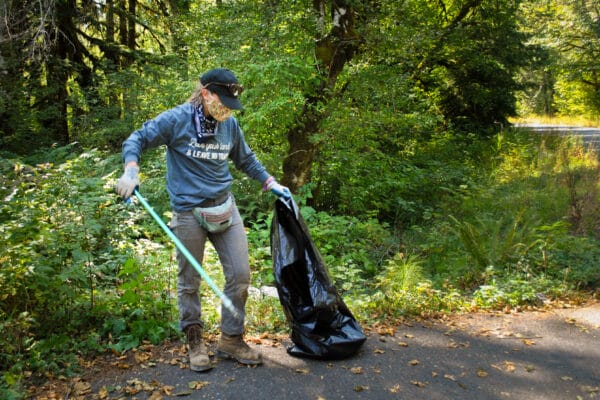 Throughout the week, people are encouraged to go out and pick up trash on public lands at their convenience. Due to the individualized nature of this initiative, participants have the option to stay close to home, or take supplies to clean up where they're already recreating out on the trails. The Greenway Trust, together with input from our land management agency partners, has compiled a map that includes "hot spots" where a high concentration of trash has accumulated this summer, in case participants need a suggestion for where to go. Although it's preferred that people dispose of their collected trash in their household waste stream whenever possible, we are also be providing information about alternative options for responsible disposal. A downloadable Cleanup Guide houses this information, along with other important details such as recommended supplies and how to stay safe while participating.
"This has been a very busy year for all public lands, including DNR's recreation sites. We are excited to have more visitors to our lands this year, but with that increased use, we have also seen an increase in vandalism and challenges with trash," says Leah Dobey, DNR's Statewide Recreation Manager. "We are excited that our partners are working so hard to help clean up public lands, keeping them pristine and pleasant for everyone to enjoy."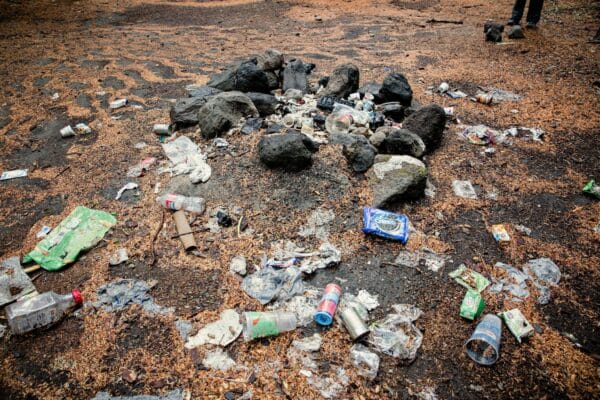 Participants will have the chance to win prizes throughout the week by sharing photos of their cleanup experience; tagging the Mountains to Sound Greenway on Instagram, Twitter, or Facebook; and using #NPLDTrash. Members of the public are also encouraged to download the Litterati app, where they can join our "Love Your Lands Cleanup Campaign," track their collections, and be eligible for a top-contributor prize.
"We're asking people to do their part to protect our precious public lands that sustain wildlife habitat and recreation opportunities for current and future generations," says Kelly Susewind, Director of the Washington Department of Fish and Wildlife. "I encourage hunters, anglers, wildlife watchers, hikers, and other outdoor adventurers to take part in the Love Your Lands campaign Sept. 19-26 and pick up trash from your local wildlife area or water access area."
SIGN UP FOR THE CLEANUP CAMPAIGN
---
Focusing On Action AND Education
We're excited to see lots of people out tackling the problem of existing trash, but what if we could stop it from being a problem in the first place? That's why educational messaging such as encouraging outdoorists to #RecreateResponsibly and Leave No Trace is so important. Land management agencies, as well as nonprofits and other outdoor organizations, are working hard to get these messages out to the public. We are hopeful that increased education, combined with taking action through opportunities such as our cleanup campaign, will inspire those who live, work, and play here to be better stewards of this landscape well beyond National Public Lands Day.
"The large amount of trash on trails this year has been a hot topic within the hiking  community," says Lee Jacobson, founder of the Washington Hikers and Climbers Facebook Group, which has more than 154,000 members. "As outdoor lovers, we hate to see this, so we are both encouraging people to be part of the solution by picking up existing trash, and attempting to educate hikers regarding Leave No Trace principles."
The Recreate Responsibly Coalition recently released these trash tips in conjunction with the upcoming National Public Lands Day cleanup campaign. Want to help spread the word? You can download your own toolkit with the tips here.