2019 Accomplishments Across the Greenway
The fruits of our partnership and cooperation are all around us in the Greenway.  The network of parks and green spaces within and around our cities; The working farms and forests that cradle our small towns; The ever-improving regional trail network that enables us to travel from home to school or work and even into the wilderness under our own power; The incredible wild reaches of the Cascades. Over the last 25 years, a growing assemblage of supporters have come together to create the Mountains to Sound Greenway that we see and cherish today. Conservationists. Recreationists. Business leaders.  Government agencies.  Community activists. Engaged citizens. All united by a love of this place, and a commitment to conserving it and making it better for everyone. From the start, the Mountains to Sound Greenway Trust has been dedicated to supporting and nurturing these partnerships. Setting an inclusive and welcoming table. Building trust. Promoting collaboration.  Inspiring with a bold positive vision while remaining grounded in achieving pragmatic results.
As the year comes to a close, we are proud to celebrate all that you have achieved across the Greenway with a sampling of projects that exemplify the shared connections among partners and the love for this place that motivate us to do things differently here. To do things better by working together. Sharing a vision for happier, healthier communities connected to nature.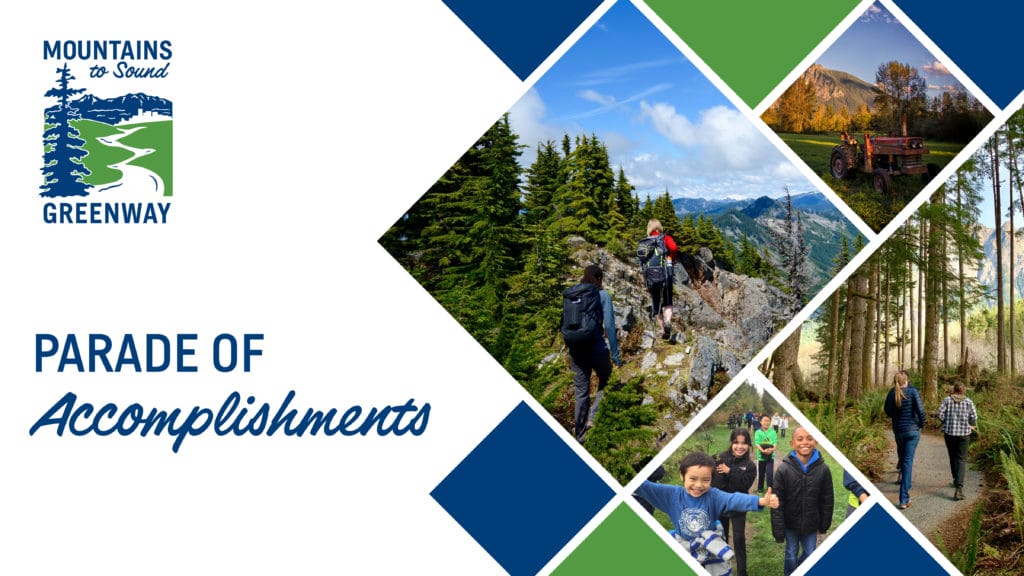 Highlights of 2019:
Designation of the Mountains to Sound Greenway National Heritage Area
The Mountains to Sound Greenway is a National Heritage Area! As Greenway communities grow, this designation gives us new opportunities to more effectively conserve natural resources, protect cultural heritage, and contribute to the economic vitality of the region.
Greenway National Heritage Area legislation was originally introduced in 2013 by U.S. Representatives Dave Reichert and Adam Smith and Senators Maria Cantwell and Patty Murray. And it would not have been possible without the entire congressional delegation's persistence and collaboration, including U.S. Representatives Suzan DelBene, Pramila Jayapal, and Kim Schrier.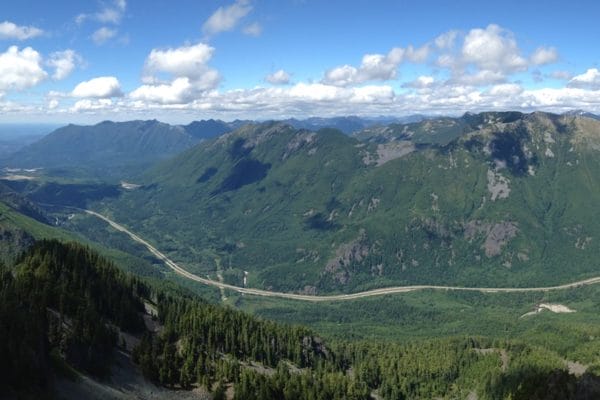 King County Land Conservation Initiative
King County Executive Dow Constantine presented a bold new vision to accelerate conservation of 65,000 critical acres of remaining natural lands in King County; and achieve this in 30 years before these lands are priced out of reach or converted to development. Voters responded, and as part of the Parks Levy passed last August, we now have a six year funding source that will significantly advance the effort to finish the job conserving land within 30 years. This vital levy also funds all operations and park development for King County Parks, which is essential for long-term health of our parks and natural areas. More actions, like the successful passage of the Parks levy, will be needed in the years ahead if we are to manifest the 30 year vision of the Land Conservation Initiative.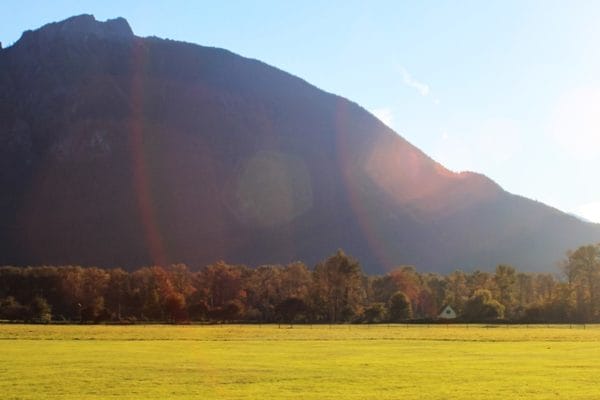 Middle Fork Gateway Bridge Redecking
Construction of the Gateway Bridge symbolized the spirit of collaboration surrounding the Middle Fork Snoqualmie River Valley. Twenty-five years ago, a group of dedicated volunteers spent weeks in the once-lawless Valley. They carted supplies, camped out to guard bridge building materials, and risked stray bullets until a risky helicopter lift finally put this iconic bridge in place. This year, many more people and organizations came together to replace its aging wooden deck. Backcountry Horsemen of Washington raised funds, TRA Mill donated lumber at cost, and volunteers spent many days taking care of this iconic structure so it can continue to carry hikers, horseback riders, mountain bikers, and picnickers over this Wild and Scenic River.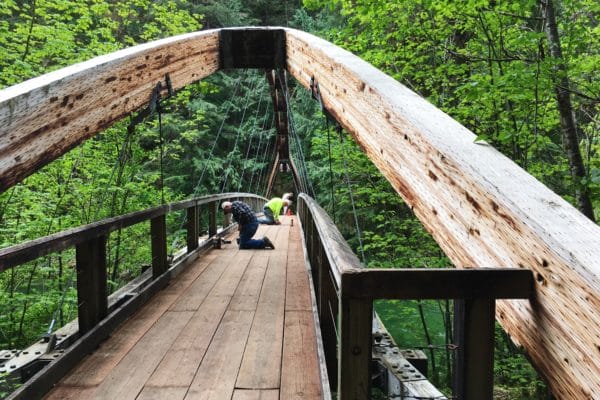 Garfield Ledges Trail
We're celebrating the new trail to Garfield Ledges, a beautiful view hike from the trailhead just past the end of the newly-paved Middle Fork Road. This brand new trail and trailhead in the Mt. Baker-Snoqualmie National Forest was constructed by the US Forest Service and Greenway Trust staff and crews, with the support of many volunteers. This lovely trail is the first in the Greenway to be funded by private philanthropy – a landmark achievement for our ongoing Middle Fork campaign.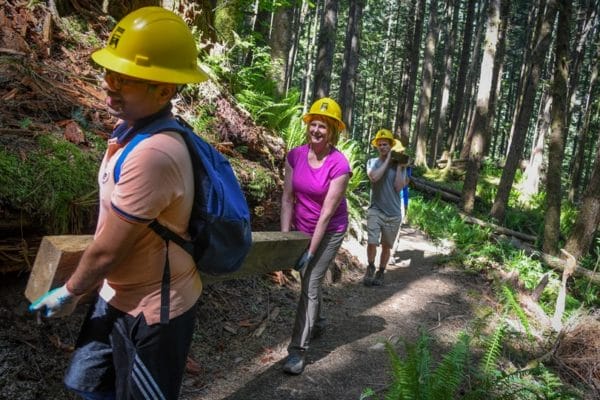 Oxbow Loop Trail
The Middle Fork Valley, less than an hour away from the Puget Sound metro, presents opportunities to design beautiful, accessible recreation facilities for all ages and abilities. We're celebrating the new, family-friendly, 1.5-mile Oxbow Loop Trail, constructed in partnership with the state Department of Natural Resources along the river and past an oxbow lake. This new trail connects people easily to nature in a spectacular place, with future plans for educational and interpretive features.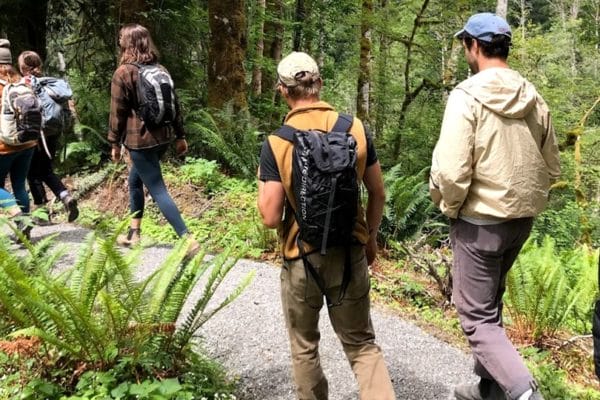 Hancock Creek conservation
Thanks to the U.S. Fish and Wildlife Service, Washington Department of Natural Resources, and Forterra, 280 acres located near Hancock Creek in Snoqualmie Valley were acquired and added to the Mount Si Natural Resources Conservation Area. This forested area featuring wildflowers and old growth forest is managed for conservation because it provides critical habitat for endangered species including the Northern Spotted Owl and Marbled Murrelet.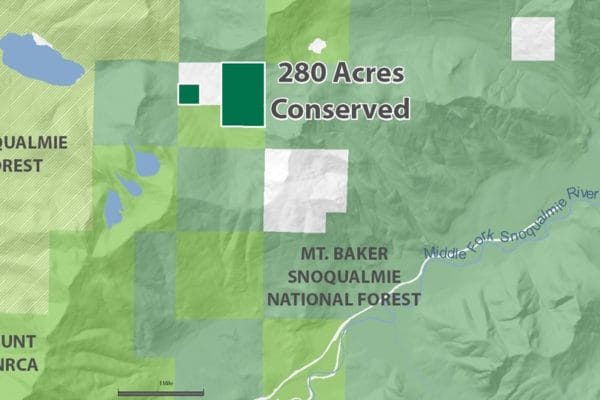 South Fork Landing conservation
Si View Metropolitan Parks District purchased the golf course just south of I-90 at exit 32 in North Bend and will manage this tree-lined property as a park (including frisbee golf!) Future plans include connecting to a trail corridor along the South Fork of the Snoqualmie River and eventually to the Snoqualmie Valley Trail. Funding came from the King County Parks Levy and Si View Parks bond funds.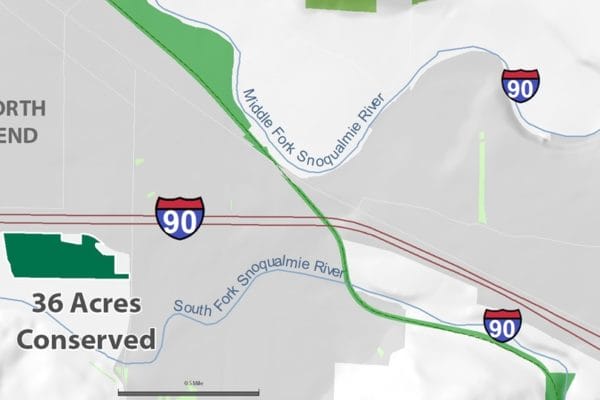 Dirty Harry's Balcony
The Washington State Department of Natural Resources, Washington Trails Association, Washington Climbers Coalition, Washington Conservation Corps, the Access Fund, and the Greenway Trust built a new trail to Dirty Harry's Balcony, a 4-mile round trip hike to a view over the South Fork Snoqualmie River. This trail is easily accessible from I-90 and provides new hiking and improved access to the Far Side Rock Climbing Area.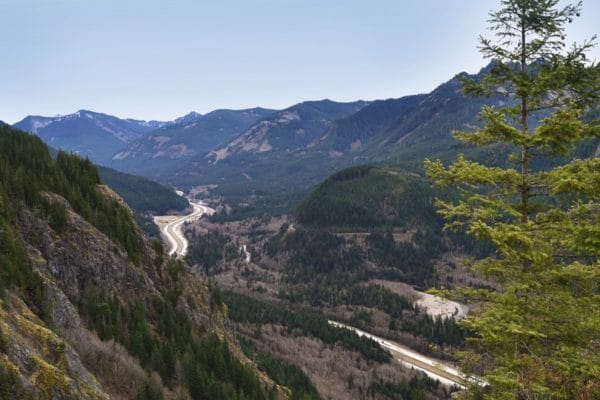 Mountains to Sound Greenway Trail
Exciting news for trail commuters! The City of Bellevue broke ground this year on the first phase of a 3.6-mile Mountains to Sound Greenway Trail connection through the Eastgate neighborhood of Bellevue. Construction began in September to build a 12-foot path for pedestrians and bicyclists, construct a bridge over Factoria Blvd, burrow a tunnel under the existing I-405/eastbound I-90 ramps, relocate portions of the existing trail, and install additional lanes on the I-90 eastbound off-ramp to Factoria Blvd. The concept and design for this trail segment was originally envisioned in 2011 with the help of a scenic byways grant to the Greenway, and thanks to the City of Bellevue and Washington State Legislature transportation funding, we will soon have the first segment of trail constructed!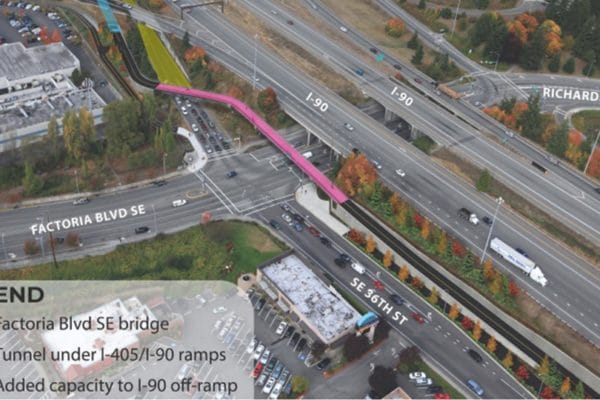 Carter Subaru's 200,000th Tree Planted
A major ecological transformation is taking place at Lake Sammamish State Park! To fund restoration at this urban park and other critical natural areas in the Greenway, local auto dealership Carter Subaru has planted trees for more than a decade as part of their On the Road to Carbon Neutral program. This fall Carter planted their 200,000th tree at Lake Sammamish! Planted by volunteers, school groups, and local businesses, these 200,000 trees contribute to a goal set by King County to plant 1 million trees to shade creeks for salmon and increase climate resilience. And as a community, we are well on our way to meet that goal.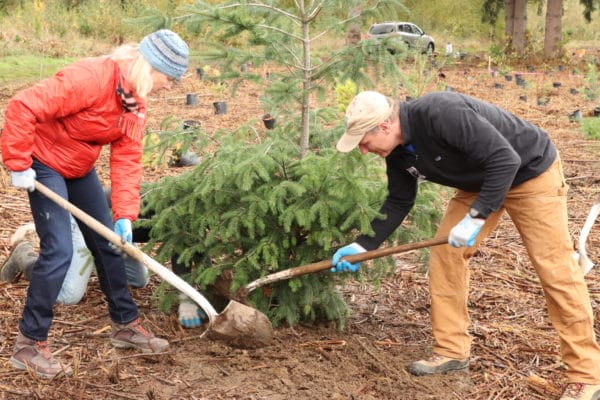 Bergsma property conservation
Earlier this year, the City of Issaquah, King County, and The Trust for Public Land came together to conserve the 45-acre Bergsma property, a forested parcel that was initially proposed to become a 57-lot residential development. This highly visible property on the flank of Cougar Mountain rises above Newport Way in close proximity to the Issaquah Transit Center, expanding Cougar Mountain Regional Wildland Park and helping provide new – and more equitable – access to trails by public transit. This conservation project also protects habitat for salmon and steelhead in Tibbetts Creek below. Project funding for this long-desired acquisition comes from the City of Issaquah and the King County Conservation Futures program, with critical bridge funding provided by The Trust for Public Land.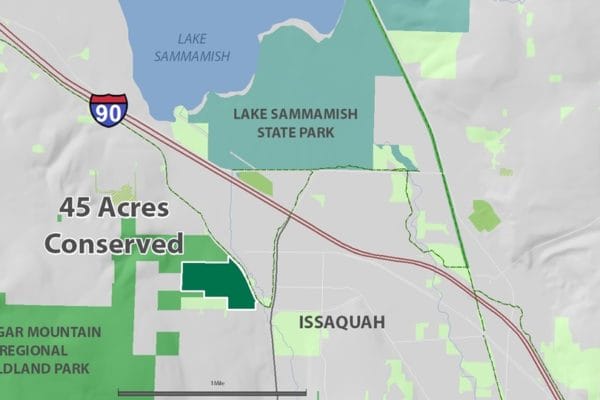 Trailhead Direct
Trailhead Direct had a very successful summer season, with more than 35,000 boardings! And new routes from light rail stations in Seattle and Tukwila to better connect people from the city to popular hikes in the Greenway. This transit-to-trails shuttle service makes it easy to catch a King County Metro bus to numerous recreation destinations, including the Issaquah Alps, Mailbox Peak, Mount Si, and new stops at Little Si and Cougar Mountain's Sky Country Trailhead. Trailhead Direct provides weekend and holiday service every 30 minutes from Seattle with additional stops at Eastgate, Issaquah Transit Center, and North Bend Park-and-Ride.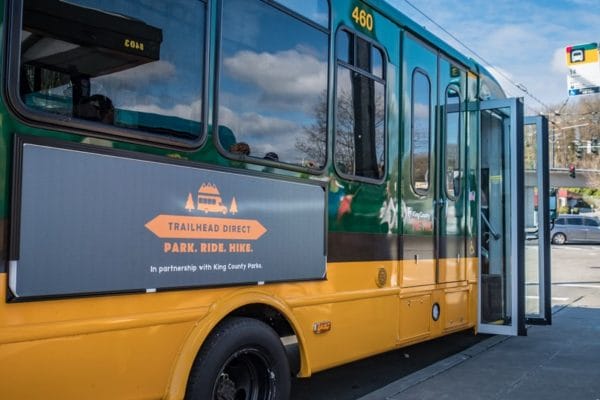 Pacific Crest Trail conservation
The Land and Water Conservation Fund is an incredibly important funding source for conservation across the country. It protects natural lands in every state, including more than 75,000 acres in the Greenway alone over the past three decades. This year, The Nature Conservancy secured Land and Water Conservation Fund dollars to transfer 4,800 acres along the Pacific Crest Trail to the Okanogan-Wenatchee National Forest, protecting views along the trail and wildlife habitat in the Central Cascades.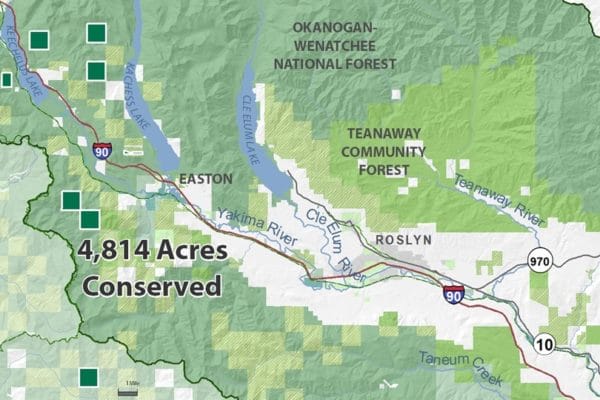 Amabilis Mountain conservation
Forterra conserved 80 acres on Amabilis Mountain, east of Snoqualmie Pass above Lake Kachess. Thanks to many years of commitment and investment nearby, these lands will conserve key habitat for wolverine, spotted owl, cougar, bear, deer, and wolf near the planned wildlife crossings on I-90 near Easton Hill, helping restore and maintain north-south migration corridors in the Cascades. Forterra owns and manages the property, which is open to low-impact recreation activities such as wildlife viewing and cross-country skiing. Funding came from the US Fish and Wildlife Service in partnership with the Washington State Department of Natural Resources.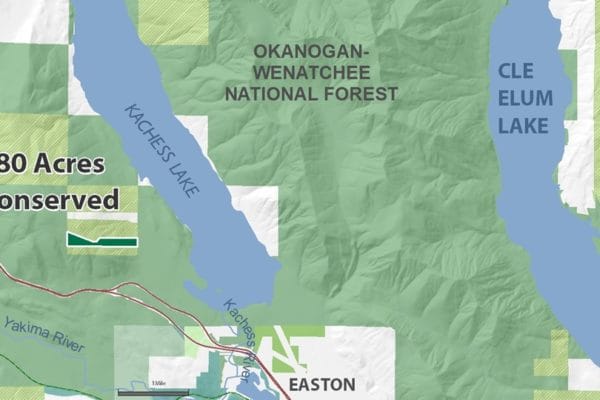 Teanaway River Floodplain Restoration
Yakama Nation Fisheries and Mid-Columbia Fisheries Enhancement Group are improving aquatic habitat throughout the Yakima Basin, including a mile and a half of the North Fork Teanaway River. 1,222 pieces of wood (weighing 3.5 MILLION POUNDS!) were transported by helicopter to help restore this portion of the Teanaway basin, improve water quality, and reduce future flooding. Beavers have already begun construction of their own on the structures!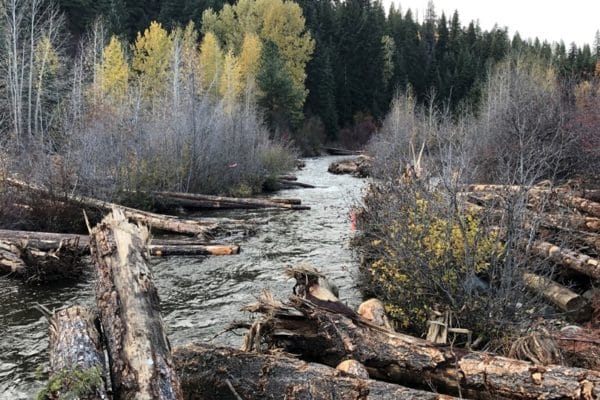 Towns to Teanaway
"Towns to Teanaway" is a community-driven effort to connect the towns of Ronald, Roslyn, and Cle Elum with the Teanaway Community Forest by trail, which will provide easily accessible recreation for residents and visitors to the surrounding forests and mountains.
This initiative began just two years ago after the state acquisition of the Teanaway Community Forest, with its Ponderosa pines, unique geologic formations, free-flowing rivers, and iconic wildlife.
Trail corridors will run from each community over city, private, and state lands. This year, the Kittitas Chapter of Evergreen Mountain Bike Alliance collaborated with the Towns to Teanaway Implementation Group (facilitated by the Greenway Trust) to raise funds and build two new trails out of Ronald: a 2.25 mile multi-use, multi-directional trail, and a 3.5 mile downhill mountain bike trail.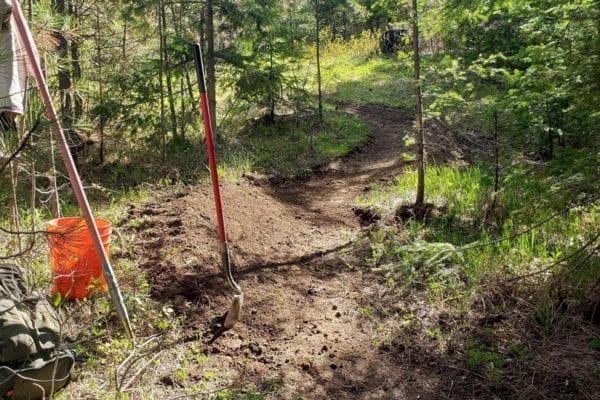 Thanks to all of our partners who made these incredible projects happen and who continue to help make the Greenway happen! What a year!
Want to become involved in the Greenway? Sign up for the latest Greenway news.