Trailhead Direct Ridership Increased 75% In Second Full Season
Passengers boarded Trailhead Direct for more than 17,500 hikes in the second season of the two-year pilot project co-led by King County Metro and King County Parks, a 75 percent increase from last year.
The transit-to-trails service added a fourth route this season starting at the Tukwila International Boulevard Station, serving some of the nation's most racially diverse communities. Ridership from Sound Transit's Capitol Hill Link light rail station to Mount Si more than doubled.
"Trailhead Direct is a customer experience success story that has achieved multiple goals," said King County Executive Dow Constantine. "Our King County Metro and Parks staff worked together to make our spectacular mountain forests accessible to more diverse communities, make it easier to explore our region without having to drive or park, and make our most popular trailheads safer."
Metro and Parks staff worked together to improve the customer experience this season by making it possible for hikers to board any of the four routes to get to any trail in the Trailhead Direct network. All four routes started and ended near Sound Transit Link light rail stations.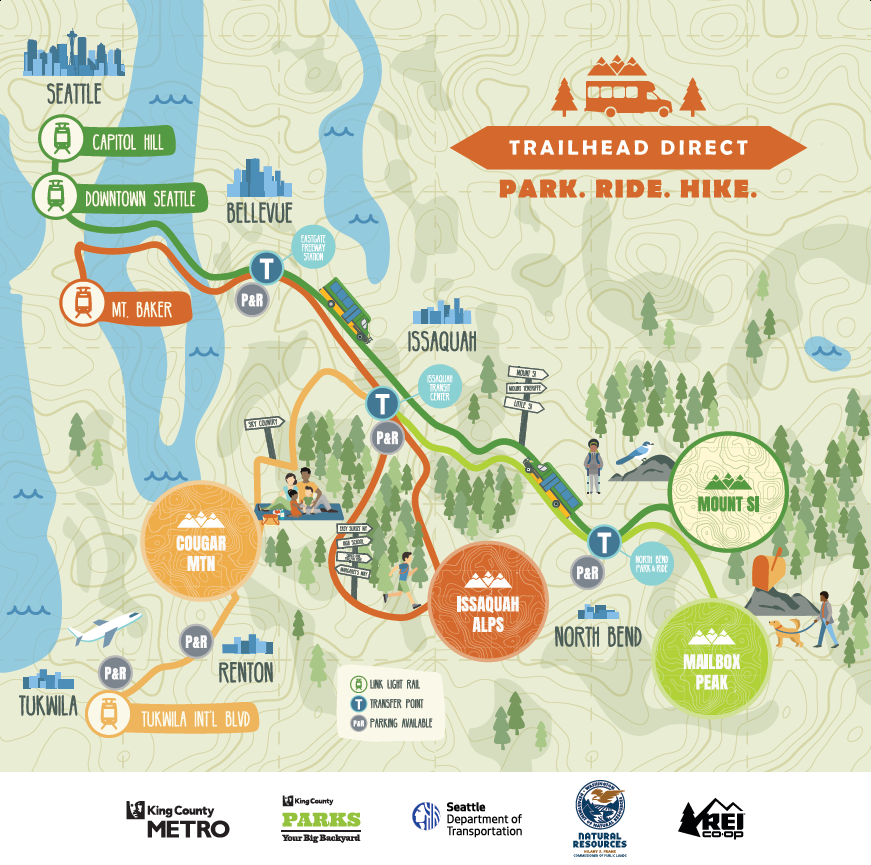 Trailhead Direct started with a single-route feasibility test in 2017 in response to dangerous overcrowding and illegal parking at popular trailheads. Metro and Parks launched a two-year pilot project in 2018 with additional funding from the voter-approved Seattle Transportation Benefit District. REI Co-op and Clif Bar & Company helped fund outreach and promotion.
Passengers boarded #TrailheadDirect vehicles 35,838 times during the 2019 season, from April through the end of October. That's up from 20,373 last season. Two boardings typically equal one round trip, so passengers took Trailhead Direct for about 17,500 hikes this season.
Metro and Parks are considering options for continuing the service next season, which will likely require a similar public-private partnership.
The partners will conduct a post-season survey to get public input on ways to improve the service next season. King County staff used input from last year's survey to improve the service design. For example, passengers this season were able to hike from one Trailhead Direct drop-off location to a different pick-up location.
One possible reason for the dramatic ridership increase from Capitol Hill to Mount Si was adding Little Si to the route. King County Parks and Metro partnered with the Washington State Department of Natural Resources to design and build a new drop-off and pick-up location at the popular trailhead.
Partners for the two-year pilot project included the cities of Bellevue, Issaquah, North Bend, Renton, Seattle, Tukwila, Eastside Fire and Rescue, ECOSS, Issaquah Alps Trails Club, Mountains to Sound Greenway Trust, REI Co-op, Seattle Department of Transportation, Si View Metropolitan Park District, The Mountaineers, The Wilderness Society, TOTAGO, U.S. Forest Service, Washington State Department of Natural Resources, and Washington Trails Association.
2019 Boardings for Trailhead Direct
Two boardings typically equal one round trip. 
| | |
| --- | --- |
| Route 634 to Issaquah Alps: | 7,921 |
| Route 636 to Mount Si: | 19,299 |
| Route 637 to Mailbox Peak: | 4,083 |
| Route 640 to Cougar Mountain: | 4,535 |
| Total Boardings: | 35,838 |