Our Commitment
We believe that when we are connected to nature, our lives are better. We are healthier, happier, and our communities are stronger. And yet, we recognize that not all people have equal opportunities to access the outdoors and the benefits it offers, and that systemic racism creates barriers that influence every aspect of the lives of Black, Indigenous, and People of Color (BIPOC).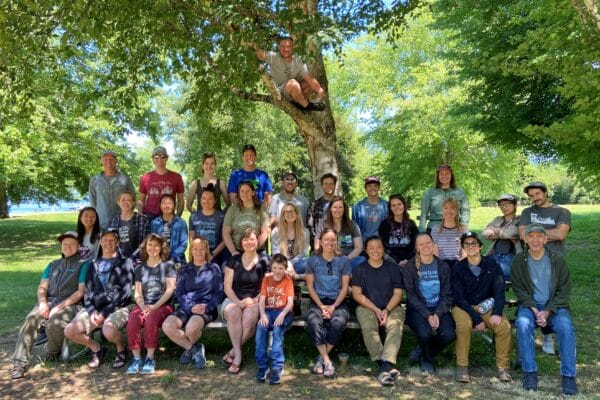 We are committed to promoting greater diversity, equity, and inclusion (DEI) within the Mountains to Sound Greenway National Heritage Area (Greenway NHA) and within our own organization and all aspects of our work. Specifically, in our strategic plan, we commit to:
Expand participation in our programming and diversify our partnerships, Board of Directors, and staff to better reflect the racial, ethnic, geographic, generational, and economic diversity of people in the region​.
Prioritize environmental justice and equity considerations in our projects and programming.
At the same time, we acknowledge that the Greenway Trust is a predominantly white organization in a historically white-led sector, and so most of us can't know the injustice, prejudice, fear, and suffering that BIPOC experience every day. We recognize that we have a long journey ahead.
Since fall of 2019, we have been working closely with a DEI consultant who continues to provide guidance as we navigate DEI in the context of the Greenway both as an organization and as a place. We are still learning and know that we will make mistakes, but we are committed to creating lasting structural changes that increase DEI internally in our workplace and externally in the communities we serve. As a coalition-based organization, we strive to be transparent throughout our journey with the hopes of learning and growing together with our many partners.
"Inclusive" is one of our core values — but what does that mean within the Greenway as an organization?
We will:
Strive to create a safe, welcoming, and inclusive environment for our staff members, board of directors, partners, and all who interact with the Greenway Trust.

Purposefully reflect on who is at the table and who is not at the table, and seek opportunities for meaningful engagement with a broader, more diverse set of populations. We recognize that when our table is unrepresentative, we all lose.

Engage and listen to people with diverse perspectives and experiences so that together we can create better solutions for our communities and for this landscape.

Actively work to diversify our Board of Directors, Advisory Committee, and staff.

Elevate diverse voices and provide a platform for others to share stories of their unique relationship to this place.
We are committed to DEI at the Greenway Trust because we want to better reflect the communities in and around the Greenway NHA, because we believe that equity and inclusion are vital to our mission, and because we want to do our part to create a more just society.
History and Context of DEI Work at the Greenway Trust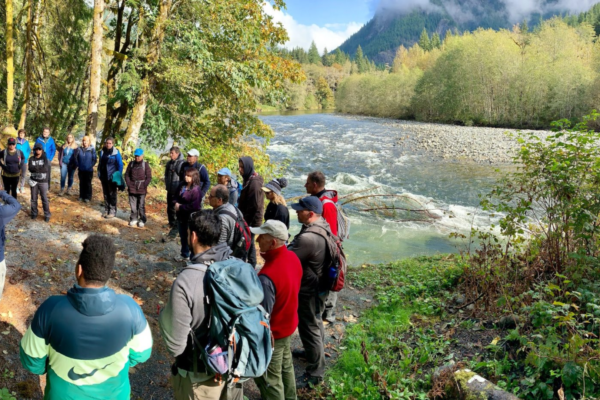 The Greenway Trust was founded with community and collaboration at its heart, and we have always seen our organization as a convener of diverse perspectives. Prompted by articulation of "Inclusive" as a core value in our 2016 Strategic Plan, the Greenway Trust staff and leadership began grappling with how that value was, or was not, demonstrated in our conduct and reflected in our programming and partnerships. Among our first steps, we hired a facilitator to lead a DEI workshop for staff and a number of partners; and we began posting and distributing job openings to venues where we hoped to reach more diverse candidates. We learned, though, that despite good intentions and earnest effort, we lacked the foundational understanding, organizational structure, and resource commitment to make and sustain truly meaningful change.
The Greenway Trust committed to drastically change this in November 2019 when we hired a consultant to help guide us through the process of building some fundamental DEI competency and eventually developing priority actions to effect real change within the organization.
Building A Foundation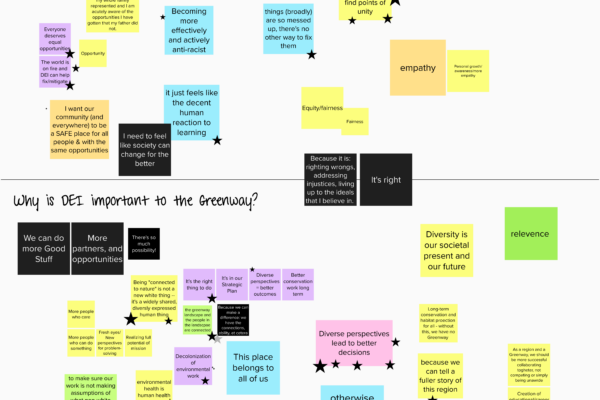 We started from a personal level, developing our emotional intelligence to recognize and work on blind spots and implicit biases, and to understand the massive impact of our privilege. We've also invested in growing our interpersonal skills – building and deepening staff relationships and learning and practicing skills to communicate across differences.
In the first half of 2021, having established a strong base of DEI knowledge and skills across the staff, we began shifting toward prioritizing areas for organizational growth to advance DEI and have begun to implement our plans for change in both our internal and external work.
We still have much to learn and we acknowledge that change cannot, and will not, happen overnight. We will encounter impediments and inevitably make mistakes along the way, but we are committed and ready to move forward together. We are not allowing the fear of imperfection stop us from advancing this important work.
Connect With Us
We thank you for taking the time to learn more about our DEI commitment at the Greenway Trust. We aspire to learn and grow with our community. This is a page that will be regularly updated, so please check back.
Please feel free to connect with us: info@mtsgreenway.org.
From Our Blog