Boeing Commits $50,000 to Fuel the Next Wave of Clean Water Ambassadors
Boeing focuses on the next generation of Puget Sound stewards through student support.
A Zamboni doesn't exactly zip across the ice (like, say, a Lamborghini would if it was put into rink service), but getting to ride a Zamboni in front of tens of thousands of cheering Seattle Kraken fans – that adds up to quite the thrill ride.
"That was the closest I will ever be to that ice. That was amazing!"
Those post-Zamboni sentiments are from University of Washington student, Calvin La. He and Sidra Wernli, a student at Garfield High School, each boarded Zambonis on behalf of Boeing to celebrate the Boeing-sponsored NHL Green Night at the Seattle Kraken game inside Climate Pledge Arena.
"It was really fun," said Wernli.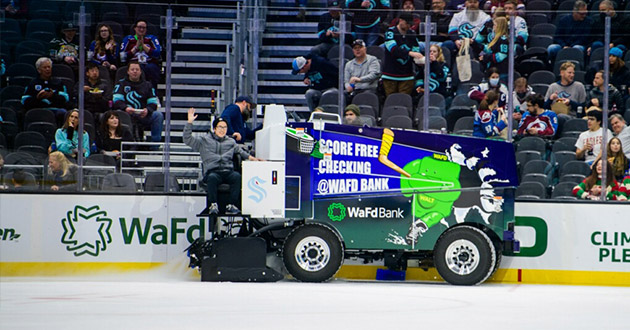 The two students were a fitting choice to take center stage — or ice – because both La and Wernli are Clean Water Ambassadors for the Mountains to Sound Greenway Trust internship program. On NHL Green Night, Boeing announced a $50,000 grant to support the internship program that the Trust runs in partnership with King County's Water Treatment division.
"The Boeing company has been a strong supporter of the Clean Water Ambassadors since the inception of the program," said Becca Kedenburg, the Education Program Manager with Mountains to Sound Greenway Trust. "Boeing has continued to show support and excitement for this program as it has evolved over the past seven years."
It's hard not to be excited about the emerald-colored swath of land that makes up the Mountains to Sound Greenway. The 1.5-million-acres stretches from Seattle to Ellensburg along the I-90 corridor. The Trust works to restore forest and wildlife habitat, build and maintain sustainable trails, and to educate the next generation of environmental stewards.
That's where their Clean Water Ambassador Internship program comes in. The program offers year-long, paid internships for 12 high school students who want to learn about protecting and sustaining the local environment. But more than that, the program specifically recruits students who may not otherwise have the chance – or perhaps even the luxury — to focus their time and energy on the environment.
"A big percentage of students from Washington state are from low income families, so during the summer they have to work to support themselves or their family, and a lot of conservation workforce experiences during the summer are not paid, so that's a barrier," said Kedenburg.
The hope is that the student ambassadors will go on to teach their peers and community members about ways to protect water in the Puget Sound region.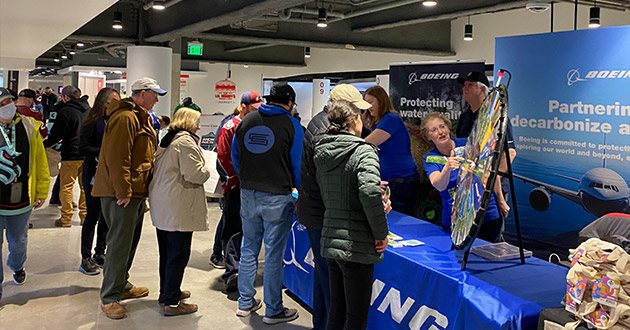 During that NHL Green Night, plenty of Kraken fans of all ages were anxious to learn ways to help maintain clean water in the Puget Sound. Members of Boeing's sustainability team staffed a pop-up booth where Kraken fans picked up free reusable Boeing tote bags – made from recycled water bottles – while learning ways to join the journey to a more sustainable future for the Sound.
"It was really meaningful getting to connect with Kraken fans on a shared vision for a healthy Puget Sound long into the future," said Gina Breukelman with Boeing Global Engagement. "And it's such a fitting place for that to happen — Climate Pledge Arena."