Native Trees are Critical to the Health of our Region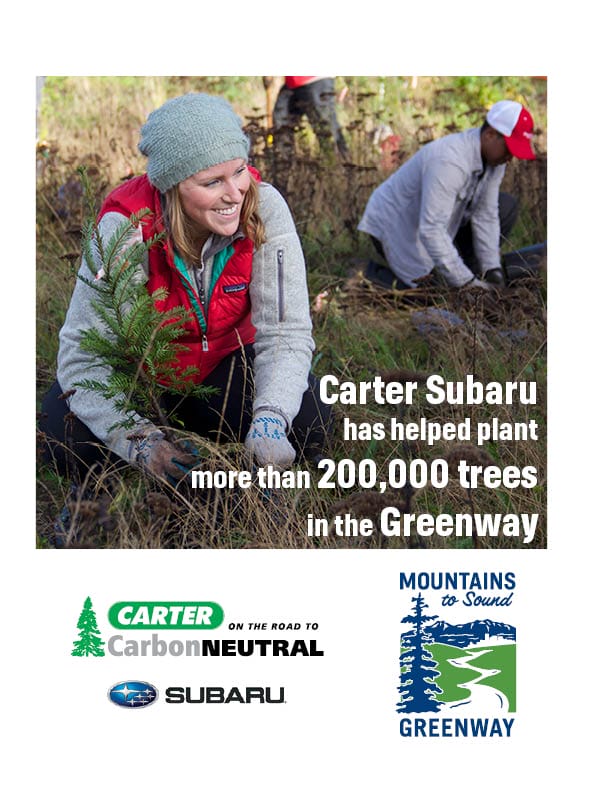 Trees improve air quality and reduce greenhouse gases. They shade creeks and streams, cooling water for threatened salmon. Trees also reduce erosion and filter pollutants, improving water quality and providing important wildlife habitat.
Our nearby forests provide environmental, economic, and social benefits throughout the Puget Sound region and without proper care, they may be lost to future generations.
That's where Carter Subaru and Carter Volkswagen come in.
Planting a Forest…One Test Drive at a Time
Since 2008, in partnership with the Mountains to Sound Greenway, Carter Subaru and Volkswagen have planted more than 200,000 native trees and shrubs in the Greenway as part of their On the Road to Carbon Neutral program.
Every time you test drive a Subaru at Carter Motors, they will plant one tree in your name in the Greenway. Buy a Subaru, and they will plant three more during the Greenway's tree planting season.
Tree Planting Season
The Greenway Trust hosts tree planting events every fall and winter.* They are excellent for individuals, families, groups, and work teams. No experience required!
View Our Upcoming Tree Planting Events
Annual Tree Planting Celebration
We celebrate the start of the native tree planting season with our Annual Tree Planting Celebration. In 2022, more than 100 volunteers and partners came together at Lake Sammamish State Park to help plant more than 1,000 native trees and shrubs. Check out a recap of the celebration here!