Wine Train Excursion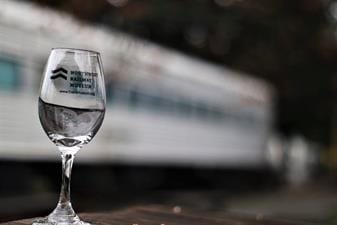 Date & Time
Saturday, April 27, 2019
Priority Area:
Additional Information
A unique way to experience the upper Snoqualmie Valley. Join the Northwest Railway Museum for Wine Train excursions featuring Snoqualmie Valley wineries, food, music, and views!
Our Wine Trains feature a scenic train ride through the Snoqualmie Valley along the Seattle, Lake Shore & Eastern Railway, built in 1889. Passengers ride in historic coaches, gain unique access to Museum collections and exhibits, and learn how the railroad changed everything. Wine trains include multiple tasting stops with local food and music. Take home your favorite bottle(s) of wine. Each wine is available for purchase in the Snoqualmie Depot Bookstore after your excursion.
Visitors (21 and older only please) receive a complementary souvenir wine glass with each ticket.
Event check in begins at 2:30 at the Snoqualmie Depot. Your train returns to the Snoqualmie Depot at 6 pm. We encourage you to visit any of the Historic Downtown Snoqualmie businesses for food, shopping, and more after your excursion.