Snoqualmie Tunnel Bike Ride – Explore the Greenway
Snoqualmie Tunnel Bike Ride – Explore the Greenway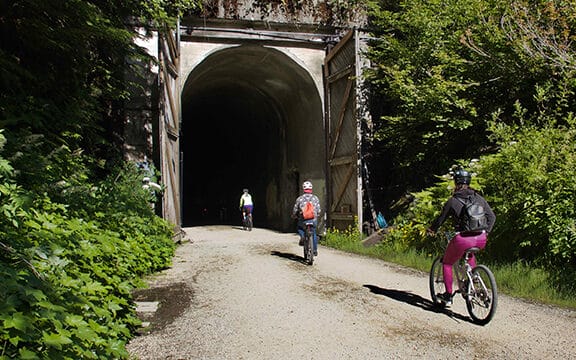 Date & Time
Saturday, August 5, 2023 | 8:00 a.m. – mid afternoon
Priority Area:
Additional Information
Discover the incredible 2-mile-long tunnel at Snoqualmie Pass — a remnant of our railroad history! The biking trip will cover 24.5 miles, taking you through the tunnel and then along a beautiful stretch of the Palouse to Cascades State Park Trail, complete with sweeping views of the Cascades. Following the event, participants will meet up for a celebratory lunch and socializing back at South Fork in North Bend!
Location: Starting and ending at South Fork in North Bend – 14303 436th Ave SE, North Bend, WA 98045. A shuttle to Snoqualmie Pass will be provided.  
Distance: 24.5 miles
Difficulty: moderate 
Total Trip Size: 100 participants
Age Restrictions: 12 years and older (see exemptions). All youth 16 or younger need to be accompanied by an adult.  
Cost: $100 / person
This cost includes a shuttle ride for you and your bike, as well as lunch. We do have financial scholarships available, please check out our Frequently Asked Questions page to learn how to apply. 
Click here to view full event details, including where and when to meet, what to pack, bike rental info, and more.
Registration is currently paused for this event due to an unforeseen scheduling conflict. If you would like to be notified as soon as we're back up and running, please send a message to Katie.Egresi@mtsgreenway.org. We apologize for the inconvenience!