Q&A: Julia Munger, Former AmeriCorps Member
What's the benefit of serving with AmeriCorps? For Julia Munger, botanist for Seattle Public Utilities at the Cedar River Municipal Watershed, AmeriCorps provided the experience needed to start her career and find opportunities that fit her passions. While completing two service terms with the Mountains to Sound Greenway Trust, Julia found that she enjoyed getting the first-hand experience of restoration work and trail building.
Even before her AmeriCorps experience, Julia spent much of her time outdoors while growing up in Alaska. When she reached high school, she felt confident that working outside as a scientist was what she wanted to do. Julia was drawn to the Huxley College of the Environment at Western Washington University in Bellingham, and earned her degree in Environmental Science in 2008. Her hope was to get a job in water quality and freshwater ecology, but with the recession in full force she decided to take any environmental or natural-resource job she could get. Her first seasonal positions involved conducting butterfly surveys and teaching marine science on a boat before her AmeriCorps terms with the Greenway.
Having spent much of her time outdoors and volunteering throughout her life, the AmeriCorps position with the Greenway focused on environmental work seemed to be the perfect fit. Read on for a conversation we had with Julia below…
What were your AmeriCorps service dates, specific roles at the Greenway Trust, and which AmeriCorps programs did you serve through?
My first AmeriCorps term with the Greenway was as the Volunteer Program Associate through the Northwest Service Academy, from January 2009 – November 2009. I found that one of my favorite parts of my first year was working outdoors and getting the hands-on experience of restoration and trail building. So I came  back to do my second AmeriCorps term with the Greenway as a crew member in the Washington Conservation Corps, from January 2010 – January 2011.
Could you summarize your education and career experience leading up to your current role within the Cedar River Municipal Watershed?
I grew up in Alaska and started college there, but I transferred to Western Washington University my sophomore year because I was drawn to Huxley, their environmental college. I graduated with my degree in Environmental Science from Western at the start of the 2008 recession. My classes focused on water quality and freshwater ecology in college, so I'd always hoped to get a job in that field. With the recession, however, I decided to take whatever environmental or natural resource-related job I could get. I had seasonal jobs conducting butterfly surveys and teaching marine science on a boat before I started my first AmeriCorps service term at the Greenway. After two years with the Greenway, I spent several more years working a variety of seasonal jobs around Puget Sound that focused on ecological restoration and trail building in both the public and private sectors. I even spent a winter on Catalina Island in California removing invasive species, which was a nice change of pace from Pacific Northwest winters! Even though I enjoyed my seasonal positions, I had my sights set on a permanent job, so I enrolled in the University of Washington's Wetland Science and Management certificate program to gain more technical experience. The program was great because I was able to continue to work while I took classes in the evenings, and once I graduated I landed a permanent consulting job as a wetland biologist. I loved my consulting job because the variety of work was endless and I got to travel all over Washington and the western US to conduct field work. Two years ago, I transitioned to working for Seattle Public Utilities as the botanist in the Cedar River Municipal Watershed. This position allowed me to get back to my restoration roots that started when I worked at the Greenway!
Was there anything in your childhood or education that influenced you to do environmental work or serve an AmeriCorps term?
I grew up spending a lot of time outdoors and I had some great science teachers in elementary and middle school. By the time I was in high school I was pretty convinced that I wanted to be a scientist that worked outside. I've also spent a lot of time volunteering throughout my life. When I came across the Greenway job posting for an AmeriCorps position focused on environmental work, it seemed like it would be a perfect fit.
How did these AmeriCorps positions with the Greenway shape your future and impact your career path?
My AmeriCorps roles at the Greenway gave me my first experience in the restoration field. I went on to work in multiple restoration jobs before becoming a consultant. While consulting, I was able to help design restoration and mitigation projects, and also give recommendations to our clients on how to maintain restoration sites. It was so helpful to have my previous hands-on restoration experience to guide me in my consulting role. Now that I work at the Cedar River Municipal Watershed, I am in charge of invasive species control and restoration planting in an unfiltered watershed that provides water to over a million people. It is an enormous privilege, and also a big responsibility! I feel very lucky that my career path has led me here.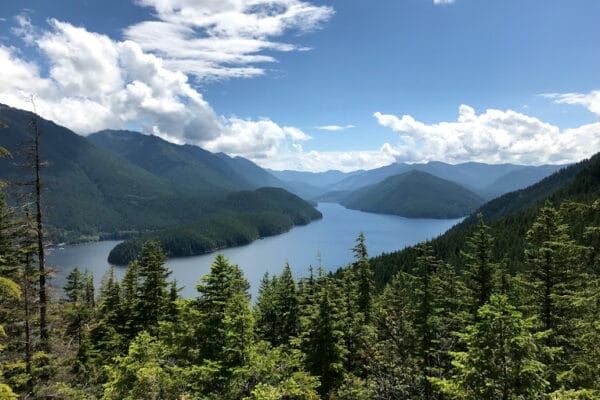 What was one of your favorite projects or events you worked on during your time with the Greenway?
My favorite project from when I was the volunteer associate was helping develop and run the Greenway summer camps, which focused on environmental education and stewardship. When I was in WCC, my favorite project was building a reroute on the Tiger Mountain Trail. We were up on Tiger Mountain every day building new trail and structures for over a month. It was fun to get so familiar with one site.  I also enjoyed the tree planting kick-off events both years.
What was an important lesson you learned or outcome you experienced while in this role? How do you apply those lessons in your current role?
One of the outcomes that I experienced was serving with fellow AmeriCorps members that eventually turned into professional peers. Several people that I served with at the Greenway have become colleagues or work for partnering agencies. It's great to continue to work with these amazing people over a decade later! It also taught me that the restoration/natural resource world is small in the Puget Sound region. I've worked with so many people over the years. It is a powerful tool to have connections with other local restoration practitioners, it can lead to great collaboration and innovation.
What can the Greenway Trust learn from you now to help shape future AmeriCorps roles?
My AmeriCorps experience came during the Great Recession when typical jobs were scarce, especially for young people and recent graduates. Serving in my AmeriCorps roles for two years gave me the experience I needed to jumpstart my career and find work that fit my passions. With our current economic reality due to COVID-19, workforce training programs like AmeriCorps are more important now than ever. My advice to the Greenway is to keep filling AmeriCorps positions and give members as much ownership and responsibility over projects as possible. The experience that members gain from these positions will be invaluable in their future careers.
In your free time, what are some of your favorite outdoor activities or places to recreate in the Greenway?
I really love to go hiking around the Middle Fork Snoqualmie Valley, and I've spent a lot of time trail running in the Issaquah Alps. While I usually try to find less popular trails, I always have a fun time hiking trails like Little Si, Rattlesnake Ledge, and Teneriffe Falls and seeing structures I helped build over ten years ago still holding strong despite all the foot traffic they receive!
Interested or know someone who would want to work with us? We're hiring for trail and restoration seasonal positions now!