Q&A: Addie Candib, Former AmeriCorps Member
This is a personal profile of Addie Candib, a former AmeriCorps member with the Greenway Stewardship Program.  Addie is now the Pacific Northwest Regional Director for the American Farmland Trust.  We recently sat down with her to learn how her Greenway experience shaped her career and life.
Addie, you were in one of the early cohorts of AmeriCorps members who served with the Mountains to Sound Greenway.  Which AmeriCorps program was it and what were the years you served?
I had just graduated from college and moved to Seattle to find work in 2005.  I applied for an AmeriCorps position with the Washington Conservation Corps and joined the Mountains to Sound Greenway Trust as a crew member to do both trail building and maintenance and ecological restoration. I then stayed on for a second year as an individual placement, and finally as an assistant crew lead.
What were some of the highlights of your experience with the Greenway Trust?
While at the Greenway, I fell in love with landscapes and working outdoors. There was such a feeling of satisfaction to being outdoors building trails and planting native plants. I still can't hike a trail without complaining about the drain dips!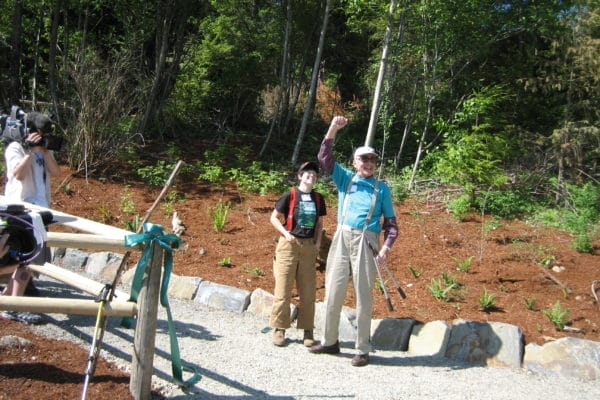 I didn't grow up using chainsaws, backpacking or driving trucks with a stick shift. It was an incredibly steep learning curve! From going on a backcountry spike for the first time to camping out on top of a mountain for two weeks in the rain, to building the tool racks for our field base and using the wood shop at Lake Sammamish State Park! I am grateful for that time in my life, even the projects that were in the moment challenging and frankly miserable, like driving power toters down trail all day for what seemed like weeks. 
It was such an important time and the memories will always be with me. The people and relationships at the Greenway were really lasting. I still enjoy seeing my old crew leader Pete Kingham do Facebook Live concerts!
What did you do after you left the Greenway?
After my time with the Greenway I joined seasonal trail crews at Zion and Mount Rainier National Parks. When the recession hit and trail work opportunities disappeared I began reading the books of Michael Pollan and Barbara Kingsolver, and I thought 'what better time to go work on a farm?' I found an apprenticeship on a small organic farm on Whidbey Island where I deepened and amplified my love for working outdoors, and the problem-solving aspects of growing food. I also found a real sense of community with other people who shared my values.
Becoming a Jack or Jill of all trades connects so naturally to the world of organic farming. Working with an incubator farm, I found myself being very protective of the other women, making sure they were getting to learn all the skills, with an eye towards equity. You have to work to advocate for yourself and be seen.
What eventually drew you to working with farm policy?
After my farming apprenticeship I took part in launching the Washington Young Farmers Coalition. I also started a small farm of my own. I learned how tough this is, and that farmers need a robust network to support them. I got involved in a local farmers market, and joined the Tilth Alliance of Washington. I also learned that I needed off-farm income to support my farm habit.
One of my first farm policy jobs was with the Community Farmland Trust in Olympia, an organization that protects farmland from development and preserves land in perpetuity so a farmer can afford to keep farming. I found my intellectual home, uniting interests in growing food and in food systems, a core passion, and interest of mine.
How did you arrive at your current position as PNW Regional Director with the American Farmland Trust?  What does the trust do?
I first began working with the American Farmland Trust in 2014 when I joined the regional advisory council.  After relocating to Whatcom County, I worked with several nonprofits including an incubator farm. When the Pacific Northwest Regional Director position came up it seemed like a great fit with its focus on farmland conservation.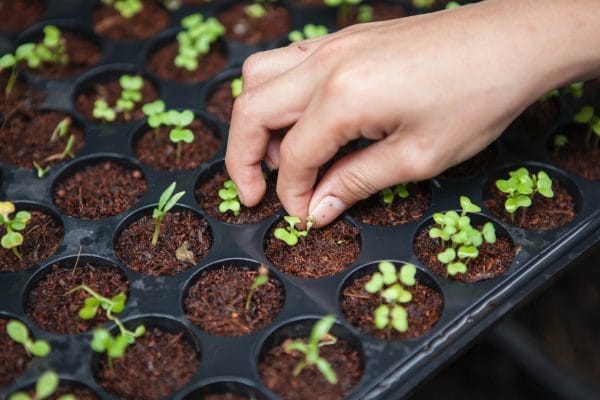 The American Farmland Trust was launched 40 years ago as part of the sustainable agricultural movement. We work in partnership with other land trusts to preserve and protect farmland and have protected over seven million acres. We work to ensure sustainable farming that is economically viable, so farmers stay on their land and pass their farms on to future generations.  We also promote carbon sequestration in farming practices.
The American Farmland Trust has been working in the Pacific Northwest for 20 years, with a recent focus on the intersection of water quality and agriculture in King and Pierce counties.  We work to preserve farmland and support farmers across Washington, Oregon and Idaho.
Are you involved in other areas of agricultural policy?
As part of my role as Pacific Northwest Regional Director for the American Farmland Trust, I serve on the Washington State Food Policy Forum, and in an advisory role with the Washington State Recreation and Conservation Office and the Natural Resource Conservation Service.
Any advice for current Greenway AmeriCorps members?
Hmm….when we were spiked out atop Mount Washington we discovered the best way to keep our bodies going was with peanut butter, banana, and Oreo sandwiches!
But seriously, a huge piece of my experience was being empowered to learn hands-on skills.  Being given that space to learn and become a competent, skills driven person was really valuable. As an AmeriCorps member, you also need to build perspective about how what you do fits into the larger picture. I remember attending Greenway board meetings and doing other activities like visiting important locations on the landscape and talking to Greenway founders like Ted Thomsen. Those experiences turned out to be really impactful.
Know of anyone that might be interested in becoming an AmeriCorps member that serves with the Greenway? Check out our openings to see the latest opportunities.