Boots on the Ground: Knotweed
Hello from the Greenway's WCC field crew! This week we are in the beautiful Snoqualmie Valley working at a stream bank restoration project on the South Fork of the Snoqualmie River. The site is a floodplain with an amazing view of Mt Si, but had become overrun with invasive Japanese Knotweed.
For the last three summers, the King County Noxious Weed Control Program removed the knotweed with the aquatic safe Imazapyr herbicide.
Now we've come in to do the next step: replanting. After treating an area for invasive species, it is very important to plant native species in their place so that soil erosion does not occur.
We just planted 1,100 new coniferous trees: Douglas Firs and Western Red Cedars. Conifers are vital in order to properly shade the water, which keeps the temperature cool for fish living in the river. Our crew happily planted away in the winter sun using trees from our native plant nursery, which had been taken care of by our incredible volunteers over the last few years.
We had a great time this week, and wanted to share the beautiful views with all of our Greenway neighbors. We hope you get out and enjoy the beautiful Snoqualmie Valley—we sure are!
Knotweed is one of our hardest invasive plants to control: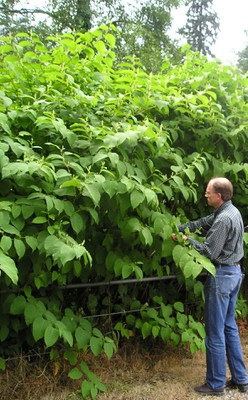 Outcompetes native plants – It's so competitive that it becomes a mono-crop (one species) because it is so dense and tall that no other native plants are able to survive in the same area. Lack of diversity is bad for the ecosystem.
One small fragment can regrow into a whole new plant – A small piece of stalk or root (even as small as ¼ inch) left on or in the ground can grow into a new plant. Knotweed loves floods, which tear off pieces of the plant with the high water flow and carry them downstream to grow a new colony of knotweed.
Can't dig it up – Its root system is based on rhizomes (lots of interconnecting roots) that allow it to propagate underground. They are so easy to break and numerous that there's no realistic way to dig up all of them, like we would to remove Himalayan blackberry. And given the fact that any roots left behind can grow into new knotweed plants, it's too dangerous to try. Instead, it must be treated with herbicide chemicals which slowly kill the plant from the inside out