Snoqualmie Point Park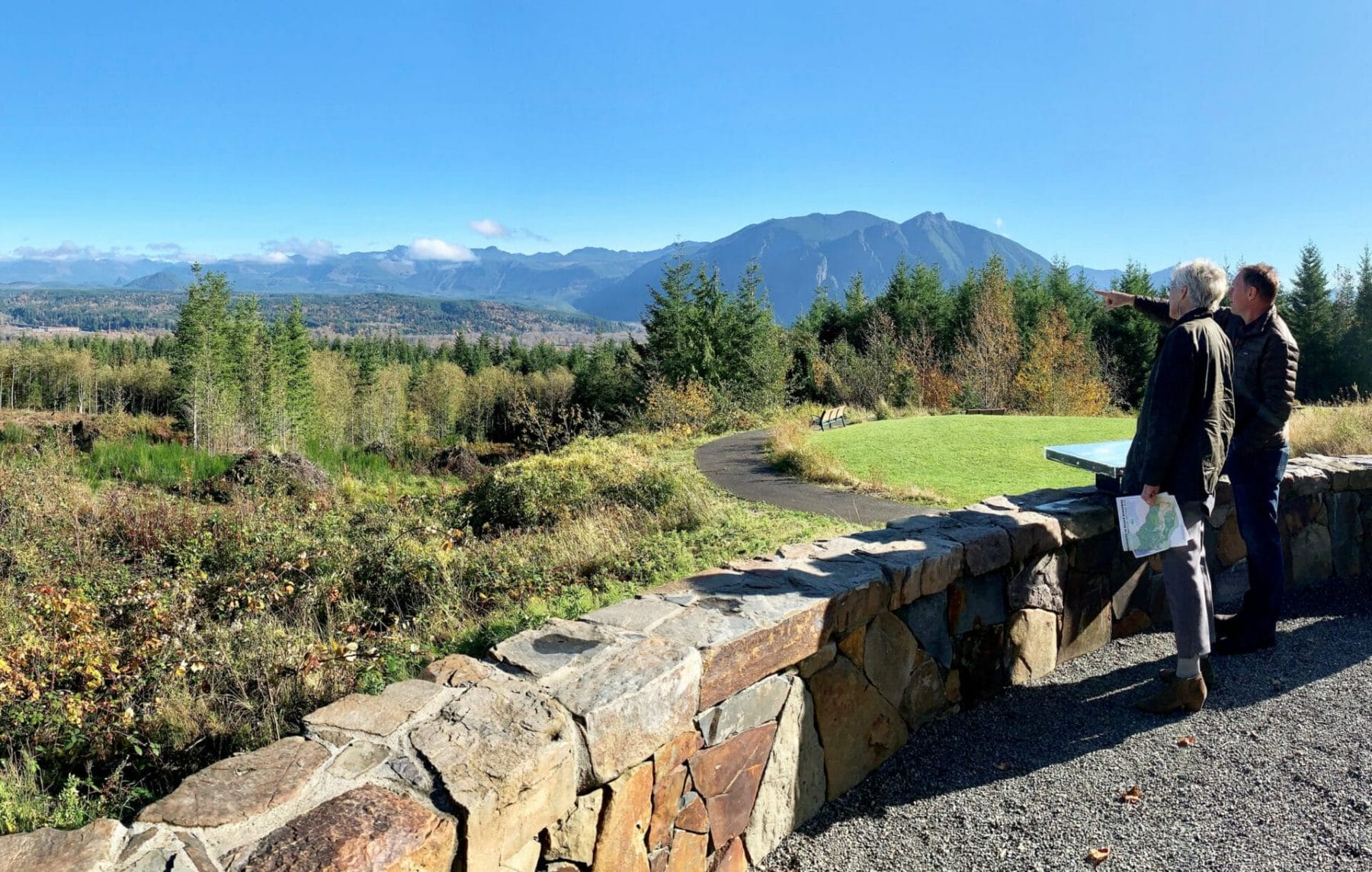 Snoqualmie Point Park offers an excellent view of the Snoqualmie Valley and Mount Si. The Greenway Trust played a key role in preserving these lands and building a community gathering place and trail. Since time immemorial through today, this land has been the home of the Snoqualmie People who have continually lived, fished, hunted, gathered on, and stewarded their ancestral lands.
The eight-acre Snoqualmie Point Park was acquired in 2000 through collaborative efforts of the Trust for Public Land , USFS, and the City of Snoqualmie. The site was formerly the location of the Snoqualmie Winery, which grew grapes in Eastern Washington and brought them over Snoqualmie Pass for wine production.
This forested holding is a remnant of the 900,000 acres bought by Friedrich Weyerhaeuser from the Northern Pacific Railroad in 1900. It was the largest private land transaction in American history at that time. With this foothold, Weyerhaeuser began expanding his holdings in the Pacific Northwest, with the express intent of managing it across multiple harvests, which seemed like a radical idea after fifty years of logging as a form of resource extraction cum ecological extermination. At the same time, Weyerhaeuser invested in the timber towns of what is now known as the Greenway as long-term communities, rather than temporary camps of transient lumbermen. The nearby town of Snoqualmie, formerly Snoqualmie Falls, grew up around the mill site developed by Weyerhaeuser to process timber harvests.
Park visitors today exit I-90 to the park at the site of the Niblock Coal mine. When the freeway was built, the adjacent hillside started to slide as construction disturbed the mine remains. The short exit ramp and large retaining wall are an engineered adaptation to the ongoing and persistent impacts of abandoned coal mines in the area. 
More Information:

Location:

37580 Winery Road, Snoqualmie, WA | Google Maps
[47.509766,-121.84036]
[[[-121.84474292107512,47.510454423897016,0],[-121.8447441299664,47.510701883872429,0],[-121.83957300063125,47.510735113351664,0],[-121.83949285020155,47.508723228543928,0],[-121.84201956586379,47.508717296955361,0],[-121.84204068065613,47.509805195511618,0],[-121.84204096461951,47.509819779844385,0],[-121.84230072497012,47.509934879882451,0],[-121.843302477866,47.510102550101273,0],[-121.84383360894843,47.510098242163139,0],[-121.84474292107512,47.510454423897016,0]]]
Greenway Trust Priority Area:
Map Categories: