Meadowbrook Farm Park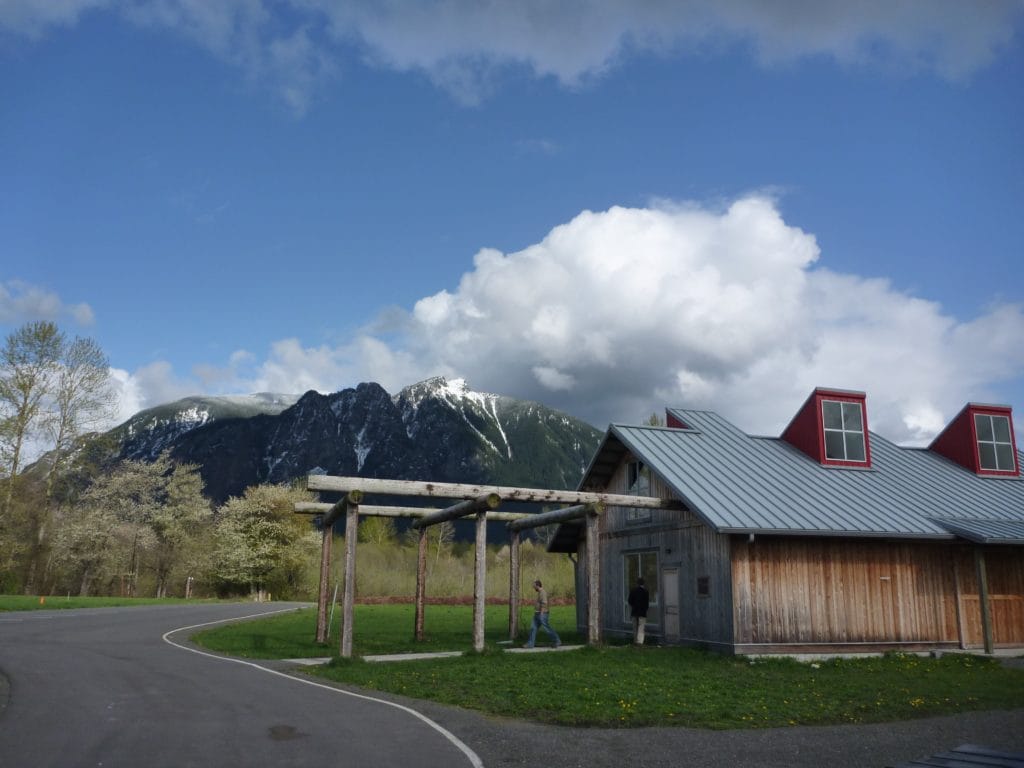 Once part of a prairie tended by the Snoqualmie People, today Meadowbrook Farm Park includes farmland, wildlife habitat, trails, and interpretive facilities.
The open space of Meadowbrook Farm and the nearby Tollgate Farm was originally an expansive prairie tended by the Snoqualmie people, who used fire to maintain open non-forest habitat. Periodic burns encouraged camas, berries, ferns, and edible roots to grow, and lured black-tailed deer, elk, and other game animals to forage. Snoqualmie People lived and gathered in villages on the prairie and traveled along established trade routes through the area.
After the signing of the Treaty of Point Elliott of 1855, settlers "claimed" these highly productive areas and constructed Treaty War forts for fear of outbreaks of violence. After the Homestead Act of 1862, more white settlers soon moved in, including Jeremiah Borst who homesteaded much of what is now Meadowbrook Farm. Borst sold the property to the Hop Growers Association, who developed it into a hop ranch that claimed to be the largest in the world, at 900 acres. Native people often worked as laborers on this and other hop farms because they offered one of few opportunities for native people to earn money and to travel back to ancestral areas from which they had been displaced.
Later used for dairy and general agriculture, 460 acres of the original Meadowbrook Farm was preserved under public ownership in 1996.
More Information:

Location:

Snoqualmie, WA | Google Maps
[47.52173522,-121.8052106]
[[-121.80521056392219,47.521735217680778],[-121.80458610861291,47.521541449252233],[-121.80447483188523,47.521509081201707],[-121.80436003182658,47.521476148043959],[-121.80430792958902,47.521461124263091],[-121.80427960612838,47.521449466324952],[-121.80418154378263,47.521409752959407],[-121.8041417443295,47.521392971273599],[-121.80409960787456,47.521376628626868],[-121.8040724015323,47.521367864454788],[-121.8040319452595,47.521359532922595],[-121.80395530175349,47.521349824718875],[-121.80389221968284,47.521342543499252],[-121.80374024495215,47.521329228856189],[-121.80366456842307,47.521318819707467],[-121.80359771101466,47.52130587138879],[-121.80353041840598,47.521290541495162],[-121.80348052721568,47.521276320145581],[-121.80336900282462,47.521239137825596],[-121.80331542535716,47.521225075507544],[-121.80325473143427,47.52121410619236],[-121.80315869893894,47.521200779867939],[-121.80298999475389,47.521183335629757],[-121.80293306446904,47.521175860915427],[-121.80288888391827,47.521167699296221],[-121.80284042483893,47.521156377871556],[-121.80264253188868,47.521101992906026],[-121.802599871721,47.521092517069548],[-121.80256029104754,47.521085549690333],[-121.8025022343537,47.521078979685754],[-121.80236873668993,47.521069512466113],[-121.80230914289817,47.52106171283377],[-121.80226166438369,47.521053075144223],[-121.80223036746871,47.521045736151528],[-121.80219155559351,47.521032879030905],[-121.80213510120586,47.521009559076255],[-121.80208331635521,47.520985010310199],[-121.8019841815868,47.520930284334526],[-121.80194087548958,47.520908404896382],[-121.80183151042563,47.520860362334055],[-121.80177683309648,47.520830175242466],[-121.80173584597981,47.520802749487594],[-121.80171799035251,47.52078767628214],[-121.80170041648833,47.520769615338516],[-121.80164894348036,47.520705415944271],[-121.80162809907807,47.520682231944399],[-121.80159820535673,47.520653879756303],[-121.8015628883155,47.520623664128472],[-121.80141379129257,47.520508305888733],[-121.80135318838965,47.520456810596507],[-121.80130025278413,47.520404496474285],[-121.80117637488325,47.520268915647087],[-121.80111583875612,47.52020836408289],[-121.80108399668211,47.520180847595427],[-121.80099310607174,47.520108159820133],[-121.80096805236775,47.520085120783882],[-121.80094796365096,47.52006344659641],[-121.80092834975034,47.520036567911994],[-121.80088947527362,47.519969887771822],[-121.80086904554298,47.519940694748996],[-121.80083797181956,47.519902566143564],[-121.80081484663994,47.51988046620724],[-121.80079192985801,47.519864906999551],[-121.80076276439925,47.519849904236104],[-121.80066518189814,47.519806598019464],[-121.8005724770633,47.519771211423141],[-121.80054196936692,47.519760195850445],[-121.80053811861191,47.519737232906095],[-121.80051218146778,47.519702706057828],[-121.80048834480047,47.519677279507682],[-121.80047118235245,47.519651648873285],[-121.80045320400572,47.51962943020947],[-121.80043716558713,47.519598151562235],[-121.80042073830226,47.519545931181952],[-121.80039968931406,47.519471856563719],[-121.80039107797495,47.519424331593008],[-121.80037997314496,47.519374742201933],[-121.80037958734303,47.519373021243723],[-121.80036950133385,47.519321699701763],[-121.80034789539509,47.519217642400513],[-121.80031882167367,47.519051768454688],[-121.80028275181867,47.51884977978608],[-121.80025949568187,47.518732407384967],[-121.80023173273678,47.518599366299242],[-121.80015649355431,47.518255389532399],[-121.80012680906547,47.518132360760298],[-121.80010837777026,47.518047791871673],[-121.80008996302529,47.51796417357923],[-121.80007481752101,47.517905278803397],[-121.80006194980572,47.517855410400976],[-121.80004357982249,47.517774171710286],[-121.80002880917394,47.517697662947072],[-121.79998722003756,47.51750095739483],[-121.79996570612298,47.517401658255103],[-121.79994809224263,47.517323268850518],[-121.79993427265663,47.517260080247489],[-121.79989271988376,47.517065277596252],[-121.79986141930111,47.516930837515034],[-121.7998011828367,47.516675742954703],[-121.79977990652502,47.51658929426354],[-121.79976122914604,47.516491399009681],[-121.79973187808422,47.516348375518398],[-121.79967751956328,47.516107033565277],[-121.79965291236728,47.515992530166606],[-121.79962852691909,47.515889923066595],[-121.79958403357904,47.515688006386121],[-121.79948606174261,47.515254259099919],[-121.79944554042247,47.5150770598393],[-121.79942329816605,47.514976338410996],[-121.79939503056231,47.514853772932362],[-121.7993788763448,47.514778227535253],[-121.79937200734682,47.514748774911354],[-121.79936288139976,47.514711250039497],[-121.79935747794381,47.51468511556034],[-121.79936244517401,47.51464985038686],[-121.79937397322576,47.514627380452744],[-121.79939386958348,47.514601507796364],[-121.7994166983658,47.514582274111326],[-121.7994381748576,47.514565907879309],[-121.79948976232328,47.514544049512295],[-121.79955761200844,47.514527764687706],[-121.79962206248872,47.514517696542619],[-121.79968589231574,47.514511916984702],[-121.79974064142395,47.514509072248629],[-121.7997890856266,47.514507231578456],[-121.79983266646546,47.514508289457801],[-121.79987631597452,47.514513152404618],[-121.79991448336349,47.514518619856595],[-121.79994804876381,47.514516826521351],[-121.79996418881227,47.51451573778354],[-121.79997253921732,47.514511382633337],[-121.79998084500384,47.514504647862367],[-121.79998627940631,47.514494605253198],[-121.79999223131922,47.514474563246154],[-121.79999949977004,47.51444974989824],[-121.80001137679157,47.514408237749535],[-121.80001379706886,47.514387274495185],[-121.80001766010328,47.514368201202956],[-121.80002188766773,47.51431859787494],[-121.80006831116103,47.514264654514434],[-121.80028147612167,47.514109331832117],[-121.8004691578176,47.5140006373706],[-121.80063016464847,47.513874317760902],[-121.80072340868999,47.513787845329617],[-121.80073268806044,47.513719937926446],[-121.80068921560428,47.513648909420745],[-121.80050776837057,47.513525507152544],[-121.80020836311992,47.513292440717429],[-121.79998351406125,47.5131015783249],[-121.79972751702874,47.51293596907049],[-121.79954620822595,47.512819704129463],[-121.79923160213426,47.512618894232261],[-121.79900796056468,47.512467937023636],[-121.79893721127081,47.51237150225726],[-121.79886191748108,47.512244639839771],[-121.79883708285112,47.512193444805689],[-121.79883226745777,47.512176243110105],[-121.79882570981336,47.512148321526951],[-121.7988206697424,47.512130342456693],[-121.79879940751344,47.512103326134302],[-121.79877881668889,47.512082082609538],[-121.79875547953705,47.512054910424794],[-121.7987409795676,47.512030639530494],[-121.79862274879272,47.511588407840094],[-121.79861620874173,47.511552734908989],[-121.7986082814803,47.511504012872919],[-121.79859758705474,47.511448175044741],[-121.79858510506803,47.511390566217628],[-121.79857314978919,47.511361513864983],[-121.79854406618446,47.511254052811154],[-121.79853026050381,47.511226815629946],[-121.79848067997368,47.51115762285832],[-121.79845804529562,47.511120926785367],[-121.79845186295177,47.511096635032665],[-121.79841321019993,47.510928530907925],[-121.79841103489845,47.51090593951951],[-121.79841368499319,47.510811909551862],[-121.79840679133098,47.510771509084343],[-121.79832319228439,47.510430100663889],[-121.79831661044618,47.510405862826978],[-121.79831256385356,47.510377832234724],[-121.79830168894698,47.510217277292391],[-121.79829223793004,47.510181063798896],[-121.79822605618489,47.509973974776315],[-121.7981406550139,47.509724804735527],[-121.7981314747931,47.509691642064233],[-121.79812690894202,47.50964638339719],[-121.79812630136725,47.509566065077209],[-121.79812297257078,47.509528609417778],[-121.79811603474202,47.509485828383653],[-121.79797047908129,47.509022973978574],[-121.79796930452916,47.509006919893714],[-121.79798567488727,47.508942521697008],[-121.798045429255,47.508849791553303]]
Greenway Trust Priority Area:
Map Categories: