Meadowbrook Farm Interpretive Center
Priority Area:
Map Categories:
Cultural and Natural Heritage Sites, Parks and Open Spaces, Trails, Wildlife Information and Viewing Area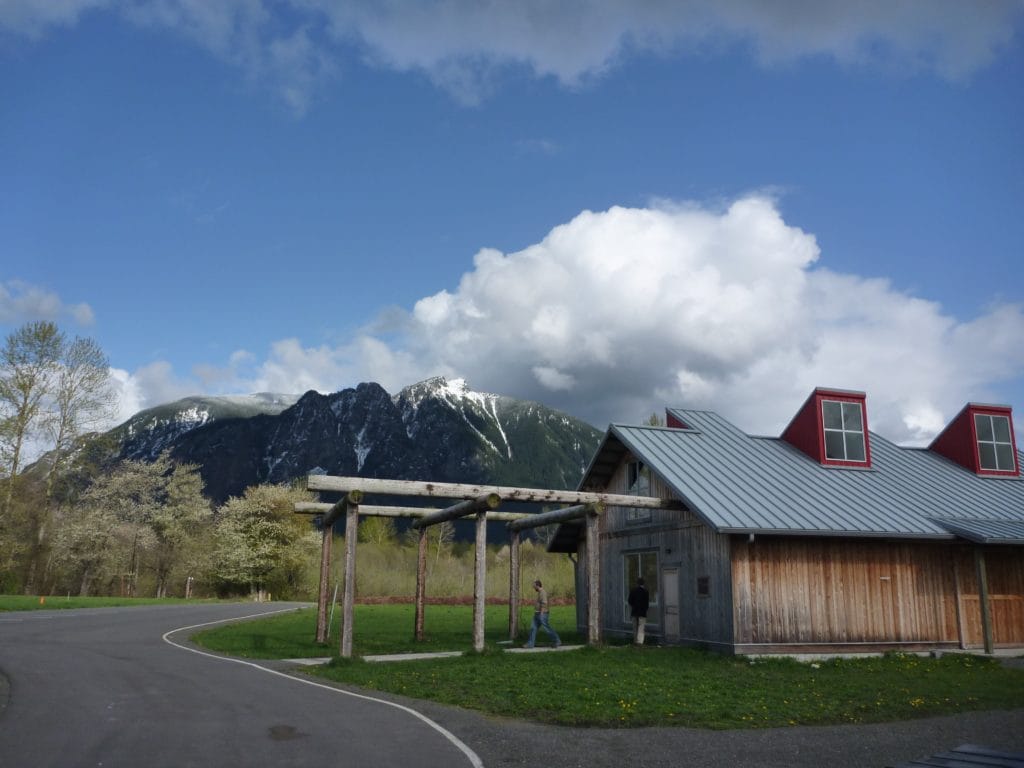 The open space of Meadowbrook and Tollgate Farms was originally an expansive prairie tended by the Snoqualmie people, who used fire to maintain open non-forest habitat. Periodic burns encouraged camas, berries, ferns, and edible roots to grow, and lured black-tailed deer, elk and other game animals to forage. Snoqualmie people lived and gathered in villages on the prairie and traveled along established trade routes through the area. After the signing of the Treaty of Point Elliott of 1855, Treaty War forts were built on these sites by settlers concerned about outbreaks of violence. After the Homestead Act of 1862, more white settlers soon moved in, including Jeremiah Borst who homesteaded much of what is now Meadowbrook Farm. Borst sold the property to the Hop Growers Association, who developed it into a hop ranch that claimed to be the largest in the world, at 900 acres. Later used for dairy and general agriculture, 460 acres of the original Meadowbrook Farm was preserved under public ownership in 1996.
The nearby Tollgate Farm was settled by Lucinda Collins Fares, who was a child of the first American settlers on the Duwamish. In the 1860s, she turned one of the Treaty War forts into her barn. The farm got its name because of its location as the toll stop along the wagon road to Snoqualmie Pass, which opened as a toll road in 1883. The property continued as a working farm for over 130 years, when developers eyed it for an office park and housing. North Bend officials and citizens rallied to save it, and the property was acquired for public ownership in 2001. Meadowbrook Farm includes farmland, wildlife habitat, and interpretive facilities. Tollgate has garden beds and a youth agricultural education program.
Details:
Cultural Intepretive Center
Features:
Features: Accessible Facilities.
Trail Details:
Length: 1.1 mi; Trail Surface: Paved
Surface:
Paved
Recreation Options:
Summer Sports: Horseback Riding, Road Biking, Walking,
Amenities:
Amenities: Meeting Spaces
Facilities:
Facilites: Trails
Reservations:
Reservations: The interpretive center can be rented trhough Si View Parks.. Phone Reservations: 425.831.1900
Season:
Season: Year round (Open)
Pass or Permit Required:
Free - No fee or pass
Location:
Meadowbrook Farm, North Bend
Website:
Driving Directions:
Data provided by Washington Hometown, a local effort to map the incredible natural and cultural sites across Washington State. Information is constantly updated and improved by users like you. See something that needs to be updated?
Let us know!
[47.521735217681,-121.80521056392]
[[-121.80521056392219,47.521735217680778],[-121.80458610861291,47.521541449252233],[-121.80447483188523,47.521509081201707],[-121.80436003182658,47.521476148043959],[-121.80430792958902,47.521461124263091],[-121.80427960612838,47.521449466324952],[-121.80418154378263,47.521409752959407],[-121.8041417443295,47.521392971273599],[-121.80409960787456,47.521376628626868],[-121.8040724015323,47.521367864454788],[-121.8040319452595,47.521359532922595],[-121.80395530175349,47.521349824718875],[-121.80389221968284,47.521342543499252],[-121.80374024495215,47.521329228856189],[-121.80366456842307,47.521318819707467],[-121.80359771101466,47.52130587138879],[-121.80353041840598,47.521290541495162],[-121.80348052721568,47.521276320145581],[-121.80336900282462,47.521239137825596],[-121.80331542535716,47.521225075507544],[-121.80325473143427,47.52121410619236],[-121.80315869893894,47.521200779867939],[-121.80298999475389,47.521183335629757],[-121.80293306446904,47.521175860915427],[-121.80288888391827,47.521167699296221],[-121.80284042483893,47.521156377871556],[-121.80264253188868,47.521101992906026],[-121.802599871721,47.521092517069548],[-121.80256029104754,47.521085549690333],[-121.8025022343537,47.521078979685754],[-121.80236873668993,47.521069512466113],[-121.80230914289817,47.52106171283377],[-121.80226166438369,47.521053075144223],[-121.80223036746871,47.521045736151528],[-121.80219155559351,47.521032879030905],[-121.80213510120586,47.521009559076255],[-121.80208331635521,47.520985010310199],[-121.8019841815868,47.520930284334526],[-121.80194087548958,47.520908404896382],[-121.80183151042563,47.520860362334055],[-121.80177683309648,47.520830175242466],[-121.80173584597981,47.520802749487594],[-121.80171799035251,47.52078767628214],[-121.80170041648833,47.520769615338516],[-121.80164894348036,47.520705415944271],[-121.80162809907807,47.520682231944399],[-121.80159820535673,47.520653879756303],[-121.8015628883155,47.520623664128472],[-121.80141379129257,47.520508305888733],[-121.80135318838965,47.520456810596507],[-121.80130025278413,47.520404496474285],[-121.80117637488325,47.520268915647087],[-121.80111583875612,47.52020836408289],[-121.80108399668211,47.520180847595427],[-121.80099310607174,47.520108159820133],[-121.80096805236775,47.520085120783882],[-121.80094796365096,47.52006344659641],[-121.80092834975034,47.520036567911994],[-121.80088947527362,47.519969887771822],[-121.80086904554298,47.519940694748996],[-121.80083797181956,47.519902566143564],[-121.80081484663994,47.51988046620724],[-121.80079192985801,47.519864906999551],[-121.80076276439925,47.519849904236104],[-121.80066518189814,47.519806598019464],[-121.8005724770633,47.519771211423141],[-121.80054196936692,47.519760195850445],[-121.80053811861191,47.519737232906095],[-121.80051218146778,47.519702706057828],[-121.80048834480047,47.519677279507682],[-121.80047118235245,47.519651648873285],[-121.80045320400572,47.51962943020947],[-121.80043716558713,47.519598151562235],[-121.80042073830226,47.519545931181952],[-121.80039968931406,47.519471856563719],[-121.80039107797495,47.519424331593008],[-121.80037997314496,47.519374742201933],[-121.80037958734303,47.519373021243723],[-121.80036950133385,47.519321699701763],[-121.80034789539509,47.519217642400513],[-121.80031882167367,47.519051768454688],[-121.80028275181867,47.51884977978608],[-121.80025949568187,47.518732407384967],[-121.80023173273678,47.518599366299242],[-121.80015649355431,47.518255389532399],[-121.80012680906547,47.518132360760298],[-121.80010837777026,47.518047791871673],[-121.80008996302529,47.51796417357923],[-121.80007481752101,47.517905278803397],[-121.80006194980572,47.517855410400976],[-121.80004357982249,47.517774171710286],[-121.80002880917394,47.517697662947072],[-121.79998722003756,47.51750095739483],[-121.79996570612298,47.517401658255103],[-121.79994809224263,47.517323268850518],[-121.79993427265663,47.517260080247489],[-121.79989271988376,47.517065277596252],[-121.79986141930111,47.516930837515034],[-121.7998011828367,47.516675742954703],[-121.79977990652502,47.51658929426354],[-121.79976122914604,47.516491399009681],[-121.79973187808422,47.516348375518398],[-121.79967751956328,47.516107033565277],[-121.79965291236728,47.515992530166606],[-121.79962852691909,47.515889923066595],[-121.79958403357904,47.515688006386121],[-121.79948606174261,47.515254259099919],[-121.79944554042247,47.5150770598393],[-121.79942329816605,47.514976338410996],[-121.79939503056231,47.514853772932362],[-121.7993788763448,47.514778227535253],[-121.79937200734682,47.514748774911354],[-121.79936288139976,47.514711250039497],[-121.79935747794381,47.51468511556034],[-121.79936244517401,47.51464985038686],[-121.79937397322576,47.514627380452744],[-121.79939386958348,47.514601507796364],[-121.7994166983658,47.514582274111326],[-121.7994381748576,47.514565907879309],[-121.79948976232328,47.514544049512295],[-121.79955761200844,47.514527764687706],[-121.79962206248872,47.514517696542619],[-121.79968589231574,47.514511916984702],[-121.79974064142395,47.514509072248629],[-121.7997890856266,47.514507231578456],[-121.79983266646546,47.514508289457801],[-121.79987631597452,47.514513152404618],[-121.79991448336349,47.514518619856595],[-121.79994804876381,47.514516826521351],[-121.79996418881227,47.51451573778354],[-121.79997253921732,47.514511382633337],[-121.79998084500384,47.514504647862367],[-121.79998627940631,47.514494605253198],[-121.79999223131922,47.514474563246154],[-121.79999949977004,47.51444974989824],[-121.80001137679157,47.514408237749535],[-121.80001379706886,47.514387274495185],[-121.80001766010328,47.514368201202956],[-121.80002188766773,47.51431859787494],[-121.80006831116103,47.514264654514434],[-121.80028147612167,47.514109331832117],[-121.8004691578176,47.5140006373706],[-121.80063016464847,47.513874317760902],[-121.80072340868999,47.513787845329617],[-121.80073268806044,47.513719937926446],[-121.80068921560428,47.513648909420745],[-121.80050776837057,47.513525507152544],[-121.80020836311992,47.513292440717429],[-121.79998351406125,47.5131015783249],[-121.79972751702874,47.51293596907049],[-121.79954620822595,47.512819704129463],[-121.79923160213426,47.512618894232261],[-121.79900796056468,47.512467937023636],[-121.79893721127081,47.51237150225726],[-121.79886191748108,47.512244639839771],[-121.79883708285112,47.512193444805689],[-121.79883226745777,47.512176243110105],[-121.79882570981336,47.512148321526951],[-121.7988206697424,47.512130342456693],[-121.79879940751344,47.512103326134302],[-121.79877881668889,47.512082082609538],[-121.79875547953705,47.512054910424794],[-121.7987409795676,47.512030639530494],[-121.79862274879272,47.511588407840094],[-121.79861620874173,47.511552734908989],[-121.7986082814803,47.511504012872919],[-121.79859758705474,47.511448175044741],[-121.79858510506803,47.511390566217628],[-121.79857314978919,47.511361513864983],[-121.79854406618446,47.511254052811154],[-121.79853026050381,47.511226815629946],[-121.79848067997368,47.51115762285832],[-121.79845804529562,47.511120926785367],[-121.79845186295177,47.511096635032665],[-121.79841321019993,47.510928530907925],[-121.79841103489845,47.51090593951951],[-121.79841368499319,47.510811909551862],[-121.79840679133098,47.510771509084343],[-121.79832319228439,47.510430100663889],[-121.79831661044618,47.510405862826978],[-121.79831256385356,47.510377832234724],[-121.79830168894698,47.510217277292391],[-121.79829223793004,47.510181063798896],[-121.79822605618489,47.509973974776315],[-121.7981406550139,47.509724804735527],[-121.7981314747931,47.509691642064233],[-121.79812690894202,47.50964638339719],[-121.79812630136725,47.509566065077209],[-121.79812297257078,47.509528609417778],[-121.79811603474202,47.509485828383653],[-121.79797047908129,47.509022973978574],[-121.79796930452916,47.509006919893714],[-121.79798567488727,47.508942521697008],[-121.798045429255,47.508849791553303]]