The Mountains to Sound Greenway National Heritage Area (Greenway NHA) covers 1.5 million acres and stretches roughly 100 miles across from Seattle to Ellensburg along Interstate 90. To explore across the entirety of the Greenway NHA, a car will be the easiest option. That said, there are plenty of ways to explore locally within different areas of the Greenway NHA by walking, rolling, and utilizing public transit. Check out the resources below to help inspire your next adventure.
On this page: Getting Around Seattle | Connecting With Nature via Public Transit | Wheelchair Friendly Adventures | Towns to Teanaway | Recreation Passes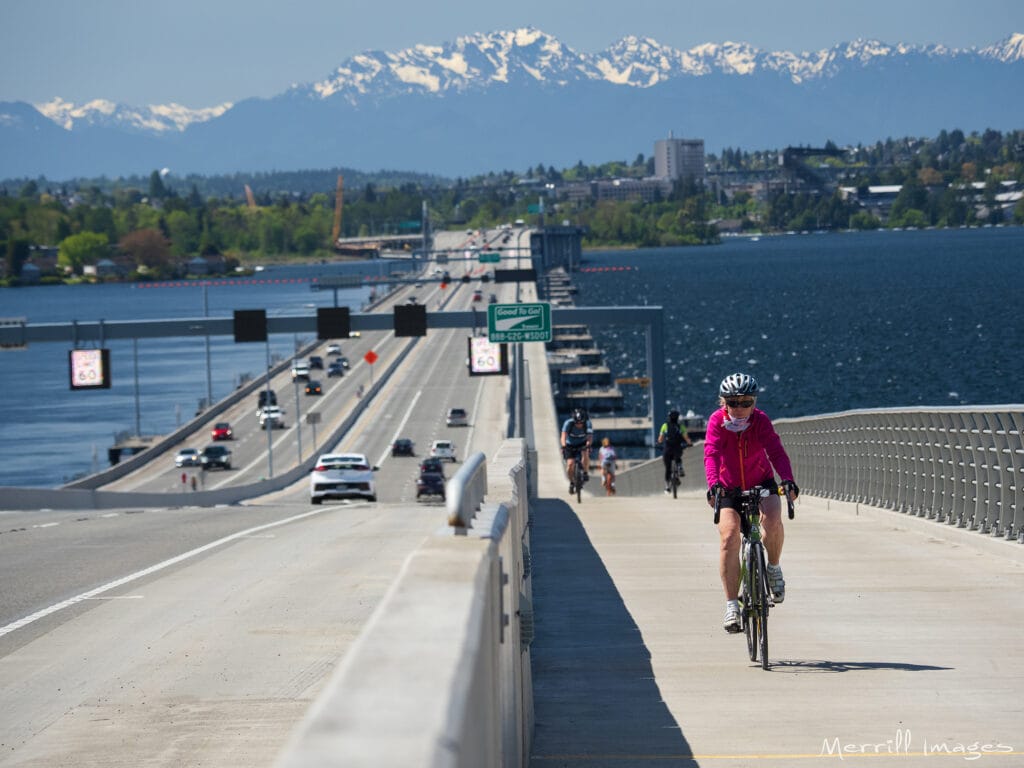 Getting Around Seattle
If you'll be spending time in Seattle, check out this resource from Visit Seattle that covers many different transportation options such as the Link Light Rail, King County Metro bus service, bike share services, and more.
Connecting With Nature via Public Transit
You can access incredible natural spaces within the Greenway NHA by utilizing public transit options. Use the resources below to get you started and please be sure to verify the information and solidify your plans before leaving home, as routes and schedules are always subject to change.
Planning Resources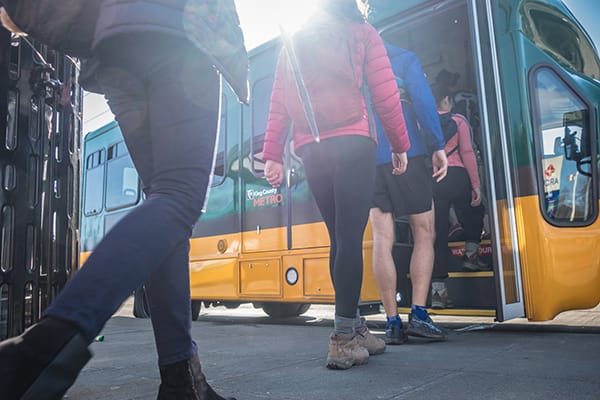 Trailhead Direct | Trailhead Direct is a pilot project co-led by King County Metro and King County Parks that seeks to ease vehicle congestion, reduce safety hazards, and expand access to hiking destinations along I-90. For the 2022 season, Trailhead Direct serviced Mount Si, with buses originating at the Sound Transit Capitol Hill Link light rail station and service every 30 minutes to Mount Si, Mount Teneriffe, and Little Si. The season is now closed; check back for more details in 2023.
TOTAGO | TOTAGO stands for "Turn Off The App – Go Outside" and is a free mobile and web app that includes detailed recommendations for hiking, nature walks, bicycling, paddling adventures, and more. Use the trip planner to get comprehensive directions for how to get there by transit, car, bicycle, or foot.
How to Bus Hike in the Seattle Area (WTA) | This article by Washington Trails Association provides step-by-step guidance for how to plan a hike relying entirely on public transportation.
King County Metro Trip Planner | Use Metro's online Puget Sound Trip Planner desktop or mobile apps to plan trips on scheduled service in King, Pierce, and Snohomish counties. It provides details about transit stops, routes, and schedules.
Seattle Metro Bus Hiking Website | This guide shows you how to make use of King County's extensive bus system, as well as other transit options, to get out and enjoy many hikes without a car ranging from urban parks to more strenuous hikes and backpacking trips.
11 Transit-Accessible Hikes In and Around Seattle (Curbed Seattle) | This articles highlights 11 great options to get outdoors in Seattle and along I-90.
---
Wheelchair-Friendly Adventures
Our partners at Washington Trails Association have a robust Hike Finder Map that includes a filter to help users determine whether or not a trail is wheelchair-friendly. This option may also be helpful for users who are mobility-limited or looking for stroller-friendly trails.
Additional Resources
5 Accessible Hikes for Outdoor Lovers with Disabilities (King5)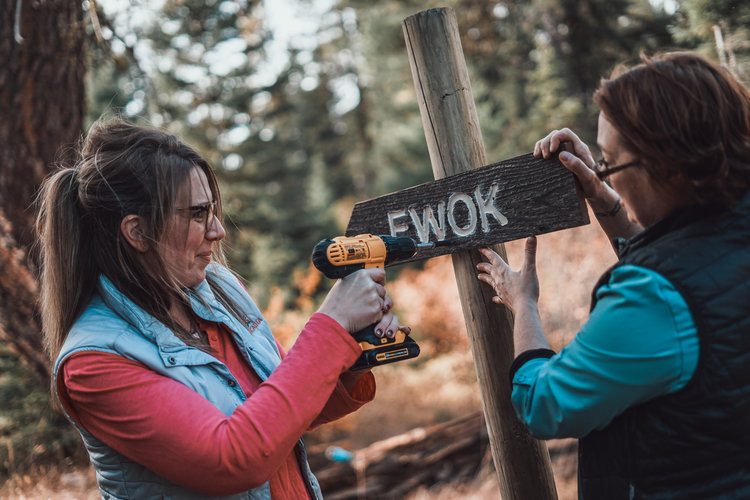 Explore Towns to Teanaway
Spending time in the eastern half of the Greenway NHA? Together with our partners, the Greenway Trust is working on a new 62-mile stacked-loop trail system called Towns to Teanaway (T2T) that will connect the mountain communities of Ronald, Roslyn, and Cle Elum to one another, the nearby Teanaway Community Forest, and other regional trail systems like the Coal Mines Trail, Rat Pack Trail, and Palouse to Cascade trails. Once completed, T2T will provide experiences for nonmotorized recreation across all skill levels. As of 2022, 10.2 miles of trail have been completed and provide access to nature directly from these communities where many people live, work, stay, and play.