Many trailheads and recreation sites in the Mountains to Sound Greenway National Heritage Area require some kind of pass or permit. In most cases, land ownership (e.g. federal, state) and the type of recreational activity determine the required permit or pass. It certainly can be confusing! Below we outline the basics and provide links to additional information.
Do keep in mind the money you invest in these recreation permits and passes keeps public lands accessible and healthy. They're important!
Washington State Lands: Discover Pass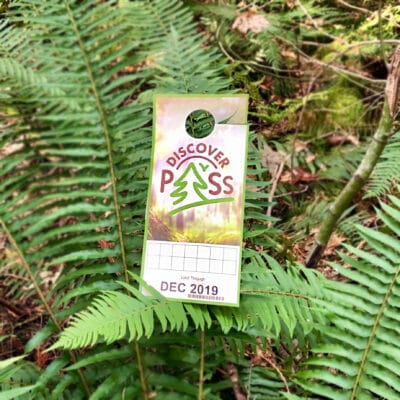 Where: The Discover Pass provides access to recreation lands and water-access sites managed by the Washington State Parks and Recreation Commission, Washington Department of Fish and Wildlife, and Washington State Department of Natural Resources. Popular Discover Pass sites in the Greenway include Mount Si Natural Resources Conservation Area, the L.T. Murray Wildlife Area, Tiger Mountain State Forest, and Lake Sammamish State Park.
Options include a single day pass, and an annual pass that holders can use in two specified motor vehicles, though only one vehicle at a time. Also, additional fees may apply for certain activities such as camping and boating.
When: Year Round
Where to Buy: online, staffed state parks' offices, automated pay stations at some locations, various retail locations including REI Co-op stores, or when you renew your vehicle license/car tabs. Consult Washington's Where to Buy page for the most complete and current options for a Discover Pass purchase.
What does it fund? Your pass fee helps Washington cover the costs of keeping our incredible state parks and natural lands open, and their associated trails and other facilities maintained and safe.
How do you know what is a state-owned trailhead or park? Signs at trailheads and/or state land entrances indicate the Discover Pass requirement. The state maintains links to Discover Pass recreation sites in various categories. Also, the Washington Trails Association page for each hike identifies any required pass at that site.
More Info: Washington's Discover Pass site contains additional information including a list of fee free days.
Federal Recreation Passes
Where: US Forest Service (USFS) land where a day pass is required. Popular USFS sites in the Greenway include: Granite Mountain, Snow Lake, Longs Pass, and Forest Service Trailheads on the west and east sides of Snoqualmie Pass in the Okanogan-Wenatchee and the Mount Baker-Snoqualmie National Forests.
When: Any time of the year, except if it becomes a Sno-Park parking lot in the winter, then you'll need the Sno-Park Pass instead—see below.
Pass Types:
Annual Northwest Forest Pass – honored at all USFS recreation sites in Washington and Oregon
National Forest Recreation Day Pass and ePass – honored at all USFS sites in Washington and Oregon
Interagency Passes -– honored nationwide at USFS, National Park Service, Bureau of Land Management, Bureau of Reclamation, and US Fish & Wildlife sites charging entrance fees
Annual Pass (America the Beautiful Pass)
Senior Pass: Available in annual or lifetime pass options for holders at least 62 years old
Access Pass: FREE, lifetime pass for those with a medically determined permanent disability. Eligibility requirements and application details here.
Where to Obtain:
USFS Ranger Stations in North Bend, Snoqualmie Pass, and Cle Elem – All federal recreation pass types.
Online at Discover Your Northwest – Annual Northwest Forest Pass, National Forest Recreation Day Pass and ePass, Interagency Annual (America the Beautiful) Pass.
Online from the US Geological Survey – All federal recreation passes. Note there is a $10.00 processing fee for online purchases of the Military and Gold Star passes.
Retail vendors (online locator map) sell one or both of the following: Annual Northwest Forest Pass, National Forest Day Pass. We recommend you call them first to make sure they sell the pass you want.
What does it fund? Your pass fees help cover the cost of keeping these trailheads clean, safe, and maintained. They also fund the construction and maintenance of the restrooms at the trailheads.
How do you know what is a federal-owned trailhead or forest? Signs at area entrances and/or trailheads indicate the requirement for a federal pass. Also, the Washington Trails Association page for each hike identifies any required pass at that site.
More Info: The USFS has a guide to help you choose a pass here.
County Parks and Areas
King County: Most King County parks and natural areas do not require any entrance or parking fee or permit. One exception – Marymoor Park in Redmond requires a parking fee, payable for a single day at self-serve kiosks in the park, or by permits for two to 12 months. You can find information on rental fees for campsites and other facilities in King County here.
Kittitas County: No County-owned public lands require a permit or pass.
Winter Sno-Park Permits
When snow begins to pile up at the higher elevations and you pull your cross-country skis, snowshoes, and sleds out of storage, you need to know about Washington State Parks Sno-Park Permits. Winter access areas require special maintenance above and beyond summer needs. This includes plowing parking lots, grooming ski & snowmobile trails, and clearing access roads and trails. Many winter recreation sites require a Daily or Seasonal Sno-Park Permit administered by Washington State Parks.
Where: Any winter Sno-Park location – essentially any winter recreation site on state or federal land where the parking lot is plowed. State Parks maintains a directory of non-motorized, snowmobile, and snow play Sno-Parks here. Examples in the Greenway include Gold Creek and Crystal Springs Sno-Parks.
When: Nov 1 – April 30
Where to Buy: Online, or at the State Parks and retail listed here.
What does it fund? Your pass helps cover the cost of keeping parking lots plowed and outfitted with porta potties.
How do you know where the pass is required? Signs at the parking lot that indicate a Sno-Park pass requirement in the winter.
Note that if you purchase a Seasonal Permit, you must also purchase a seasonal Special Groomed Trails Sticker to park at Crystal Springs, Easton, Hyak, and Lake Easton Sno-Parks. The Special Groomed Trail Sticker is not required with the daily user permit.
More Info: Washington State Parks provides additional information on motorized (snowmobile) and non-motorized Sno-Park permits here.
Private Land – Snoqualmie Forest
The Snoqualmie Forest is a privately-owned timber farm generally located north of Snoqualmie and North Bend, east of Carnation and Duvall. Campbell Global owns and manages the land. It allows the public access for recreation, hunting, and firewood gathering with the purchase of special permits. Please visit Campbell Global Snoqualmie Forest for more information.
More Information from Washington Trails Association
Our friends at WTA provide additional information and perspective including a Q&A to help you identify what pass you need.