Walk 'n Wag at Lake Sammamish State Park
Walk 'n Wag at Lake Sammamish State Park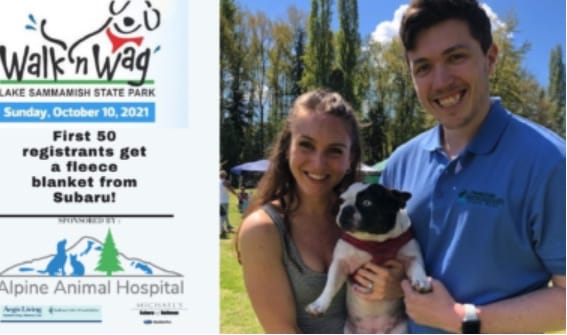 Date & Time
Sunday, October 10, 2021
Additional Information
Bring your dog to participate in the 3K "Walk in the Park" to benefit Friends of Lake Sammamish State Park. All proceeds benefit amenities and improvements for Lake Sammamish State Park.
After the 3K, stay on for the pet show. Pet show categories include best dressed, smallest dog, best eyes, dog/owner look-alike, best voice and best trick.
The first 50 registrants get a fleece blanket from Subaru!
Enjoy a beer and live music in the pet-friendly beer garden sponsored by Dru Bru.
Vendor booths in the Doggie Village will give out swag and share information information about products and services with pet owners.
Subaru Loves Pets will be facilitating pet adoptions.
Early bird registration is $10 for children 15 years and younger and $15 for adults. $40 for a family of 4. Registration includes the 3K walk and a pet show entry.
Interested in showcasing products or services in Doggie Village? Please contact Jennifer at director@flssp.org.
A big thanks to Alpine Animal Hospital of Issaquah for their title sponsorship.