Virtual Exhibit: Pacific Northwest Botanical Artists
Virtual Exhibit: Pacific Northwest Botanical Artists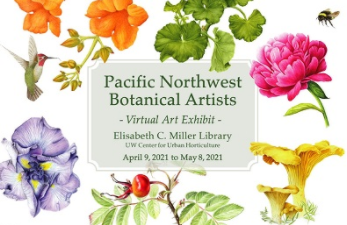 Date & Time
Wednesday, May 5, 2021
Additional Information
The Pacific Northwest Botanical Artists (PNBA) are pleased to present a virtual version of their 14th Annual Elisabeth C. Miller Library exhibit. Members of the Oregon Botanical Artists circle, their sister organization, are also participating in this year's exhibit.
PNBA is a chapter of the American Society of Botanical Artists, a nonprofit organization dedicated to promoting public awareness of contemporary botanical art, honoring its traditions and furthering its development.
Online display of paintings and drawings available from April 9 through May 8, 2021. Artwork will be for sale throughout the month, with a portion of the sales benefiting the Library.