Trail Magic: The Grandma Gatewood Story – Film Screening
Trail Magic: The Grandma Gatewood Story – Film Screening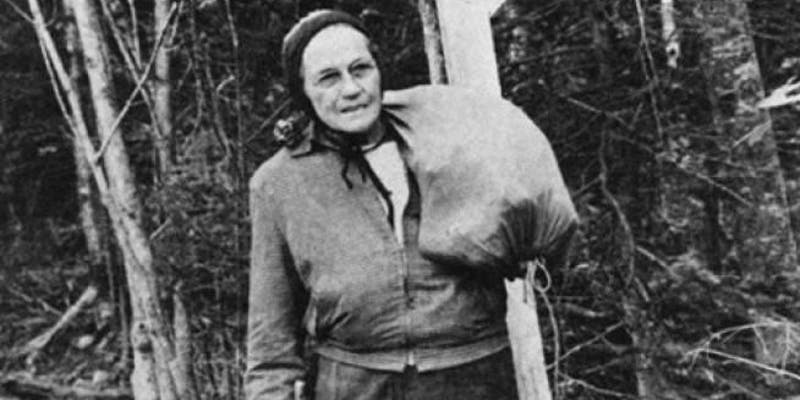 Date & Time
Wednesday, February 13, 2019
Additional Information
TRAIL MAGIC: THE GRANDMA GATEWOOD STORY is the Emmy-nominated documentary about the first woman to solo thru-hike the 2,050-mile Appalachian Trail in 1955 at the age of 67 after raising 11 children.
This first screening of this film in western Washington is co-sponsored by the Foothills branch of the Mountaineers and the City of Bellevue, Department of Parks & Community Services.
The film follows the twists and turns of Emma Gatewood's historic walk from Mt Oglethorpe to Mt. Katahdin in 1955, much of the story in Emma's own words. The story is augmented by key interviews with family, historians, and experts commenting about the amazing events that led up to that journey and her ability to overcome nearly insurmountable obstacles, including years of spousal abuse, along the way. TRAIL MAGIC: THE GRANDMA GATEWOOD STORY was nominated for an Emmy Award from the Regional National Association of Television Arts and Sciences (NATAS) in the "Best Documentary, Historical" category in April, 2017.
In 1955, at the age of 67, Gatewood told her children (who were by then adults) that she was going for a walk. They did not ask where or for how long, as they knew she was resilient and would take care of herself. About 5 years earlier, Gatewood read an article in National Geographic about the AT and thought "it would be a nice lark," though in retrospect considering the difficulty she added "It wasn't."
The magazine gave her the impression of easy walks and clean cabins at the end of each day's walk. Thus she took little in the way of outdoor gear. She wore Keds shoes and carried an army blanket, a raincoat, and a plastic shower curtain in a homemade denim bag slung over one shoulder. In a sense she was truly a visionary of the ultra-light hiking movement.
She would later say of the AT: "For some fool reason, they always lead you right up over the biggest rock to the top of the biggest mountain they can find."
She hiked the AT again in 1960, and then again at age 75 in 1963, making her the first person to hike the trail three times (though her final hike was completed in sections).She was also credited with being the oldest female thru-hiker by the Appalachian Trail Conference.
In addition, she walked 2,000 miles (3,200 km) of the Oregon Trail from Independence, Missouri to Portland, Oregon averaging 22 miles (35 km) a day. She traveled to every state of the continental United States.
In 2018 the New York Times published a belated obituary for her as part of its Overlooked series about "remarkable people whose deaths went unreported in The Times".
The screening of TRAIL MAGIC will be preceeded by a film about the history of the Appalachian Trail.
Doors at 6:30
Film begins at 7:00 P.M.
General admission: $13
Mountaineers members and City of Bellevue residents: $10