Plant with us at Luther Burbank Park on Mercer Island
Plant with us at Luther Burbank Park on Mercer Island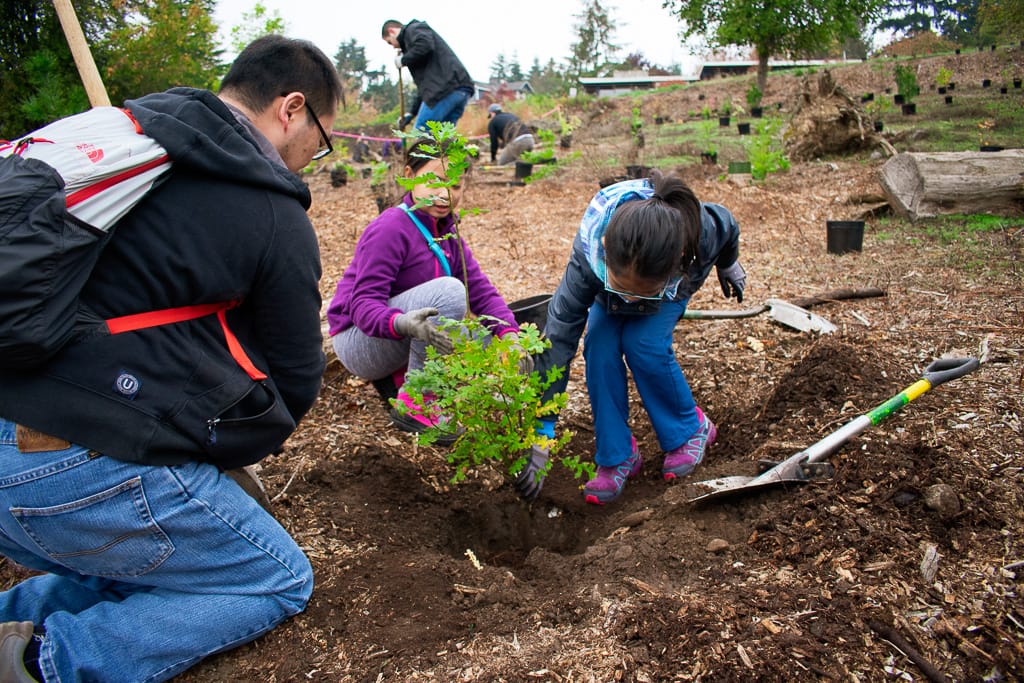 Register
Registration is closed for this event
Date & Time
Saturday, February 1, 2020 | 10am to 2pm
Location
Luther Burbank Park
Project Difficulty
Easy to Moderate
Age Restriction
Participants under 13 years old must be accompanied by an adult.
What to Bring
For safety, volunteers are required to wear:
Long pants (we'll be working with tools, so no shorts!)
Sturdy, close-toed shoes (absolutely no sandals)
Gloves (provided)
In addition, we recommend that participants bring:
Warm layers, especially during the fall, winter, and spring
Rain gear
Big sack lunch
At least one full water bottle
Small daypack for lunch, extra layers, etc…
Where to Meet and Parking Information
Google maps: https://goo.gl/maps/qt7uSXHFno5ogHrk9 From I-90 eastbound, take exit #7A (77th Ave SE). Turn left onto 77th Ave SE. At the stop sign turn right onto North Mercer Way. Go one long block to the stop light. Go straight through the stop light and take the next left onto 81st Ave SE. Go one block to the next stop sign. Turn right onto SE 24th St. and go approximately two city blocks to the intersection of 84th Ave SE. Turn left into Luther Burbank Park. From I-90 westbound, take exit #7 (Island Crest Way). Turn right onto Island Crest Way/SE 26th St. Go one block to the stop sign. Turn left onto 84th Ave SE. Go one block to the stop sign. The entrance to Luther Burbank Park is straight ahead.
Additional Information
Mercer Island is graced with 35 parks, over 400 acres of natural areas, and more than 50 miles of trails. Volunteers have been improving these parks for many years, planting native trees and shrubs and removing invasive plants but much more work remains to be done. Luther Burbank Park is an important rest stop for many species of migratory birds and is home to at least one family of beavers. In 2018, volunteers planted an entire urban forest in Luther Burbank Park at the City of Mercer Island's first Arbor Day. Volunteers will build on these efforts by planting more plants at this park with the Greenway Trust.
During the volunteer event, volunteers will learn to plant a potted plant, and together we will increase native plant cover in the park. This will make a big difference to this important wetland area!
No experience necessary – all training provided. Please remember to sign the e-waiver (link in agenda email) prior to the event. Thank you!