Maple Valley Days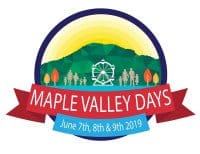 Date & Time
Friday, June 7, 2019
Priority Area:
Additional Information
For over 60 years we have celebrated as a community and we want you to join us! With 10,000-15,000 visitors to the festival each year, 120 food/vendor booths, over 75 parade entrants, carnival rides and much more, Maple Valley Days is a festival no area resident should miss.
In 1950, a group of citizens gathered at Gaffney's Lake Wilderness Lodge to celebrate and raise funds in order to purchase the area's first fire engine. Firemen sold tickets for one dollar each in their effort to raise $1000. They succeeded, and our celebration of community was born. In 1951 the first Queen and her Royal court were crowned. The 1958 festival added the famous Cedar River Boat Race with entrants building their own boats. The Queen's Parade, now known as the Maple Valley Days Parade, was introduced in 1961 and is an event that young and old alike enjoy. 1976 brought the recognition of the "Citizen of the Year" and a street dance. During the 1980's and early 1990's, the festival expanded to include events and activities to entertain all age groups. In 1998, the festival moved to Lake Wilderness Park. We are proud to say that in 2003 Lake Wilderness Park became the property of The City of Maple Valley. This event has truly become "The Festival in Our Park".