Lake Sammamish State Park Celebration with FLSSP!
Lake Sammamish State Park Celebration with FLSSP!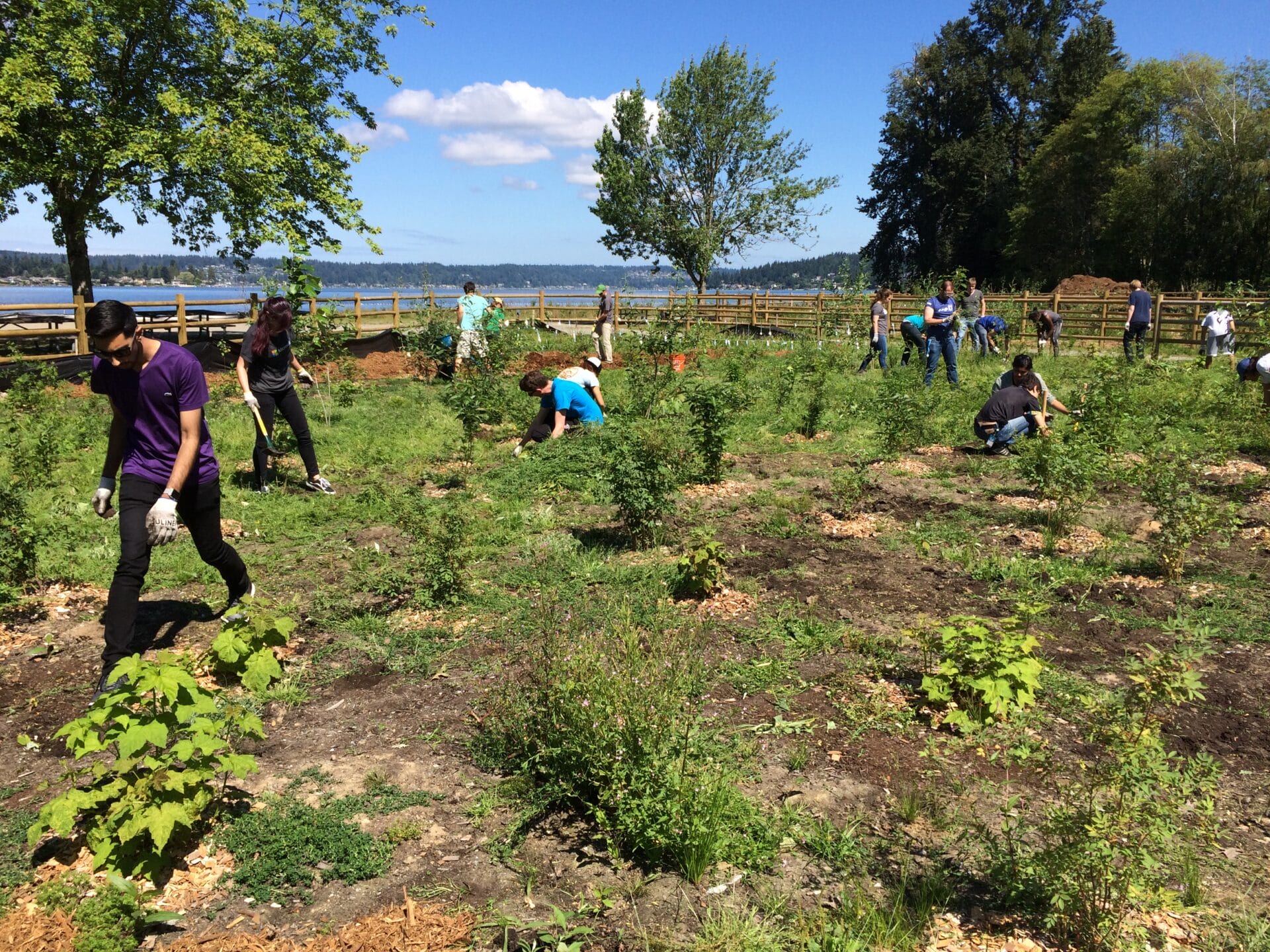 Register
Registration is closed for this event
Date & Time
Saturday, May 18, 2019 | 10am to 2pm
Location
Lake Sammamish State Park
Project Difficulty
Moderate
Age Restriction
Any participant under 13 years old must be accompanied by an adult.
What to Bring
For safety, volunteers are required to wear:
Long pants made of sturdy material
Sturdy, close-toed shoes
Gloves (provided)
In addition, we recommend that participants bring:
Warm layers, especially during the fall, winter, and spring
Rain gear
Big sack lunch
Long sleeved shirt
At least one full water bottle
Small daypack for lunch, extra layers, etc…
Where to Meet and Parking Information
Google Maps: https://goo.gl/maps/TuGb8cy14Js From I-90, take Exit 15. Follow signs for Lake Sammamish State Park, and go north on 17th Ave NW. Turn left onto NW Sammamish Rd. The entrance to Lake Sammamish State Park will be on your right in about one half mile. Continue straight toward Sunset Beach parking lot - look for Greenway event signs and staff.
Additional Information
Lake Sammamish State Park has been loved by many for years, and continues to act as an urban wildlife refuge for locals and visitors. Love for this park can be seen by families using the playground, people boating on the lake, runners using the trails, and folks enjoying the wildlife that also use the 500+ acres that make up this public land.

Nonprofits like Friends of Lake Sammamish State Park (FLSSP), Trout Unlimited and the Mountains to Sound Greenway Trust have been leading volunteer efforts in the park for over two decades. With the help of volunteers, we have been able to ensure the State Park continues to provide important habitat for several species of salmon, many birds – including bald eagles, great blue herons, and red tailed hawks – and a wide variety of amphibians, insects and other wildlife.

To celebrate the years of volunteer efforts in the park, and to continue future dedication to this area, FLSSP, the Greenway Trust, and Washington State Parks are joining together for a volunteer day of environmental stewardship and celebration. Activities will include habitat restoration such as mulching and invasive species removal, educational tours, games, food, and more to celebrate our awesome volunteers!

All are welcome, and if you have volunteered at the State Park before we would love to see you here again! All training provided.

Remember to sign the e-waiver online before the event (link in agenda e-mail). Also, we are now offering Discovery Pass vouchers for volunteers at all events in Lake Sammamish State Park — 24 hours in a year qualifies you for a free pass! Ask us at the event for more information.