Kiosk construction – Oct 17
Kiosk construction – Oct 17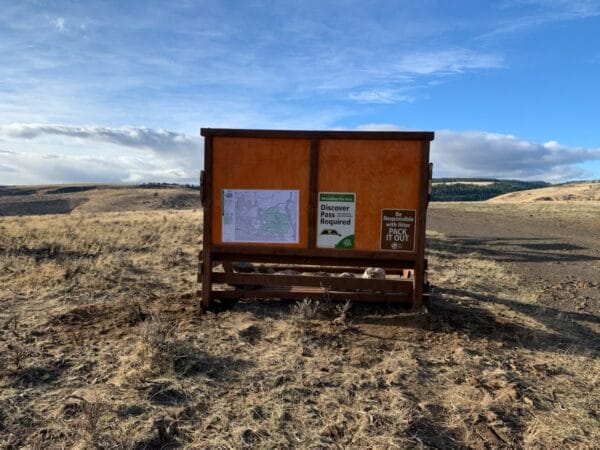 Register
Registration is closed for this event
Date & Time
Saturday, October 17, 2020 | 9:30 am - 3:30 pm, October 17
Priority Area:
Location
LT Murray Wildlife Area
Project Difficulty
Moderate to Strenuous
Age Restriction
Ages 14 and up.
What to Bring
Volunteers are required to follow all new COVID-19 safety protocols and guidelines. These must be reviewed prior to the event. 

For safety, volunteers are required to wear:
Long pants (we'll be working with tools, so no shorts!)
Sturdy, close-toed shoes (absolutely no sandals)
Gloves
In addition, we recommend that participants bring:
Warm layers, especially during the fall, winter, and spring
Rain gear
Big sack lunch
Water for the day (3 liters minimum)
Small daypack for lunch, extra layers, etc.
Where to Meet and Parking Information
Meet in the gravel lot across the street from the Easton Post Office (2151 Railroad St, Easton, WA 98925) Look for Greenway Trust event signs. We will caravan to the site from there.
Additional Information
*Volunteers must follow all COVID19 safety guidelines for participation in this event*
Join the Greenway Trust and our partners at WDFW for the first in a series of kiosk-building workdays! We're out to create a better system for sharing information across the L.T. Murray Wildlife Area, and we need your help on October 17!
The L.T. Murray Wildlife Area Complex is made up of five individual wildlife units – the L.T. Murray, Quilomene, Teanaway Valley, Yakima River, and the Whiskey Dick. Together, the entire L.T. Murray Complex covers roughly 120,000 acres, intermixed with Department of Natural Resources (DNR) and Bureau of Land Management (BLM) lands.
WDFW manages the L.T. Murray wildlife area to:
Preserve habitat and species diversity of fish and wildlife resources

Maintain or improve conditions for Priority Habitats and Species

Protect critical deer and elk winter range and upland game bird habitat

Protect and restore native plant communities

Control noxious weeds and other undesirable vegetation

Provide diverse public opportunities to encounter, utilize, and appreciate wildlife and wild areas
Approximately 2,000 head of elk are fed on the L.T. Murray Wildlife Area each winter to minimize depredation on private agricultural lands. From mid-December until mid-March hay is distributed daily at two feed sites, which provide popular elk viewing and educational opportunities for local school children and interested public.Public recreational opportunities on the L.T. Murray Complex are diverse, including hunting, camping, fishing, wildlife viewing, target shooting, wildflower tours, ATV and snowmobile riding, horseback riding, and hiking. Recently, the wildlife areas have seen a dramatic increase in recreation.
With the help of volunteers, WDFW and the Greenway Trust are working to minimize recreational impacts on wildlife and habitat by installing informative kiosk that help visitors recreate responsibly.