Backpackers' Pajama Party: The Olympic Coast! Third Beach to Oil City, and Ozette to Rialto
Backpackers' Pajama Party: The Olympic Coast! Third Beach to Oil City, and Ozette to Rialto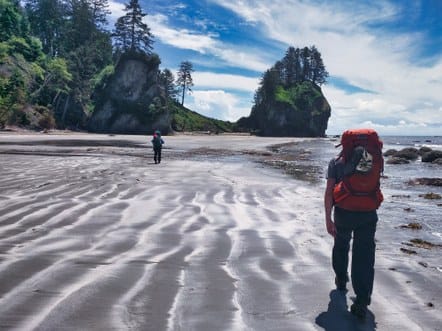 Date & Time
Friday, May 15, 2020
Additional Information
Don your onesie and slippers, grab a favorite beverage and some popcorn, and join your fellow backpackers in this fifth virtual trip in our series, this time along two amazing backpacking routes on the Olympic coast! Free and open to the public but you must RSVP and then we will email you the zoom link to join.
Back by popular demand: the fifth in a series of virtual online Pajama Parties for Mountaineers backpackers and anyone else who loves to learn about or drool over pictures from the best backpacking routes in our fine state! Put on your comfy jammies, grab a beverage and snack, and join us from 7 to 8:30pm for slides, route info and details on how to plan your own trip!
This event will feature Michael Montgomery, one of our experienced Mountaineers backpacking leaders and mentors who has backpacked all along the Washington coast! Michael will share a slide show, route details and logistics suggestions for two excellent backpacking routes on the Olympic coast: Third Beach to Oil City, and Ozette to Rialto. PLEASE RSVP TO THIS EVENT and then we will email you the zoom link to join the session the Weds or Thursday before. When you're ready to join the session, click on the link. To see the photos and maps, you'll need to log on from a desktop or laptop computer or install the zoom app on your smartphone.
More Backpackers' PJ Parties to come after this one – mark them on your calendar!
When: Fri, May 15, 2020 from 07:00 PM to 08:30 PM
Where: Online Classroom
Email: cascadehiker@earthlink.net
Branch: Foothills
Availability: 427 (500 capacity)
May 22, 7-8:30: Dick Lambe will be back with more great photos and planning info from two of his favorite backpacking routes in the Olympics: Lake LaCrosse via Enchanted Valley and O'Neil Pass, and Seven Lakes Basin-High Divide!