Back Country Horsemen of Washington Rendezvous
Back Country Horsemen of Washington Rendezvous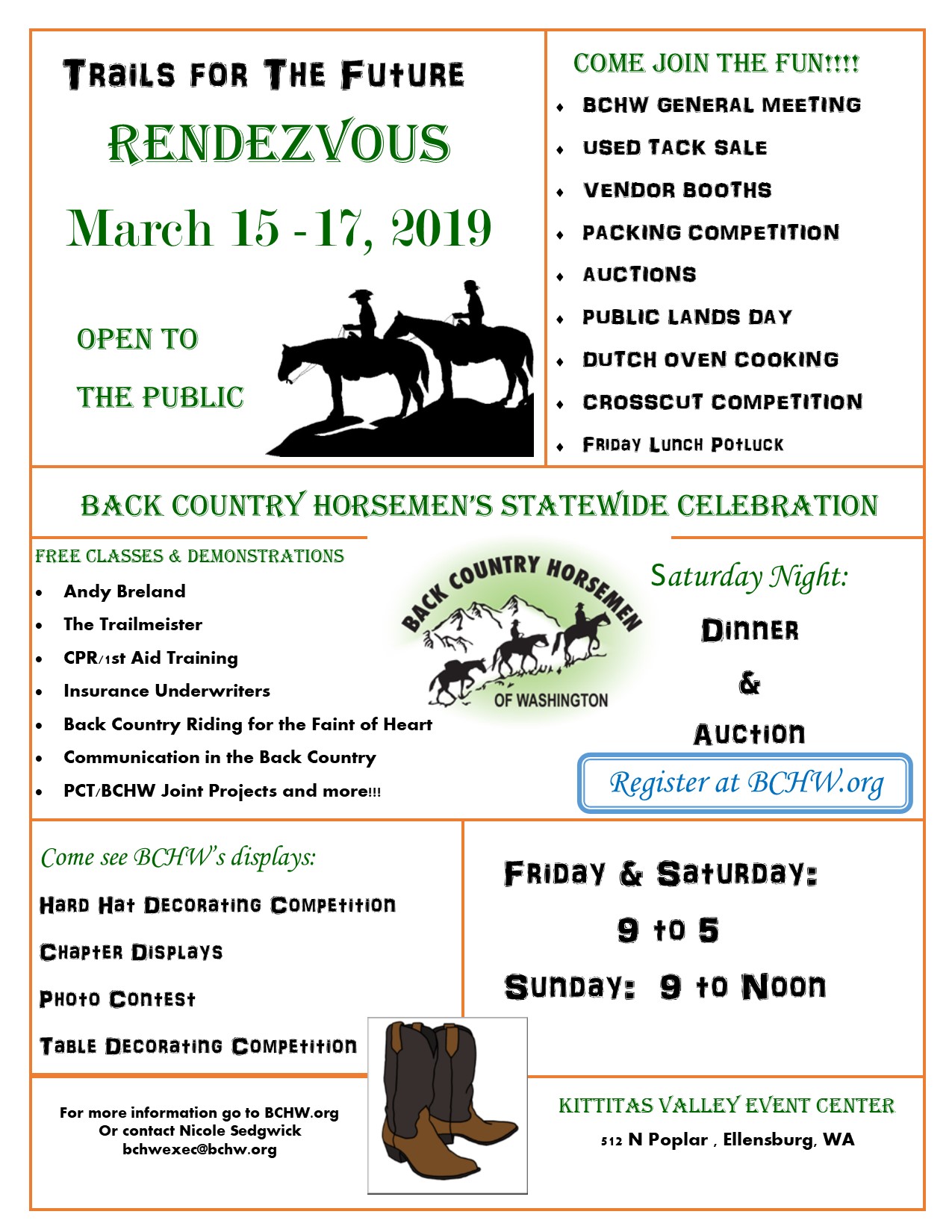 Date & Time
Friday, March 15, 2019
Priority Area:
Additional Information
It is time for another BCHW General Meeting. It is because of the general meeting, that Rendezvous began. Members decided that if they were going to travel a long way for the meeting, let's put some learning and fun in with it, too. Now, Rendezvous represents so much! Keep reading to see what it has grown into!
• The BCHW General Meeting that BCHW has once a year for all 32 chapters to come together and celebrate everything we have accomplished this past year.
• Used Tack Sale where people clean out their tack rooms and others find the missing items they need.
• Rendezvous has a nice selection of Vendors to shop for things for yourself and others.
• There are plenty of Competitions to participate in! There will be the Dutch Oven, the Packing, and the Crosscut Saw Competitions.
• We hope you will join us for a Potluck Lunch on Friday where the Dutch Oven competition food will be shared with all. Bring something to share, too.
• There will be a nice assortment of Clinics. We have Andy Breedland and the Trailmeister coming back. Many of our own people have come up with some great ideas that vary from communications and batteries to how to plan for trips and cooking at camps for large groups. We also have Tom Berryman coming to work with us in the Bloom about how to handle horse emergencies on the road and trails. And so much more!
• Stroll through the Manastash and Heritage rooms to see the Chapter Displays, Photo Display, and the booths of BCHW and other organizations. And pick up your new BCHW gear at the BCHW store.
• There will be a Packing Demo across from the Used Tack sale, in the grass. Be sure to stop by and say hello. You just might learn a thing or two. You can even ask them about knots, too.
• Public Lands Day will be from 9 to noon on Friday. Come join us as we meet our public land managers to talk about the changes taking place.
• Saturday Night Dinner is a great time to come together and socialize with members of different chapters. It is also fun to see all the wonderful table decorations the chapters work so hard to make for the Table Decorating Competition.
• There are three auctions to participate in. There is the Bucket Auction where you drop your tickets into the jar for the item you would like to win, the Silent Auction where you can write down your bid on items you fall in love with, and there is the Live Auction that we have after dinner on Saturday.
When you decide to come, be sure to register. The form is on the Rendezvous page that you will find under Upcoming Events on the BCHW.org site. There is camping and dinner for a cost. Everything else is free (unless you begin to buy things). Be sure to come and enjoy all the learning and fun Rendezvous has to offer!!!