13 Trails to Explore in the Mountains to Sound Greenway This Winter
With 1.5 million acres of land spanning from Seattle to Ellensburg, there's plenty of outdoor fun to be had in the Mountains to Sound Greenway. When the snow starts to fly, it doesn't mean you have to hole up indoors. There are many winter hiking trails that remain relatively snow-free, so bundle up and head out to explore!
Even though you shouldn't find these trails under too much snow, we always suggest you carry the 10 essentials, check the forecast, and read recent trip reports before heading out.
Magnolia Neighborhood, Seattle
2.8 miles roundtrip / 140 ft gain
Discovery Park provides an oasis for nature lovers without even leaving the city! The Discovery Park Loop Trail passes through forest and open meadows, offers expansive views across Puget Sound (with Mount Rainier in the distance if clouds permit), and can be enjoyed by hikers and bird watchers year-round. Be sure to stay alert, as you may be lucky enough to catch a glimpse of a rare arctic snowy owl near the South Meadow during winter! If you have the time and energy – a half-mile side trail off the loop provides access down to a rocky beach and the West Point Lighthouse, well worth the effort.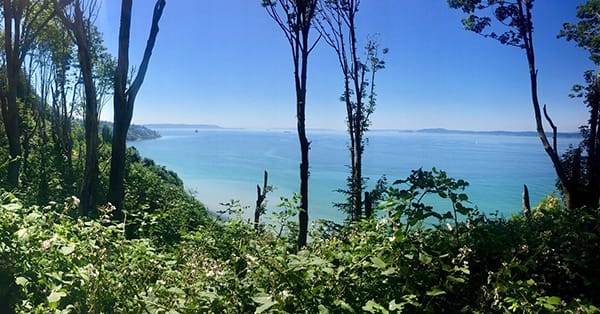 West Seattle
1.7 miles roundtrip / 220 ft gain
This 53.1-acre park in West Seattle boasts a huge amount of old growth trees and 1.7 miles of hiking trails. The trails lead generally upstream along Schmitz Preserve Creek and its small tributaries, with some routes reaching higher points on the southern, eastern, or western park boundaries. If you like to explore, you can simply meander the trails, or for a more structured hike, follow the suggestions here. (Trail description from WTA.org)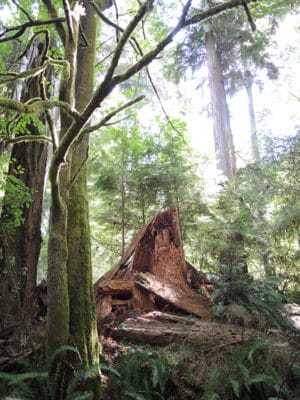 Kenmore / Kirkland
3 miles roundtrip / 400 ft gain
Start your hike 400 feet above Lake Washington and head down to the undeveloped, peaceful shoreline under a dense canopy of Douglas fir, western red cedar, western hemlock, bigleaf maple, Pacific madrona, and cottonwood at this historic 316-acre state park. There are many routes you can take (click here for a trails map). The Perimeter / Seminary trailhead provides the most direct hike to the lake shore, while the North Trail will give you a longer experience. (Trail description from WTA.org)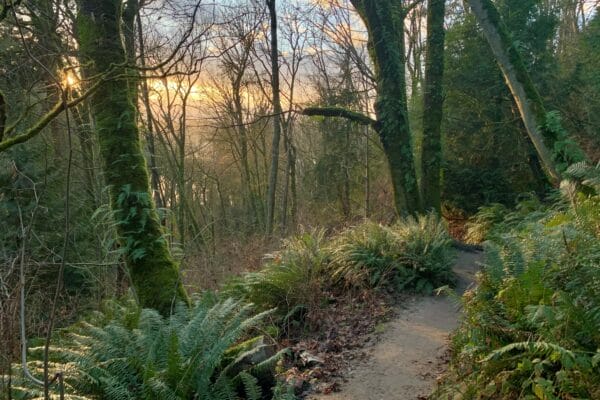 Bellevue
6 miles total
Nestled in the heart of Bellevue, the 320-acre Mercer Slough Nature Park offers a tranquil setting for a variety of recreational experiences, including three main walking trails: the 0.8 mile Bellefields Loop Trail, the 1.1 mile Heritage Loop Trail, and the 4-mile Periphery Trail. The Mercer Slough is Lake Washington's largest remaining wetland, providing a diverse habitat for over 170 species of wildlife. Interconnected boardwalks, soft surface trails, and asphalt paths transport visitors through this unique urban wetland. You can find a trail map here. Keep this one on your list for gorgeous kayaking in the summer, too!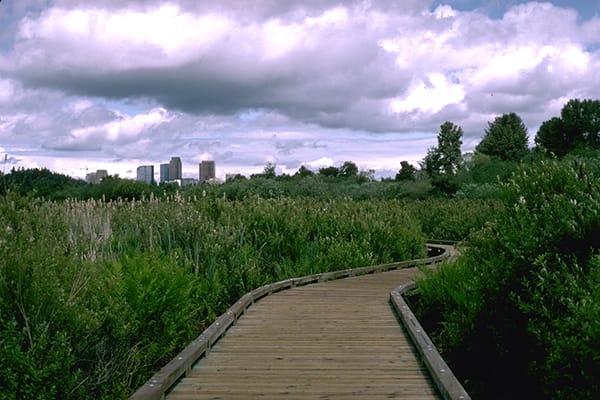 Issaquah Alps
6.6 miles / 1,684 ft gain
Squak Mountain State Park has an extensive 13-mile network of winding trails to explore in this quiet sanctuary just outside of Issaquah. The most direct route to the summit is to follow the signage for the Central Peak trail, a 3.3-mile distance. There are many side trails that can be taken to add loops and additional viewpoints if you're looking for a longer adventure.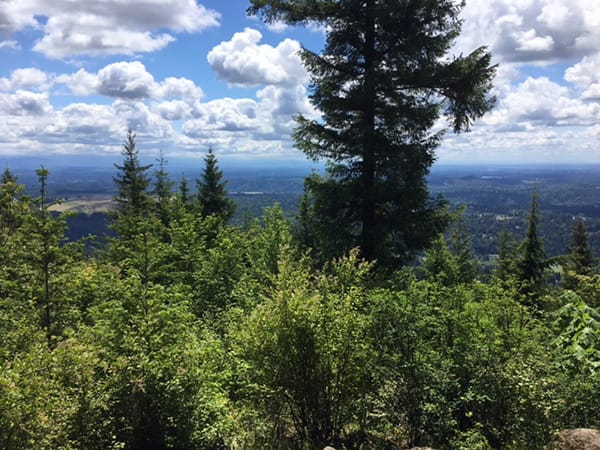 Issaquah Alps
Varies
Tiger Mountain's Tradition Plateau offers several options for a low elevation loop hike centered around Tradition Lake. One of the most popular routes is described here.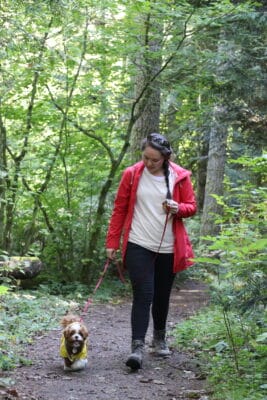 Middle Fork Snoqualmie Valley
1.9 miles / 60 ft gain
Oxbow Loop Trail is a relatively flat 1.9-mile hike that provides a family-friendly, low-intensity hiking addition within the Middle Fork Snoqualmie River Valley. The trail begins by winding through older forest stands, providing intermittent views of the Middle Fork Snoqualmie River, Oxbow Lake, and the surrounding mountain peaks of the Middle Fork Valley. Learn more about our work on this project.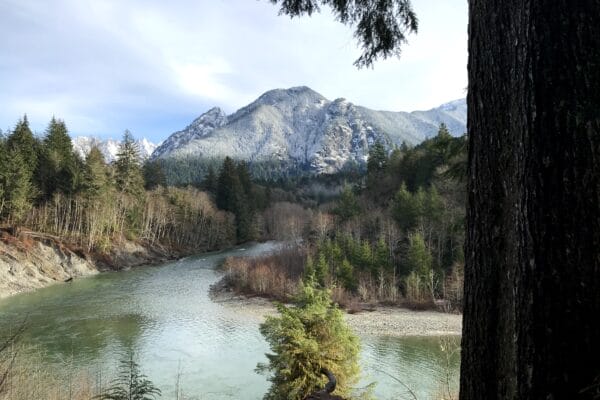 Middle Fork Snoqualmie Valley
2.2 miles roundtrip / 830 ft gain
Found at the end of the Middle Fork road, this short but steep trail reaches a scenic viewpoint in just over a mile, providing a big pay off with minimal effort. With a high point at 1,860 feet above sea level, the trail is usable year-round, providing the Middle Fork road is passable (snow is not removed from the road in the winter). The hike ascends from a large trailhead to a cliff-top viewpoint with an expansive vista down valley to the southwest, including views of Stegosaurus Butte, Preacher Mountain, Grouse Ridge, and Rattlesnake Ledge. Learn more about our work on this project.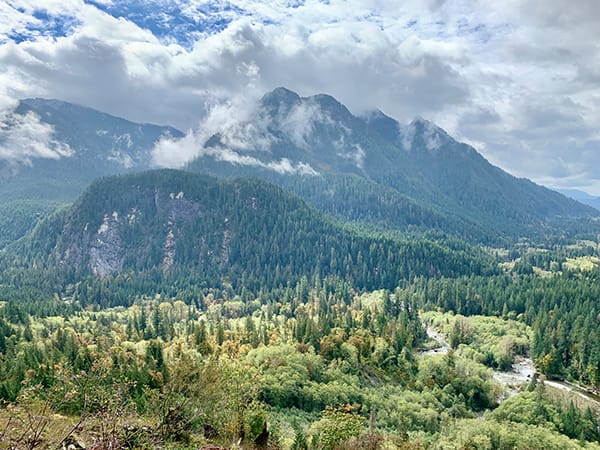 Middle Fork Snoqualmie Valley
2.2 miles roundtrip / 830 ft gain
Located approximately eleven miles down the Middle Fork Road, this gently meandering half-mile loop trail, built following Americans with Disabilities Act (ADA) standards, provides scenic views of the congressionally-designated Wild and Scenic Middle Fork Snoqualmie River. Visitors can stroll along the gravel-lined loop trail that is routed through lush forest with frequent sightings of the river surging by and the rock face of Garfield Mountain! Nestled along the riverbank and trail are eleven picnic sites with charcoal grates, which make a perfect spot to enjoy lunch with a view. A short ramp and set of stairs also give visitors access to a gravel bar beside the river. Learn more about our work on this project.

Multiple start points in the Snoqualmie Valley
31.5 miles total (multiple access points allow you to do as short of a distance as you'd like!)
The Snoqualmie Valley Trail (SVT) is King County's longest, and perhaps most majestic, regional trail. This soft-surface greenway follows a historic railroad route through the lower and upper Snoqualmie River valleys to the Cascades and provides access to the rural towns of Duvall, Carnation, and Fall City, as well as Snoqualmie and North Bend. Highlights include Snoqualmie River Valley views, river natural areas, the historic 100-foot-high Tokul Trestle, nearby Snoqualmie Falls, and ever-changing views of Mt. Si along the upper valley portion of the trail. Click here for a trail map with more details about parking and stops to experience along the way.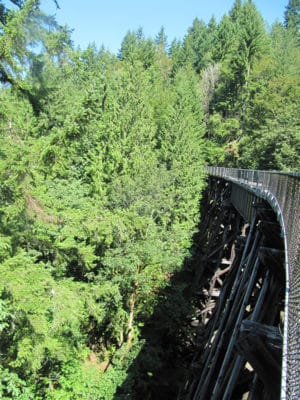 North Bend
3.5 miles roundtrip / 900 ft gain
Take a short hike up a forested butte near Rattlesnake Lake to reach a beautiful summit with minimal company on the trail compared to other popular hikes in the area.  The summit is forested, but there are views out toward the north looking up the Middle Fork of the Snoqualmie River, with Mount Si, Mount Teneriffe, Green Mountain, Russian Butte and Mailbox Peak all visible. (Trail description from WTA.org)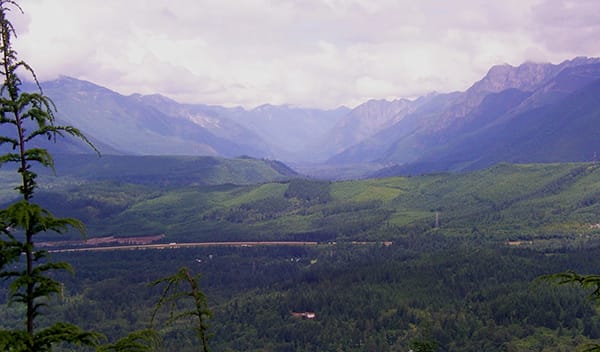 Cle Elum
4.7 miles one way / 453 ft gain
This former Burlington Northern Santa Fe railway is now a trail connecting the historic towns of Cle Elum, Roslyn, and Ronald through Central Washington forests and past small mountains of tailings left from coal mining days. The Coal Mines Trail offers a wide and well-maintained route that provides a look at the mining activity from this area's past.
Cle Elum
Varies
Enjoy more than 40 miles of both paved and unpaved trails throughout Suncadia, catering to many different activity types. This winter, explore the vast alpine landscape with this Nordic Trail Map, which shows Nordic trails, snowshoe trails, and walking trails.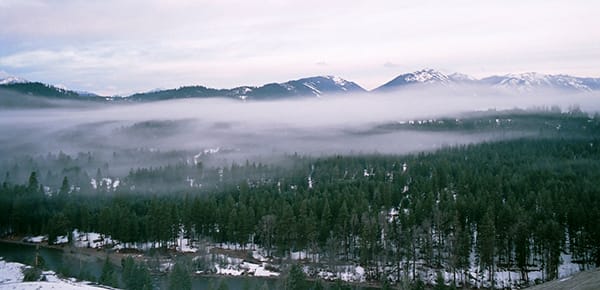 The Mountains to Sound Greenway Trust works to conserve and enhance the landscape from Seattle across the Cascade Mountains to Central Washington, ensuring a long-term balance between people and nature. Please consider making a donation to build and maintain recreational opportunities for all.