Improvements Made to the Snoqualmie Lake Trailhead in the Middle Fork Snoqualmie River Valley
Snoqualmie Lake is a large, peaceful destination within the beautiful Alpine Lakes Wilderness. This trail is unique in that visitors can begin their adventure from either Highway 2 or the Middle Fork Snoqualmie Road, or even make it a thru-hike with a little advance planning and coordination. The Snoqualmie Lake trailhead found within the Middle Fork Snoqualmie River Valley is located a half mile beyond the Garfield Ledges picnic area, 12.8 miles up the Middle Fork Road. Thanks to a collaboration between the Mountains to Sound Greenway Trust and the US Forest Service (USFS), those who choose this option will be happy to find some great trailhead improvements, including the addition of much-needed restroom facilities, expanded parking, and new signage. 
As with many Greenway Trust recreation projects, this one included multi-layered collaboration. Planning for the USFS-designed project began a decade ago, with design and environmental/cultural review culminating in a decision memo from the USFS in 2014. The USFS successfully applied for a Trails-Nonhighway and Off-Road Vehicle Activities Program (NOVA) grant, which was awarded in December 2019. Thanks to the Greenway Trust's Middle Fork Campaign, we were able to provide the 33% match requirement to fully fund the project.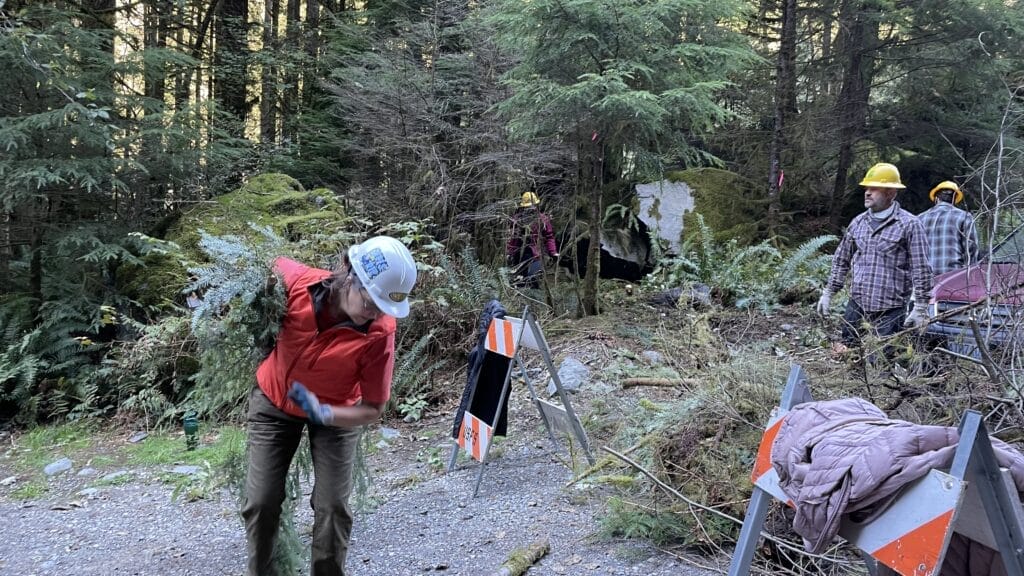 Trail crews from the Greenway Trust and USFS, plus Greenway Trust volunteers, all pitched in to prepare the site. McClung Construction, a heavy equipment contractor, expanded, regraded, and resurfaced the parking areas, even shaping bedrock to install the toilet in its desired location.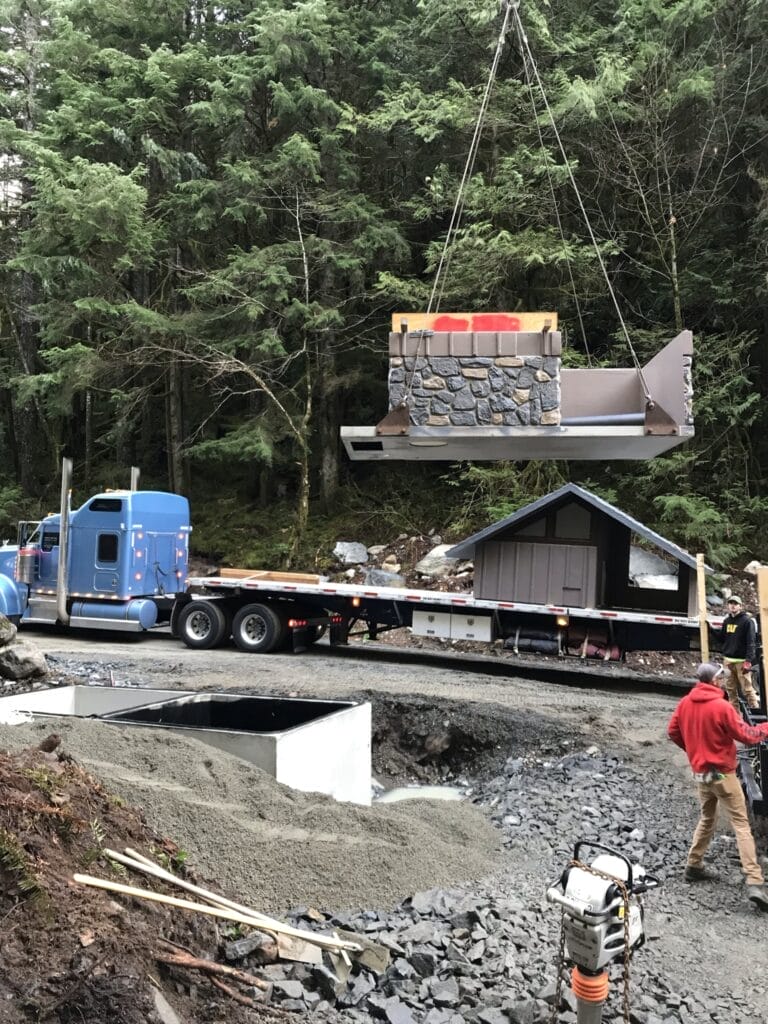 The Snoqualmie Lake Trailhead is popular with many hikers, mountain bikers, and equestrians who wish to explore the Taylor River Valley and surrounding backcountry. Close-in campsites are popular with young families and beginner backpackers. Many day hikers enjoy visiting Myrtle Creek Bridge, Otter Lipsey Falls, and Nordrum Lake. Thru-hikers enjoy travelling north to Highway 2 via the Snoqualmie Lake Trail, with opportunities to visit Snoqualmie Lake and several other lakes along the way.
Caring for the Middle Fork Snoqualmie River Valley
The Greenway Trust continues the work to ensure a sustainable future for the beautiful Middle Fork Valley. This incredible expanse of wilderness just minutes from the Seattle metro has seen a huge surge in usage in recent years, and public land management agencies, Greenway Trust staff and crews, nonprofits, and volunteers are working hard to help recreational facilities keep up. 
Since 2016, the Middle Fork campaign has raised approximately $9 million — leveraging public and private sources — for development of the crucial infrastructure (trails, trailheads, sanitation, signage, etc.) needed to absorb heavy usage while enabling such an easily accessible wild place to remain wild. We look forward to the second phase of this campaign, which will focus on stewardship and sustainability of the Middle Fork's lands, waters, and recreational facilities. 
If you would like to support future projects such as this one, please consider making a donation to our Middle Fork Campaign.