New 520 Bridge Bike Path Opens
Our region is celebrating a major achievement today with the grand opening of the new off-road, multi-use trail that crosses the State Route 520 bridge over Lake Washington. The new bridge boasts a 14-foot-wide bicycle and pedestrian trail, constructed by the Washington State Department of Transportation (WSDOT) on the longest floating bridge in the world.
With sweeping views of Lake Washington, Mount Rainier, and Mount Baker, the 520 Trail fills a missing gap in our region's regional trail network, allowing more and more people to commute and explore on foot or bike.
On the west end of SR-520, the new trail provides a much-needed link between the University of Washington, the new light rail station, and Eastside communities and employers. It links to Seattle's Montlake neighborhood and a new trail through the Washington Park Arboretum, also funded by WSDOT. Several more off-road trails will need to be installed in Montlake to complete the network.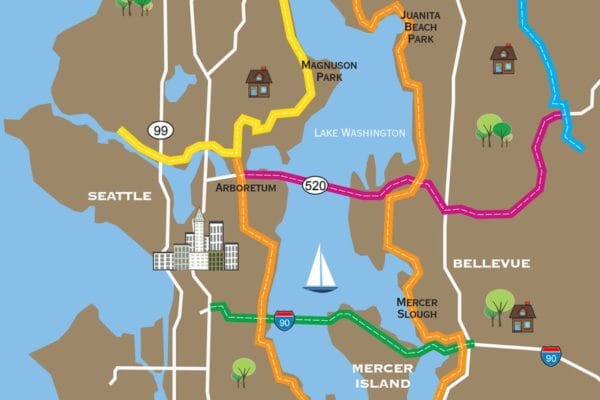 Photo Credit: WSDOT
On the east side of the lake, the 520 Trail connects to the Cross Kirkland Connector Trail, part of the future Eastside Rail Corridor, that traverses the hillside above Lake Washington north to downtown Kirkland; with an extension south to Bellevue planned to open next year. It also goes east to Redmond, where it connects with another hub of regional trails, including with the East Lake Sammamish Trail south to Issaquah, and the Burke-Gilman Trail to north Lake Washington and a loop back to Seattle. The number of new half or full day loops is endless!
The Puget Sound region encompasses a world-class regional trail system, with a vision of fully connecting communities by non-motorized trail, from urban cities, through rural areas, and across the Cascades. The trail across the SR-520 floating bridge provides a critical link as, piece by piece, new trails transform how commuters, recreation-seekers, and outdoors enthusiasts get around town.