Virtual Fundraising Breakfast  |  May 6, 2021
Thanks to all of you who could join us for a virtual journey through the Mountains to Sound Greenway National Heritage Area. We had a great morning celebrating this incredible landscape and offering a behind-the-scenes look at some of the Greenway Trust's most inspiring projects.
In case you missed it, you can watch it here. Learn from some of our staff members and awesome coalition partners at locations throughout the Greenway, who shared stories of the collaboration and hard work that's happening every day to ensure the future of this place we all know and love.
So many of these conservation successes are made possible by the generosity of people just like you! We hope you'll be inspired to support the Greenway Trust's work to care for this special place and create opportunities to make meaningful, sustainable connections with nature — the kind that inspire a long-term balance between the needs of the natural world and the people who call this region home.
We set an ambitious goal to raise $100,000 by the end of this event, and we are thrilled to say that we have received $74,000 in donations at this point, meaning the Greenway Board's pledge of $35,000 puts us over our goal at $109,000!! We are so grateful for everyone's investment in our mission!
Grab a New Explore the Greenway Shirt!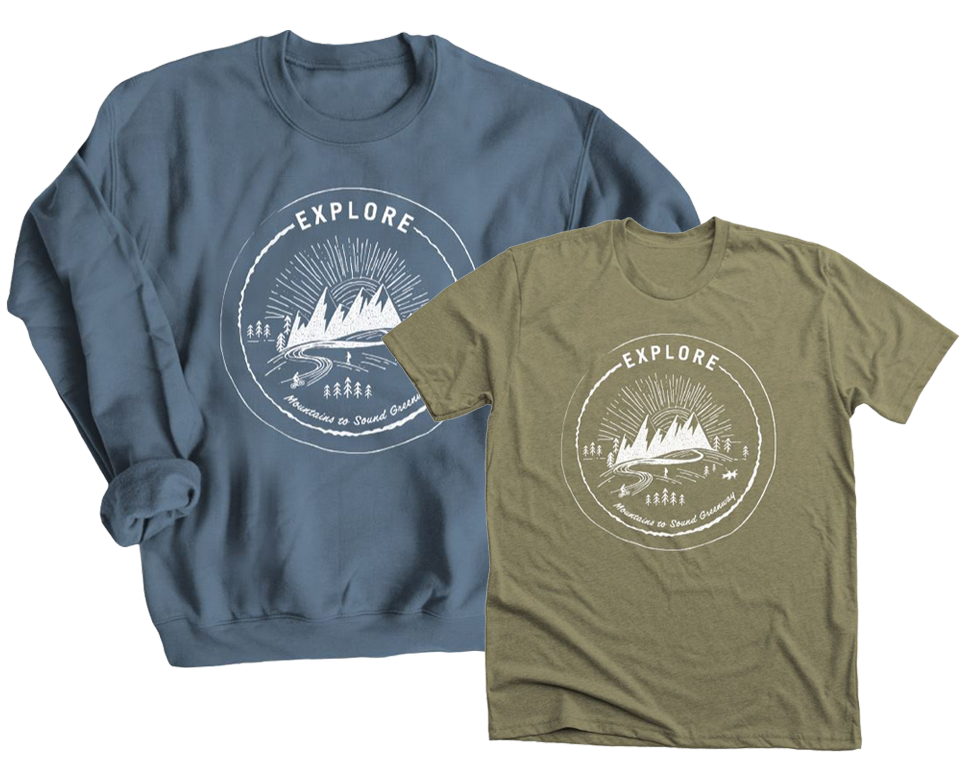 We've launched a new shirt design in our online store to celebrate the 2021 Explore-A-Thon and Annual Breakfast. There are a variety of styles and colors to choose from . . . grab yours today and wear it proudly while you're out exploring in the Mountains to Sound Greenway!