Explore-A-Thon  |  April 1 – May 6, 2021
The Greenway is a diverse landscape made up of incredible cities, towns, trails, forests, and waterways. We invite you to experience and celebrate them by participating in our Explore-A-Thon from April 1 – May 6. You'll commit to spending time out in the Greenway, using that goal and your personal stories of adventure to inspire support for this special place. How you choose to explore is up to you . . . perhaps you'll visit a heritage museum, spot wildlife in a local park, or catch a beautiful sunset. There are so many ways to connect with the Greenway, and all activities and ability levels are welcome!
The Explore-A-Thon is live now through May 6! You can sign up at any point this month to help raise money for the Greenway.

Virtual Fundraising Breakfast  |  May 6, 2021 at 8 a.m. via Zoom
The Explore-A-Thon will culminate on May 6 with our Annual Spring Fundraising Breakfast, which will be virtual again this year.
Pour your cereal or flip your pancakes, then sit down and join us for a virtual journey through the Mountains to Sound Greenway National Heritage Area. We'll be celebrating this incredible landscape and offering a behind-the-scenes look at some of the Greenway Trust's most inspiring projects to conserve and enhance it.
You'll hear from some of our staff members and awesome coalition partners at locations throughout the Greenway, who will share stories of the collaboration and hard work that's happening every day to ensure the future of this place we all know and love.
So many of these conservation successes are made possible by the generosity of people just like you! We hope you'll be inspired to support the Greenway Trust's work to care for this special place and create opportunities to make meaningful, sustainable connections with nature — the kind that inspire a long-term balance between the needs of the natural world and the people who call this region home.
We will be welcoming donations live during the event, or you can donate in advance by clicking below. We've set an ambitious goal to raise $100,000 to help further our work. Every amount helps, and is greatly appreciated!
Grab a New Explore the Greenway Shirt!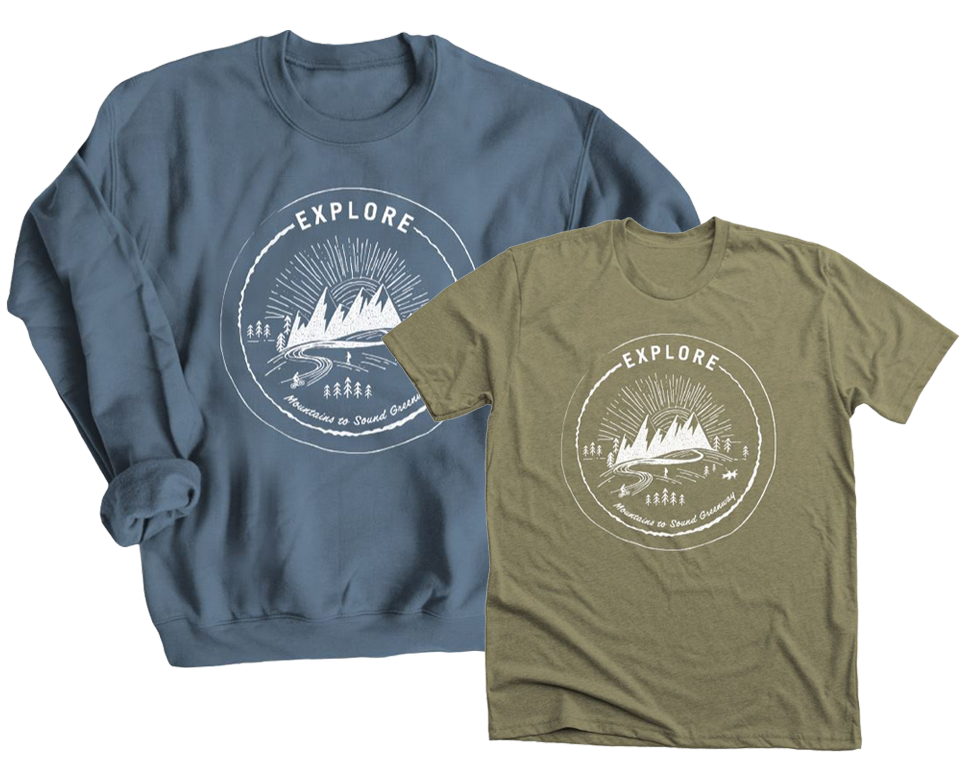 We've launched a new shirt design in our online store to celebrate the 2021 Explore-A-Thon and Annual Breakfast. There are a variety of styles and colors to choose from . . . grab yours today and wear it proudly while you're out exploring in the Mountains to Sound Greenway!
Can't participate in the Explore-A-Thon or Virtual Breakfast but still want to support? You can make a donation to help us further our mission.