Salmon La Sac Guard Station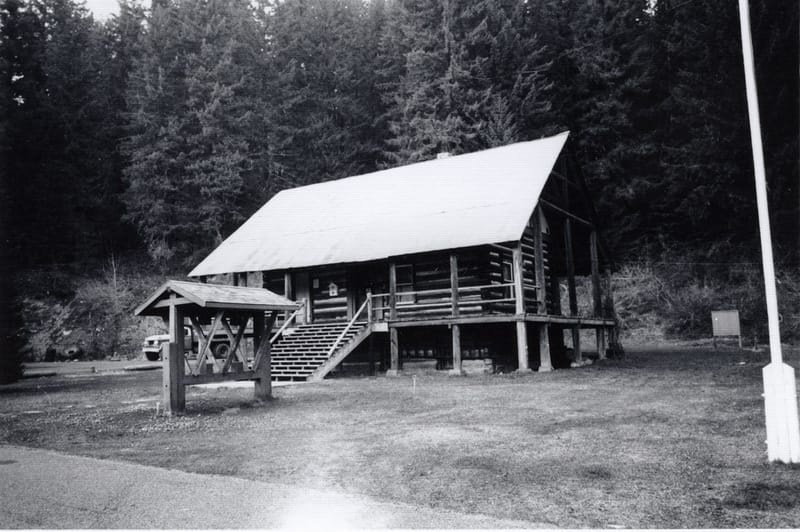 Near the high alpine lakes and streams of Salmon La Sac, the Kittitas band of the Yakama Tribe set up summer camps for fishing, hunting, and collecting berries. French fur trappers coined the name "Salmon la Sac" in the mid-1800s to describe the way native people caught salmon in huge baskets woven of cedar bark.
In the late 1800s, as part of a wave of speculation brought on by the arrival of the Northern Pacific Railroad to the Upper Yakima, the Cle Elum Mining District formed in 1883. To help move products from mine to market, the Kittitas Railway and Power Company was incorporated in 1911 with plans to lay track all the way to Fish Lake along the upper reaches of the Cle Elum River. In 1912, the company built a house on a small claim north of Cle Elum Lake, using timber illegally harvested from the surrounding forest. The government sued, and the USFS acquired the house, which it used as a summer bunkhouse beginning in 1913, the same year the Kittitas Railway and Power Company was abandoned, when the company's French financial backers withdrew with the start of World War I. After the Company abandoned plans for the railroad, the Guard Station served as summer quarters for U.S Forest employees from 1913 through 1964, when the building was closed due to structural deterioration. It was added to the National Register of Historic Places in 1974.
While the guard station isn't open to at this time, visitors can enjoy the nearby Salmon La Sac Campground or Salmon La Sac Sno-Park. Nearby trailheads offer opportunities to explore the surrounding mountains and the Alpine Lakes Wilderness. The Salmon La Sac whitewater slalom race was one of the original competitive whitewater events and has continued since 1951 as the longest running whitewater slalom competition in the nation.
More Information:

Location:

, | Google Maps
[47.4020472,-121.0956459]
Greenway Trust Priority Area:
Map Categories: