Olympic Sculpture Park
Priority Area:
Map Categories: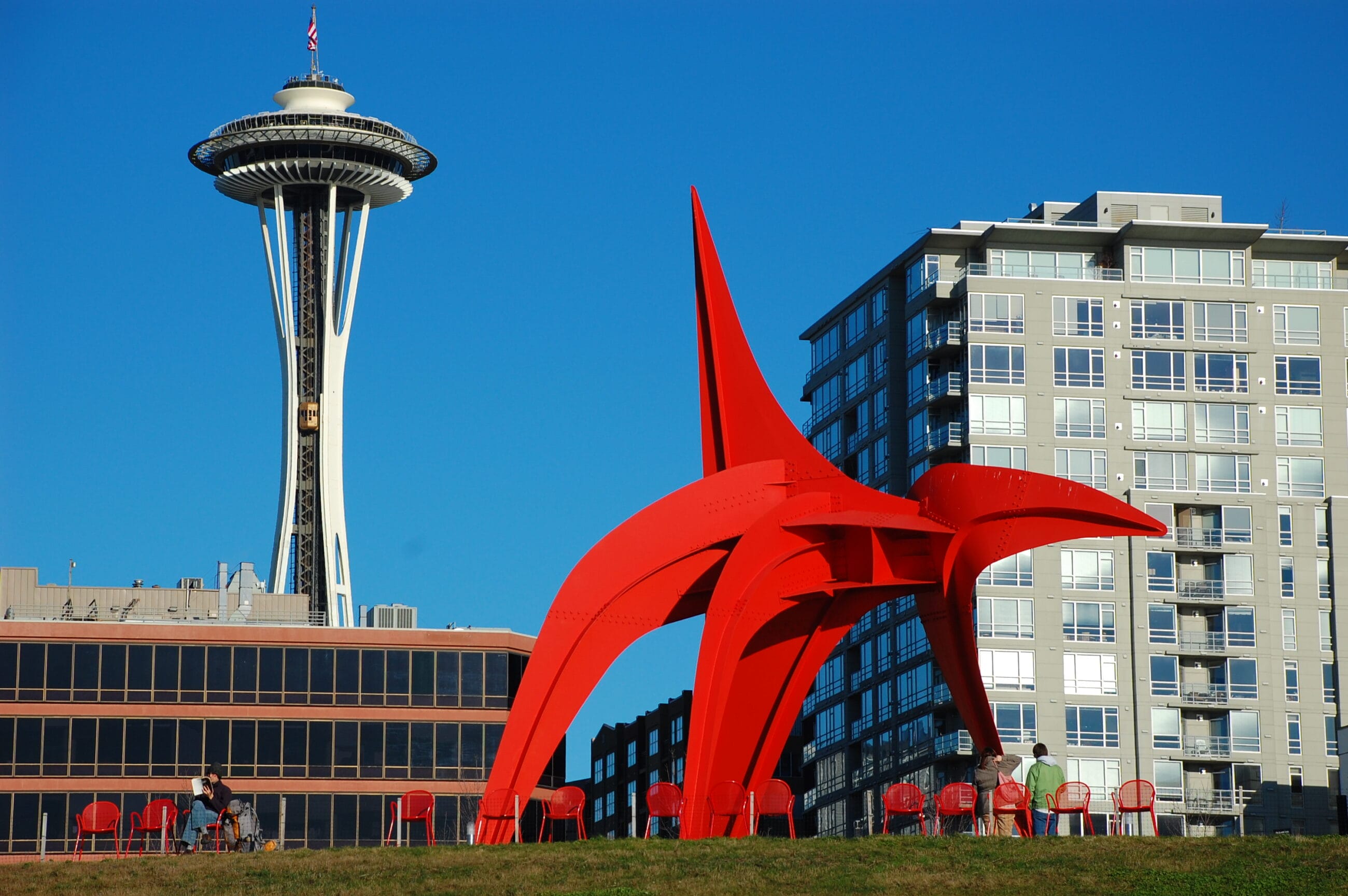 This waterfront park gives Seattle residents and visitors the opportunity to experience a variety of sculpture in an outdoor setting, while enjoying the incredible views and beauty of the Olympic Mountains and Puget Sound. Admission is free.
Details:
Art Museum
Amenities:
Amenities: Off-Leash Area/Dog Park
Pass or Permit Required:
Free - No fee or pass
Location:
2901 Western Avenue, Seattle
Website:
Driving Directions:
Data provided by Washington Hometown, a local effort to map the incredible natural and cultural sites across Washington State. Information is constantly updated and improved by users like you. See something that needs to be updated?
Let us know!
[47.616971,-122.355085]
[[[-122.35426316712275,47.615731212132417,0],[-122.35447557968284,47.6156131866762,0],[-122.35447882414451,47.615616790947222,0],[-122.35448515108179,47.615621707409495,0],[-122.35461825399338,47.61570036053218,0],[-122.35480369670564,47.615809909107142,0],[-122.35480614369699,47.615811332940289,0],[-122.35546982461237,47.616292432486603,0],[-122.35565276976118,47.61642503031085,0],[-122.35572326404535,47.616476174506786,0],[-122.35591383000312,47.616614390117299,0],[-122.35646181903938,47.617011828935297,0],[-122.35663670952356,47.617138671532608,0],[-122.35629226436967,47.617154269672497,0],[-122.35626393487071,47.617133734202177,0],[-122.35573120138204,47.616747562407717,0],[-122.35557183662611,47.616632030979105,0],[-122.35462775371097,47.615947597338263,0],[-122.35462426913857,47.615945069100526,0],[-122.3546193471644,47.615941493196928,0],[-122.35443610604865,47.615833315402497,0],[-122.35426316712275,47.615731212132417,0]]]
[[[[-122.35426316712275,47.615731212132417,0],[-122.35443610604865,47.615833315402497,0],[-122.3546193471644,47.615941493196928,0],[-122.35462426913857,47.615945069100526,0],[-122.35462775371097,47.615947597338263,0],[-122.35557183662611,47.616632030979105,0],[-122.35573120138204,47.616747562407717,0],[-122.35626393487071,47.617133734202177,0],[-122.35629226436967,47.617154269672497,0],[-122.35629376989378,47.617155360995142,0],[-122.35577740986206,47.617555872107843,0],[-122.3557544536903,47.617542342162196,0],[-122.35477666873184,47.616965812125571,0],[-122.35394232558382,47.616473450876043,0],[-122.35375895703332,47.616365255172973,0],[-122.35357570910355,47.616257101351152,0],[-122.35389568268268,47.616009238440888,0],[-122.35393831129157,47.615976203184069,0],[-122.35425827837187,47.615728325800738,0],[-122.35426316712275,47.615731212132417,0]]],[[[-122.35663670952356,47.617138671532608,0],[-122.35646181903938,47.617011828935297,0],[-122.35591383000312,47.616614390117299,0],[-122.35572326404535,47.616476174506786,0],[-122.35565276976118,47.61642503031085,0],[-122.35546982461237,47.616292432486603,0],[-122.35480614369699,47.615811332940289,0],[-122.35480369670564,47.615809909107142,0],[-122.35461825399338,47.61570036053218,0],[-122.35448515108179,47.615621707409495,0],[-122.35447882414451,47.615616790947222,0],[-122.35447557968284,47.6156131866762,0],[-122.35447381439725,47.615611225620981,0],[-122.35447026427155,47.615605166595977,0],[-122.3544682810158,47.615598790287727,0],[-122.35446682747906,47.615590392254518,0],[-122.35446752509385,47.61558195102149,0],[-122.35447036659512,47.615573716792646,0],[-122.35447526484202,47.615565938342954,0],[-122.35448205655673,47.6155588557626,0],[-122.35452732911912,47.615523173892953,0],[-122.35475297806023,47.615345342357585,0],[-122.35493870839194,47.615456149184865,0],[-122.35512069154608,47.615564734841229,0],[-122.35530435742186,47.615674361276035,0],[-122.35548789514914,47.615783877016661,0],[-122.35567078424465,47.615892968288243,0],[-122.35570682825886,47.61591447726375,0],[-122.35584895739154,47.615997350251483,0],[-122.35596658168609,47.616065936957469,0],[-122.35597245228729,47.616069357372716,0],[-122.3560419163513,47.616123015962835,0],[-122.35620373217365,47.616248012025345,0],[-122.35636554742464,47.616373007876952,0],[-122.35652736878446,47.616498004310763,0],[-122.35668918688228,47.616622999676906,0],[-122.35685100041957,47.616747994895519,0],[-122.35701282402361,47.616872989733857,0],[-122.3567460267262,47.617079929497663,0],[-122.35665406634534,47.61715125984481,0],[-122.35663670952356,47.617138671532608,0]]]]