Hiram M. Chittenden Locks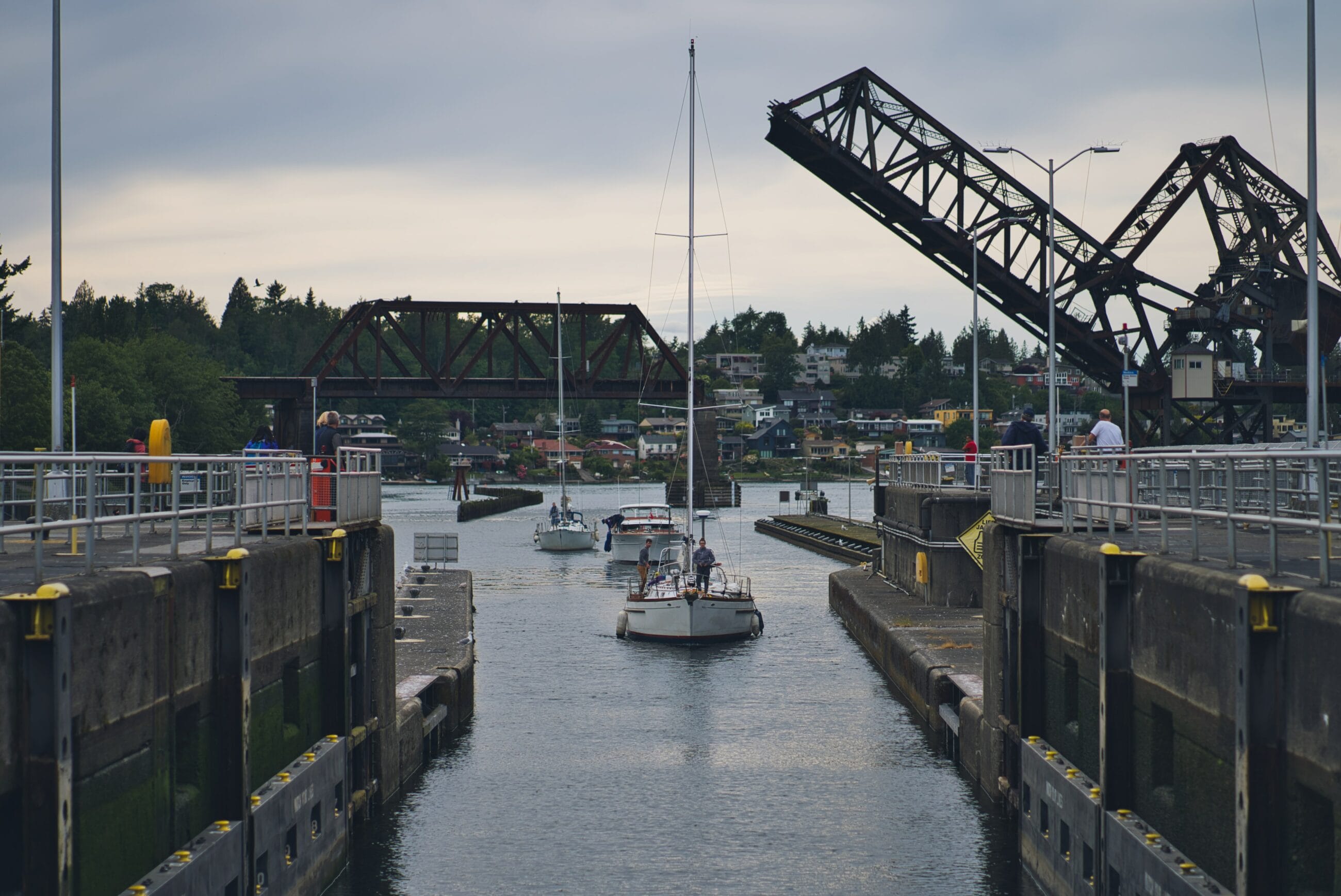 Many lake and river systems of King County flow to the sea through the busiest locking system in the nation, also known as the Ballard Locks. Watch boats pass, explore the visitor center, take a tour, stroll through the botanical garden, and learn about salmon in the Fish Ladder Education Center (where you might catch a glimpse of migrating salmon if your timing is right)!
The Hiram M. Chittenden Locks were completed in 1917 by the US Army Corps of Engineers to connect Lake Washington and Lake Union to Salmon Bay and Puget Sound via the Ship Canal. The construction of the locks and Ship Canal altered the hydrology of nearly 200 square miles of land, lowered the level of Lake Washington by nine feet, and opened up Lake Union and Lake Washington to commercial shipping. The locks continue to draw significant economic benefit for the region ($1.2 billion annually by recent estimates) and are one of Seattle's most popular tourist attractions. The locks provide passage for recreational and commercial vessels, while an adjacent fish ladder provides an essential assist for salmon returning to Lake Washington and the Cedar River Watershed—fish that had for millennia returned to spawn via the mouth of the Duwamish River, which drained Lake Washington prior to the construction of the Ship Canal. The locks were listed on the National Register of Historic Places in 1978 and have been designated by the American Society of Civil Engineers as a National Historic Civil Engineering Landmark.
More Information:

Location:

3015 Northwest 54th Street, Seattle, WA | Google Maps
Greenway Trust Priority Area:
Map Categories: