The Mountains to Sound Greenway Education Program seeks to inspire and empower young people with knowledge and skills they need to be conservation leaders. We engage 4th-12th grade students from King County schools in hands-on science education – in the classroom and out-of-doors – that connect to real-world issues such as the challenge of sustaining a healthy environment in balance with the needs of a growing population. Since 1998, the Greenway Education Program has engaged nearly 57,000 King County students in science education.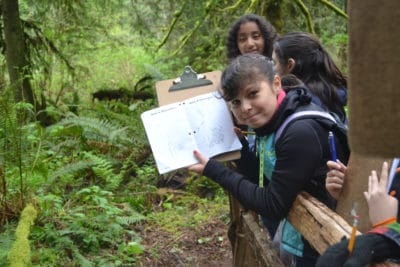 Annual Report
We are proud to report that in 2018-2019, we engaged 4,050 students in school-year programming and special events, delivering a total of 15,095 hours of education.
More than 2,500 students participated in school-year programming. These students represented 30 King County schools. They received up to ten hours of education over the course of three classroom lessons, a field study trip, and a service-learning stewardship event. 1,500 youth participated in a special event, such as Salmon Homecoming, Ellensburg Salmon Education Days, Holi Festival, or Kokanee Education Day.
Diversity, Equity, and Inclusion
We prioritize increasing access to our programs for youth from diverse communities. Many of the school districts we partner with are among the most diverse in the nation. Each year,  at least 50% of our students attend a school with a free or reduced lunch rate of at least 50%.
Program cost is heavily subsidized or free for low-income schools. For example, a school with a free or reduced lunch rate of at least 75% does not pay any fee for our program and we offer to pay for their school bus(es). (It costs the Greenway Trust approximately $750 to run a full program for one class, excluding transportation). If a school has a free or reduced lunch rate of at least 25%, they are eligible to use a free King County Wheels to Water bus to get to their Greenway field trip or restoration event.
Clean Water Ambassadors
The Greenway Trust partners with King County Wastewater Treatment Division to offer a paid internship for teens 15-18 years old. For seven weeks in the summer, the interns learn about human and natural water systems while honing professional communication and leadership skills. During the school year, the interns work another 40+ hours on projects that make a difference in their communities.
Program Assessment
We use student assessments to measure the impact of our programming and improve our curriculums. Students create a drawing and answer some questions before and after participating in our program, and then we use a rubric to evaluate the written assessments. In the 2018-2019 school year, 83% of students scored higher in their post-program assessment, indicating an increase in knowledge about Pacific Northwest forest ecosystems, salmon, biodiversity, or land use.
Community Partners
We achieve success through collaboration. We have strong partnerships with the teachers who return year after year, the public lands managers, and the funders who make our work possible. Key partners this year included King County Schools, King County Wastewater Treatment Division, Washington Department of Natural Resources, Washington State Parks, City of Issaquah, Kokanee Work Group, and YMCA Camp Terry.
Funding
The Greenway Education Program budget of $200,285 was sustained by grants, donations, and class fees. Supporters include the Boeing Company, Grousemont Foundation, Harrington-Schiff Foundation, Issaquah Schools Foundation, King County Flood Control District, King County Wastewater Treatment Division, Kiwanis Club of Issaquah, No Child Left Inside, Rose Foundation, and Russell Family Foundation.
Staffing
The Greenway Education Program is managed by Becca Kedenburg. Educators this year (2019-20) are Maria Sheldon and Val Watson. Seasonal teaching support came from Carlyn Roedell, Mike Stenger, and Connie Wood.