On average globally, today's kids spend only an hour outdoors per day, less than maximum security prisoners or free-range chickens. 
By 2050, the central Puget Sound region's population is expected to increase by 1.8 million, putting pressure on natural lands.
In King County, less than 1 in 5 youth get the recommended 60 minutes a day of physical activity.
Low-income communities have less access to the outdoors and are more likely to live near highly polluted areas.
These are problems we can solve.
The Greenway Education Program seeks to inspire and empower young people with knowledge and skills they need to be conservation leaders. We believe that one of the most important requirements in building a culture of stewardship, and achieving long-term sustainability of natural resources, is educating youth. By helping young people understand the role they play in their local environment, we can empower them to be part of the solution. Since 1998, we have engaged nearly 60,000 4th-12th grade students from King County schools in hands-on science education that connects to real-world environmental issues. In the 2018-19 season, the Greenway Education Program engaged 4,050 students, 53% of whom were from low income schools, and dedicated over 3800 hours of volunteer student hours on restoration projects.
"We are the future generation and we will decide what to do with the forests."
– 5th grader at Samantha Smith Elementary

How we do it
Our core program leads students from knowledge to exploration to action. Whether they're studying forest ecosystems, salmon stream health, or the balance between conservation and human use, they begin their studies with an interactive lesson in the classroom. Then they hone their skills in the field, working with their classmates to study and explore an ecosystem and following their curiosity. Finally, students take action by participating in a stewardship event to care for and protect the ecosystem they just got to know so well. 
In partnership with King County Wastewater Treatment Division, we also host 12 Clean Water Ambassador interns, high school aged youth who spend their summer learning about water use, environmental issues, and ecology in King County. They prepare projects to bring back to their communities as Ambassadors in the school year.
"I've never been so excited to learn about animals in my life!"
– Student Melissa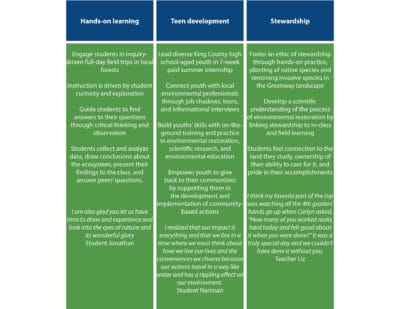 Why we do it
Spending time in green spaces helps children develop strong physical and mental health:
Childhood exposure to green spaces reduces the probability of developing a psychiatric disorder, including mood disorders, depression, and stress, in adolescence and adulthood. Time in green spaces increases children's and adults' happiness, creativity, and focus. Playing in natural spaces helps children develop physical agility, increases their physical fitness, and improves problem-solving skills. Children who spend time in green spaces or have a view of nature out the classroom window perform better academically.
By the numbers
In the 2018-2019 season, the Greenway Trust Education Program…..
Engaged 4050 students in school year programs and special events

Completed 3840 student-hours of environmental restoration

Hired 10 high school-aged youth as Clean Water Ambassadors, selected from over 300 applicants

Partnered with state, county, city, and private agencies and organizations including King County Schools, King County Wastewater Treatment Division, Washington Department of Natural Resources, Washington State Parks, City of Issaquah, Kokanee Work Group, and YMCA Camp Terry.
Of our students in school year programs…
53% attended low-income schools

83% demonstrated an increase in knowledge
Our stories
Check back soon!