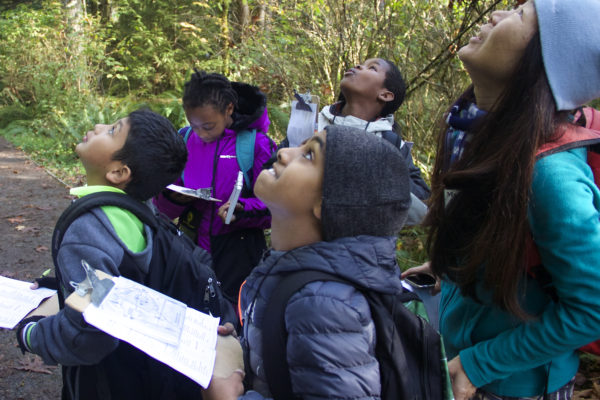 Photo Credit: Ray Lapine
To request PDF copies of any curriculum or science journal, email our Education Program Manager at becca.kedenburg@mtsgreenway.org. 
Next Generation Stewards (Grades 4-5)
Broadens students' understanding of the connections among the parts of a Pacific Northwest forest. Students record their observations and reflections in a science journal and, during a reflective lesson, take a pledge to become a 'Next Generation Steward of the Greenway.'
Forests and Fins (Grades 5-8)
Focuses on stream/forest ecology and the life cycle of salmon. Students complete a mock stream survey in the classroom in preparation to do a real stream survey on the field study trip. Students work in small groups to analyze the riparian zone, look for macro-invertebrates, test water quality and evaluate the stream channel.
Forests on the Edge (Grades 5-8)
Inspires dialogue among students as they answer the question: Why are forest lands near cities important and how should they be used? Students are divided into groups and after completing a hands-on activity to engage in presentations to advocate their views.
Biodiversity Project (Grades 9-12)
Evaluates the biodiversity of Lake Sammamish State Park through hands-on activities, scientific observation and data collection. In general, the greater the biodiversity in an ecosystem, the more resilient that ecosystem is to changes in environmental conditions.