ONLINE: 2020 Ecological Restoration Symposium
ONLINE: 2020 Ecological Restoration Symposium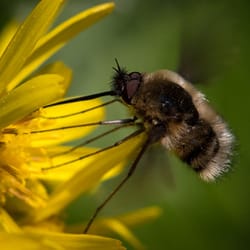 Date & Time
Tuesday, June 16, 2020
Additional Information
This event has been rescheduled from March 26, 2020 and is now being offered as an online webinar. In-person registrants will be contacted via email about refunds and online registration options.
Ecological restoration practitioners are growing increasingly aware of the importance of acknowledging multiple trophic levels and employing community ecology theories into project goals and design. In this symposium, we seek to examine the influence of invertebrates such as pollinators, beneficial insects, prey and pests, and to identify challenges and solutions in considering invertebrates in restorative efforts in terrestrial and aquatic systems.
This symposium is co-sponsored by the University of Washington Botanic Gardens and the Northwest Chapter of the Society for Ecological Restoration to provide continuing education for restoration ecology practitioners.
Why should you attend? Come to ask questions, to hear your colleagues' tales of their successes and challenges, and to learn about cutting-edge approaches being used to improve restoration project success.
Cost:
In-Person: $95
Remote attendance: $80
Discounts available for remote group registrations, full time students, and corps members.
Register online or by phone (206-685-8033)