Indigenous Peoples' Day: Mascots, Monuments, and Memorialization
Indigenous Peoples' Day: Mascots, Monuments, and Memorialization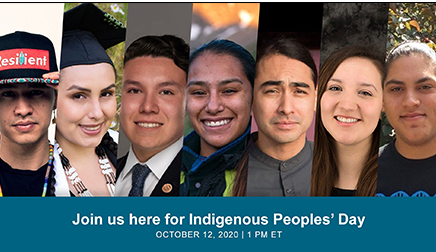 Date & Time
Monday, October 12, 2020
Priority Area:
Additional Information
How do our memories of the past inform and influence the current racial and social landscape? Hear from young Native activists who are propelling this conversation forward and addressing the tension between history, memory, and current movements happening across America. Featured panelists include Brook Thompson (Yurok and Karuk), Julian Brave NoiseCat (Canim Lake Band Tsq'escen and Lil'Wat Nation), Lina Krueck (Oglala Lakota), Dylan Baca (White Mountain Apache), and Alberto Correa III (Taíno).
This one-hour conversation will feature an introduction by director of the National Museum of the American Indian, Kevin Gover (Pawnee), a musical performance by hip-hop artist Frank Waln (Sicangu Lakota) and will be moderated by museum cultural interpreter, Michaela Pavlat (Sault Ste. Marie Band of Chippewa Indians).