Christmas Bird Count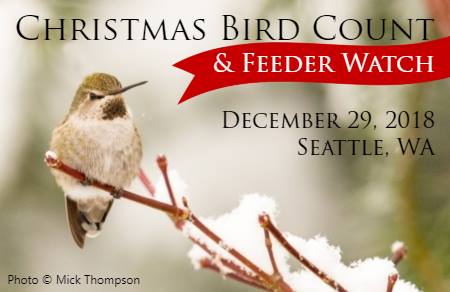 Date & Time
Saturday, December 29, 2018
Priority Area:
Additional Information
Seattle's 90th Christmas Bird Count (CBC) is looking for birders of all abilities to take part in the longest running citizen science project in North America. The count this year will take place on Saturday, December 29th.
This annual bird census brings together birders of all levels – beginner birders, experienced twitchers, and families, to people with mobility constraints. The aim? To count everything with feathers and a pulse in one day. The search takes place within an established circle 15-miles in diameter centered in downtown Seattle. Participants are teamed up with expert leaders who take the group around an assigned count section. You'll be gathering valuable data on wintering bird populations that are sent to Cornell University and incorporated into important research.
If you can only dedicate an hour, have young children, or don't want to leave the warmth of your home, why not sign up for the Seattle CBC Feeder Watch instead? Count the birds that visit your yard and feeders on count day. Your data is especially important as it will make our census more accurate. Your yard must be located within the Seattle CBC area, so see our website for a detailed map of the count area.
See the ticket URL to register and find out more.