The Year in Review: 2017 Accomplishments Across the Greenway
Fruits of partnership and cooperation are all around us in the Greenway. We enjoy a network of parks and green spaces within and around our cities. Working farms and forests cradle our small towns. An ever-improving regional trail network enables us to travel from home to school, work, and even into the wild reaches of the Cascades under our own power.
It has taken many partners to create the Mountains to Sound Greenway that we see and cherish today: conservationists, recreationists, business leaders, government agencies, community activists, engaged citizens, and volunteers. All united by a love of this place, and a commitment to conserving it and making it better for everyone.
From the start, the Mountains to Sound Greenway Trust has been dedicated to supporting and nurturing these partnerships. We continually strive to affirm the spirit of collaboration that has set a national example for conservation and remain committed to doing things better by working together. As 2017 draws to a close, this sampling of 16 accomplishments from 2017 exemplify a bold vision for happier, healthier communities connected to nature, and deliver pragmatic results.
Highlights of 2017:
LT Murray Acquisition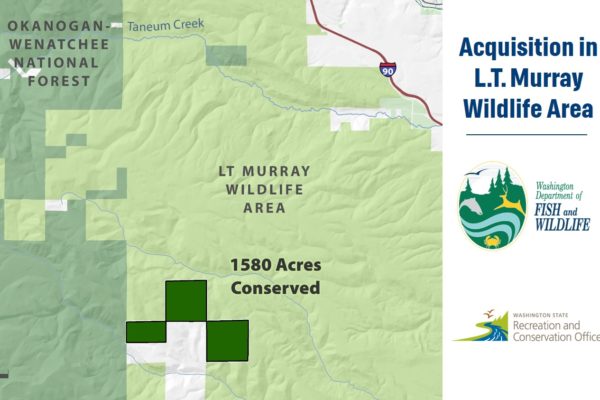 Over the last twenty-five years, people and organizations across the Greenway have successfully joined together to conserve natural lands. These acquisitions have conserved wildlife habitat and trail networks, protected water quality, and safeguarded the breathing room that open areas provide for people in our fast-growing region.
One of the recent additions was in the L.T. Murray Wildlife Area, managed by Washington Department of Fish and Wildlife. This expansive landscape provides a wide variety of recreation opportunities as well as critical winter habitat for more than 8,000 elk. This year, Fish and Wildlife purchased more than 1,500 acres of private inholdings, solidifying the checkerboard to improve forest health, reduce the risk of catastrophic wildfire, and preserve wildlife migration.
Teanaway Tributary Restoration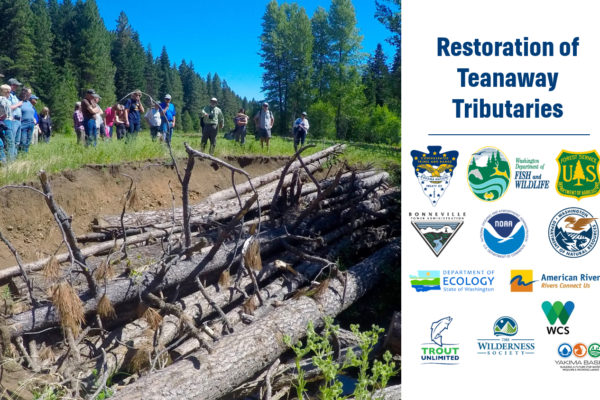 In the Teanaway Basin, exciting progress is being made on fisheries restoration. The Teanaway River is the largest undammed tributary of the Yakima River and is ideal habitat for coho, cutthroat, and steelhead. Past land-use practices degraded sections of the river, with fish populations taking a huge hit. The tireless efforts of the Yakama Nation and their partners are changing all that. By placing woody material in creeks and side channels, they have helped raise water levels, create complex habitat, and restore floodplain connectivity. This year, they successfully secured funds to expand treatment and monitoring on eight additional miles of Teanaway streams.
Teanaway Planning Process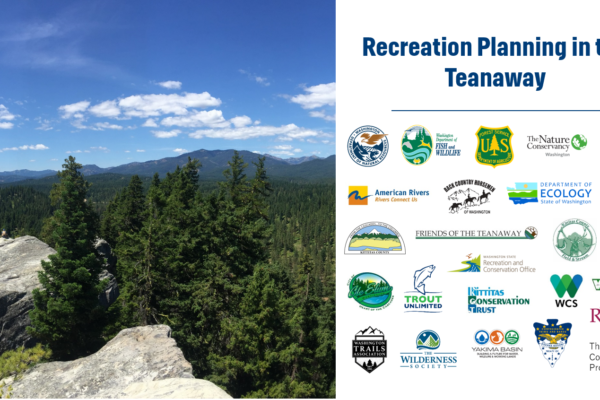 Major changes have happened in the Upper Yakima Basin in recent years. Thanks to the state's acquisition of the Teanaway Community Forest and The Nature Conservancy's new Central Cascades Forest, outdoor enthusiasts have more opportunities than ever to enjoy Central Washington. Several planning efforts are underway, engaging residents and trail users in shaping the future of these lands. In the Teanaway, a recreation plan is being drafted, balancing recreation with ecological restoration and working lands. Nearby, local governments and organizations are planning a Towns to Teanaway trail system that will tie Cle Elum, Roslyn, and Ronald to the Teanaway's trail network, and have already raised $70,000 in local funds for the design. Both of these plans will be sure to bear exciting fruit in coming years.
Granite Creek Trailhead and Trail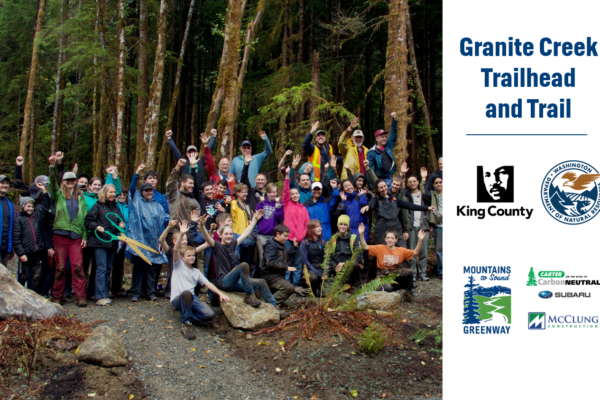 Over in the Middle Fork Snoqualmie River Basin, it's been a busy year. One of several projects in the Valley that we are celebrating is the new Granite Creek trailhead with 43 parking spaces. This new facility provides trail access to Granite and Thompson Lakes in the Alpine Lakes Wilderness, as well as day-use access to the Middle Fork River. It's a great example of the inter-agency collaboration that is becoming second nature in the valley, as the trailhead is managed by King County and the trail by State DNR.
Pratt Bar Bridge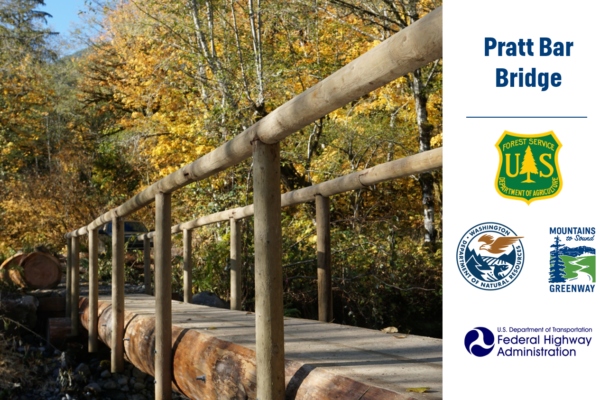 The new bridge to Pratt Bar now provides safe, family-friendly access to a sunny Middle Fork gravel beach on the river, a spectacular water-play area with soaring views of surrounding mountains, and some of the best river access on National Forest lands in the Middle Fork Valley. The bridge, built with logs salvaged during the road paving project, was installed through a collaboration between the Federal Highway Administration, U.S. Forest Service, State DNR, and the Greenway Trust.
Mt. Si Complex – Trails, Bridges, Trailhead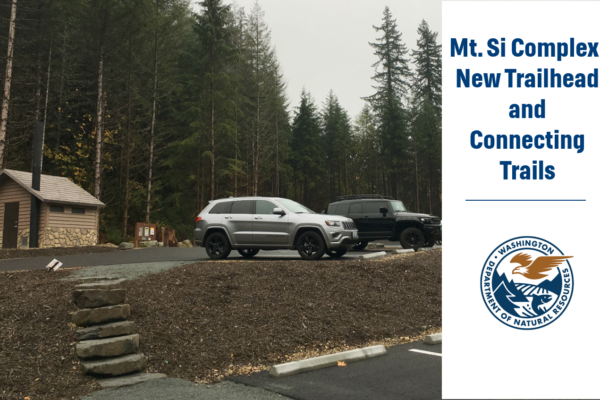 Across the river valley is one of the Greenway's most popular hiking areas: the Mt. Si complex. Its proximity to Seattle means it has struggled with overcrowded parking lots. To address this, DNR recently constructed a new trailhead at the base of Mt. Teneriffe, with more than 100 parking spaces and improved road safety. Additionally, new connector trails were built between Little Si, Mt. Si, and Mt. Teneriffe and their respective trailheads. This linked trail system helps spread out usage, reduce congestion, and improve the hiker experience.
Savor Snoqualmie Valley Launches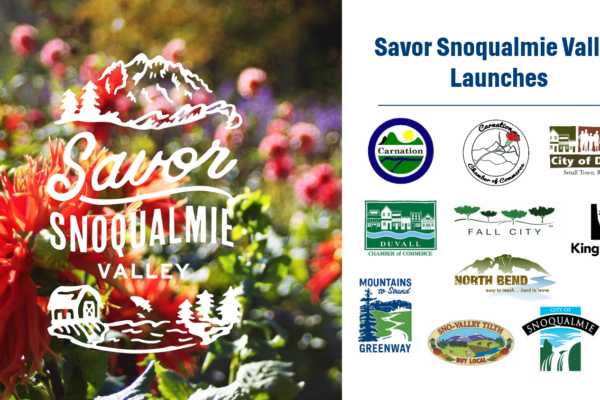 Launched in March, Savor Snoqualmie Valley is a community-driven effort to celebrate and promote the Snoqualmie Valley. Savor is coordinated by the Greenway Trust in partnership with government, business, and community leaders, and focuses on building a more united valley, a stronger local economy, and a deeper connection to the outdoors. One of the first successes was the launch of the new Savor website, a new online resource for exploring the valley.
Bounty Week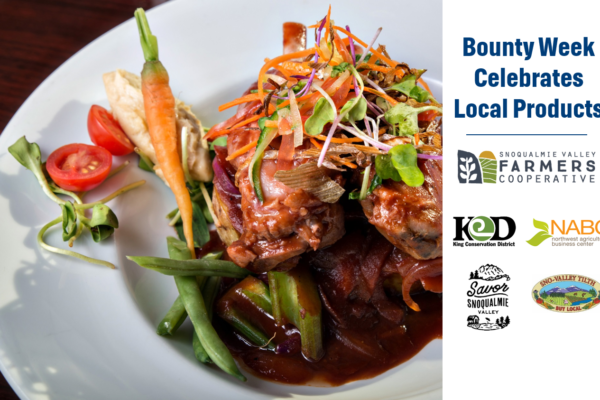 The Valley is well known for its farms and locally grown products, found at farmers markets across the region. Now, more and more local restaurants are starting to weave Valley-grown ingredients into their menus, thanks in part to a new celebration called Bounty Week. This annual event, organized by the community, highlights special restaurant dishes with local ingredients. It's a major logistics undertaking, with the Snoqualmie Valley Farmers Cooperative handling the complex ordering between several dozen restaurants and farms.
Wayfinding Signs on Snoqualmie Valley Trail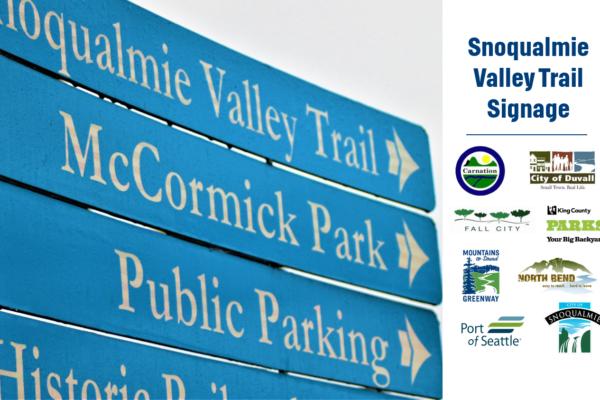 Running along the valley's backbone is the Snoqualmie Valley Trail. A popular biking, jogging, and commuting route, it was easy to travel miles upon miles, but not easy to know about the interesting stops along the way. That is about to change. Several wayfinding signs will be installed soon, directing users how to get to the downtowns the trail passes through, to grab a bite, visit a local store, or explore a park. The wayfinding signs will also orient users to their location in the valley, with the names and distance to the other cities. This is part of a local initiative to build a connected network of trails, which tie them together and to the communities they go through.
City of Snoqualmie Urban Forest Acquisition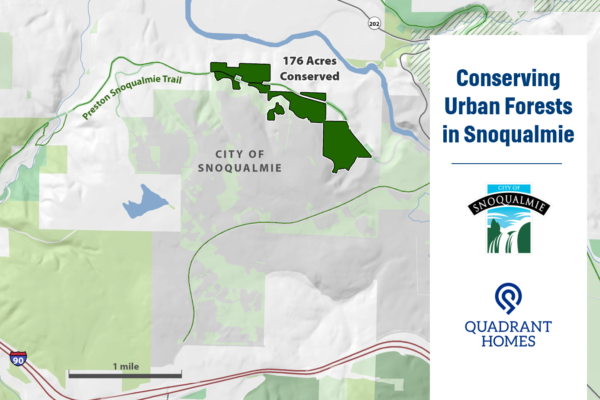 Forests are a big part of our regional identity. They are also vital for the health and resilience of our cities as populations grow and climate changes.  Urban forests sequester carbon dioxide, stabilize slopes, clean our air, filter stormwater, and cool our neighborhoods.  This year, Quadrant Homes donated 176 acres of forest to the City of Snoqualmie so that they can preserve and steward the forest for the benefit of all.  The forests are also adjacent to a King County Trail corridor, making recreation access a possibility in the future.
Soaring Eagle Addition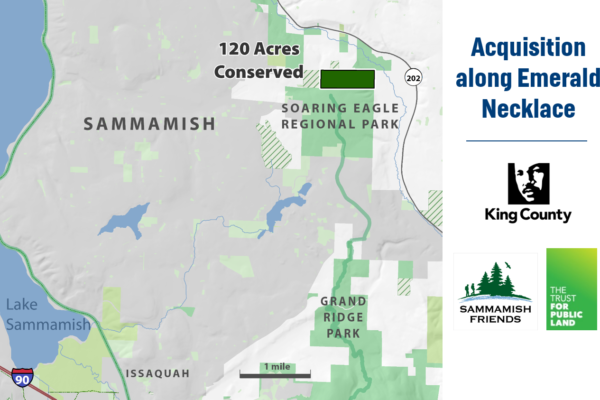 A major effort is underway to preserve open space around the rapidly developing Sammamish Plateau. Called "the Emerald Necklace," it is envisioned as an interconnected series of parks and trails that will eventually encircle the City of Sammamish. A local band of advocates, called Sammamish Friends, have taken it upon themselves to fill in the remaining gaps, mostly in the northern section of the loop. Earlier this year, King County Parks and the Trust for Public Land added 120 acres along the route, adjacent to Soaring Eagle Park.
Eastside Rail Corridor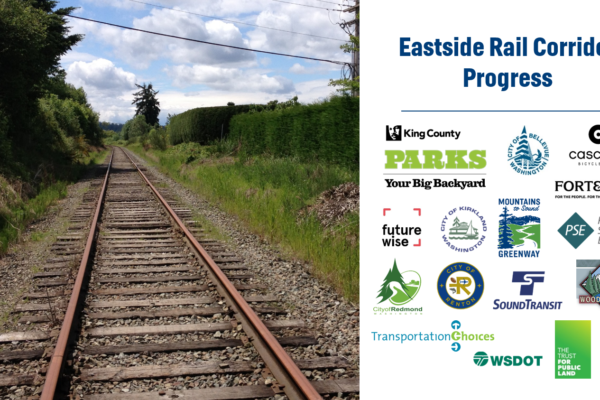 Major headway is being made on the Greenway's newest regional trail: The Eastside Rail Corridor. It route follows 42 miles of former railway corridor from Snohomish to Renton. It's a momentous task to build a trail on this scale, but thanks to the perseverance of the cities and county, the trail is coming together, piece by piece. Recent successes include the opening of segments in Kirkland and Redmond and funding allocated to retrofit the historic Wilburton Trestle. Next spring, King County Parks will open two additional sections: a 4-mile segment between Renton and Bellevue, and a connector between Kirkland and Bellevue, which will connect to the new SR 520 bridge bike lanes.
Paving High Point Road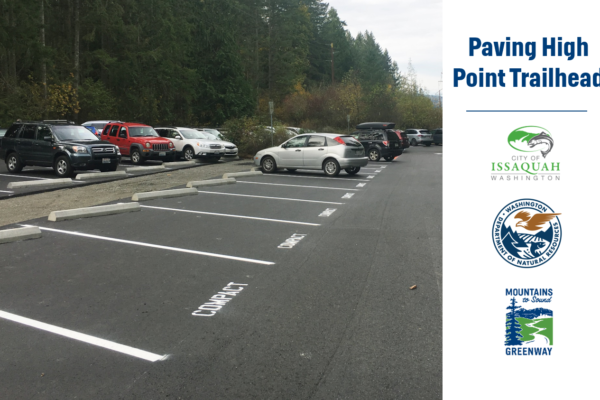 Just a few weeks ago, we finally said "goodbye" to the potholes at Tiger Mountain's High Point Road and Trailhead, and the transformation is dramatic: freshly paved and striped, with 87 stalls, ADA access, and a new bus turnaround, this Issaquah-area trailhead is more accessible than ever. This will make a big difference not only to trail users, but also to the thousands of local students who travel to Tiger Mountain each year for the Greenway's education program. State funding for the renovation was secured by Senator Mark Mullet who has been a major champion for this project.
Trailhead Direct Pilot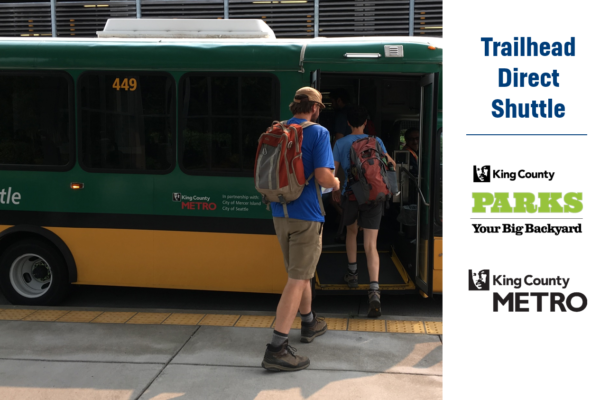 Wilderness on the Metro: It has been a long-cherished idea in the Greenway: of being able to access trailheads not just with a private vehicle but also on public transportation. This summer, King County Metro and King County Parks launched a shuttle pilot to trailheads, aiming to ease vehicle congestion, reduce safety hazards, and expand access to hiking destinations. Called Trailhead Direct, it connected the Issaquah Transit Center with several popular Cougar and Tiger Mountain trailheads. The pilot was very well received by trail users and will resume in spring 2018, with potential expansion to additional trailheads in the North Bend area.
King County Interns
This summer, King County and the Greenway Trust teamed up to offer an intensive, hands-on internship program for local high school students. The goal was to build the next generation of environmental leaders. Over the course of the summer, the interns gained valuable field experience, made professional connections within the environmental community, and honed their leadership skills. The interns blew us away with their passion, pragmatism, and inquisitiveness. These young women and men are surely going to make a huge difference in their communities. The future of the Greenway and King County is in good hands.
Middle Fork Road Completion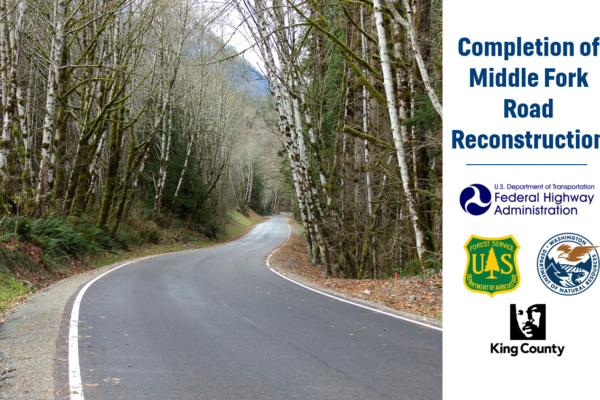 We are honored to celebrate the completion of a project that has been nearly two decades in the making—the reconstruction of Middle Fork Road. Where there were once axle-breaking potholes, we now have safe and family friendly access to this breathtakingly beautiful place. It took perseverance and gumption to make this happen, a massive lift by many partners across the region. We saw the valley's potential for our community and we joined together to make it a reality. The completion of the road is a momentous achievement towards that vision. For the past four years our partners at Federal Highway Administration worked tirelessly to build a road that serves the ecological needs of the valley and the recreational needs of the region.
Many partners worked on planning and construction of the road. Others helped secure funding or donated their own funds to support the Middle Fork, designed and built the numerous recreation sites; or volunteered their own time and energy to take care of the Valley. It took a whole village to make this happen! Now, with the road open our region can, for the first time ever, easily explore this wilderness in our backyard.