Volunteers in 2017 – You Rock
From great teamwork at the native plant nursery in January, to new connections and lots of laughs at Women in the Woods, we're celebrating our incredible volunteer community as 2017 draws to a close.
Volunteers planted 21,890 plants and gave over 31,200 volunteer hours at more than 60 sites. All told, nearly 4,000 volunteers helped the Greenway restore 19 acres of public land.
Here at the Greenway, we do things better by working together. Friends, families, peers, and coworkers arrived in impressive numbers and with even more impressive spirits as we came together to build trail, move mulch, and dig blackberry.
Trails are cherished in our region, and our volunteers worked to ensure they remain that way. Behind every new puncheon bridge installed was the unified comradery of hiking up Squak Mountain with heavy stringers in tow. With every new turnpike built, there was the innovation and keen eyes for design to re-vegetate the trail edge with sword ferns. Thanks to our volunteers, our trails are in good hands.
Volunteers know the Greenway as more than a landscape – most call it home. As a community, you have brought together shovels and pitchforks, Pulaskis and McLeods, to rebuild our parks and trails. It is hard work, and you were up for the challenge. For your commitment, we are so proud of all of you. For your work, our park and trail users: Thank you!
Whether you planted one of the thousands of trees installed in the Greenway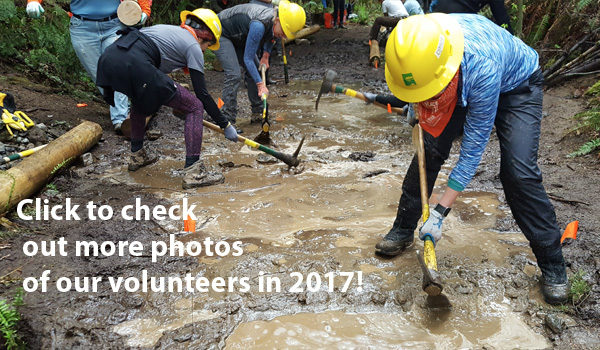 this fall, moved the most mulch per hour with your corporate group, smashed rocks with a sledge hammer, or cleared the way by removing invasive species earlier this summer, thank you for making our communities stronger and more resilient. To see your work in action, check out some photos here.
Don't worry – there are even more opportunities to share your enthusiasm and love for the Greenway in 2018. Join us on the Middle Fork Trail or at our native plant nursery. We can't wait to see you back out there!