Trail Maintenance in the Alpine Lakes Wilderness
Nestled on the Eastern edge of the Pacific Crest Trail, in the heart of the Alpine Lakes Wilderness, is Waptus Lake a 1-mile long freshwater lake with stunning views of the Cascade Crest. This lake, accessed by the Waptus River Trail, has been a popular backpacking and horse camping destination for decades.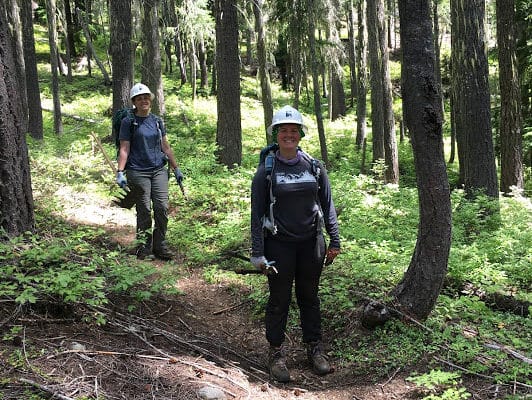 As a member of the Mountains to Sound Greenway Trust's AmeriCorps team, I went on a "spike" along the Waptus River Trail to help make the trail more sustainable for hikers and horse riders alike. For four days in early August, we worked on the last 2 miles of the Waptus River Trail and the first 2.5 miles of Trail Creek Trail – an offshoot that connects the Waptus River Trail with the Cathedral Pass Trail – to improve tread surface, build drainage systems, and brush along the trail. This work helps with access and prevents erosion, which can degrade the ecological health of the surrounding area and make trails unsafe over time.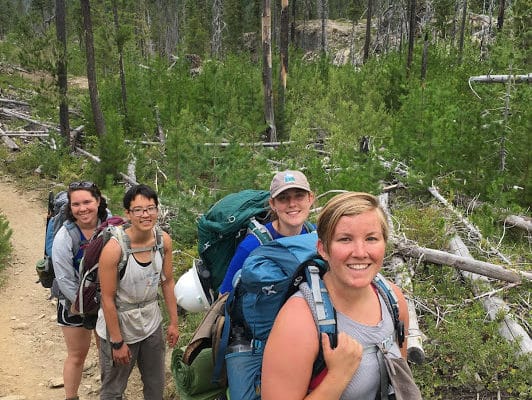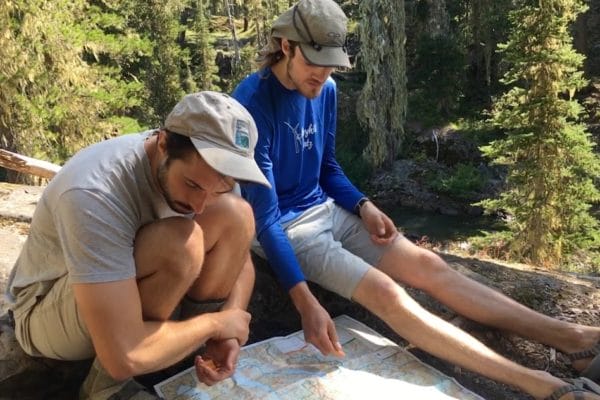 In the mornings, we hiked into our project site and then split into groups. Usually, four of us worked on brushing, which involves cutting about three feet of brush on either side of the trail with loppers or hand pruners. One more person acted as a "swamper," staying behind the brushing group to rake the chopped plant material off the trail. Then, we had three people on a separate section of trail working on building or improving drains. This involves shoveling out large trenches at strategic points along the trail to prevent water from flowing down the trail. Depending on the slope and shape of the trail, at times we also had to install large rocks or logs across the trail to encourage water to flow into the drains. Drainage work was exciting since every drain required critical thinking and held new challenges, whereas I found brushing to be more relaxing and meditative. 
This kind of 4-day backcountry trail project (called a "spike") is not uncommon, and many trail crews go out for eight days at a time. Backcountry trail work is made possible by horse packers, like those from the Backcountry Horsemen of Washington, who volunteer their time and resources to carry out tools, food, and other supplies. Our eight-person crew needed three horses and three mules to carry out supplies for just four days!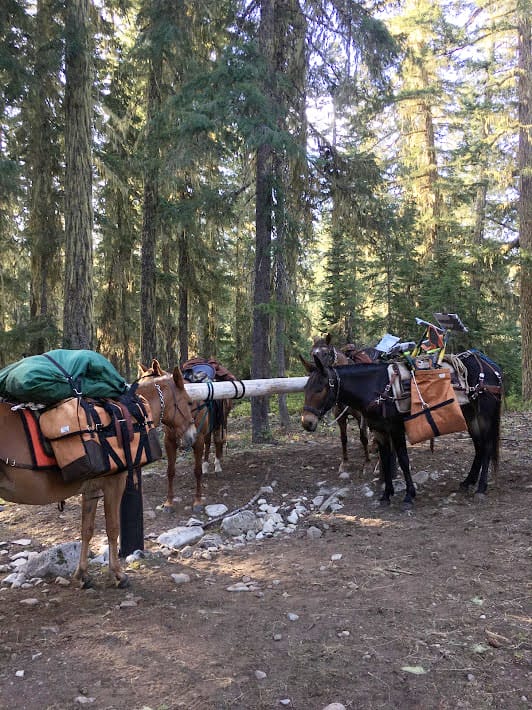 The more time I have spent on trail projects, the more I have begun to appreciate the amount of time, resources, and expertise needed to construct and maintain the hundreds of miles of trails in this region. In designated wilderness areas like the Alpine Lakes Wilderness, motorized activities are prohibited to avoid disturbing wildlife and hikers' backcountry experience, so the amount of manual labor that goes into maintaining these trails is immense. 
While there are thousands of hikers enjoying public lands in the Greenway, many aren't aware of the support, both financial and volunteer-based, that's needed to keep these trails running. Despite this, an ethos of trail stewardship is growing and will continue to grow as long as there are residents who are dedicated to this landscape and all of the natural beauty it has to offer. Not everyone can jump on a backcountry trail project, but everyone can volunteer their time to give back to the trails they love.
Interested in volunteering in the Greenway? Check out our list of opportunities.