Information on the Weyerhaeuser Tiger Mountain Harvest
Located in western Washington, West Tiger Mountain Natural Resources Conservation Area (NRCA) is about 20 miles east of the city of Seattle. The area is part of a chain of Cascade Mountain Range foothills known locally as the "Issaquah Alps," which includes Tiger, Squak and Cougar Mountains.
Effective on July 6, 2021, portions of several DNR-managed trails (TMT, West Tiger #3, Cable Line, Seattle View, Section Line, Poo Top, and Preston Trail) that access privately-owned forest lands surrounding the summits of West Tiger Mountain will be temporarily closed while road work and forest management operations occur. These closures will take place until further notice. For your safety, respect the closure area. Click here for more info from Washington State Department of Natural Resources.
The Issaquah Alps Trails Club, Mountains to Sound Greenway Trust, and the City of Issaquah are working together to minimize the impacts of this harvest. Our ongoing advocacy efforts, combined with concerns expressed by the community, are key in achieving the best possible outcome for conservation and recreation.
The Weyerhaeuser Company owns forestland on Tiger Mountain and recently received approval from the Washington State Department of Natural Resources for a permit to harvest a section of second growth timber near the summits on West Tiger Mountain. Their application has been approved and includes required forest health practices including reforestation, retaining appropriate stream buffers, geologic reviews, and planning for signage and public education as this is an area of high recreational use. The application mentions the trail system in and around the proposed harvest area and the importance of maintaining a relationship with hikers during the harvest period as well as restoring conditions as appropriate for future trails.
While much of Weyerhaeuser's ownership on Tiger has been exchanged for public ownership, this portion of working forest with existing communications towers has been retained by Weyerhaeuser for decades. Our organizations have a rich history of friendly collaboration. In 1976 Ruth Ittner, a local trails advocate, negotiated with Howard Millan, Weyerhaeuser's first trained forester, land buyer, and recreation manager, leading to the establishment of the Tiger Mountain trail system. Historically, Weyerhaeuser has welcomed visitors to their forestlands and supported conservation efforts. These values and relationships made Tiger Mountain the popular regional outdoor recreation destination we enjoy today.
The Issaquah Alps Trails Club, City of Issaquah, and the Mountains to Sound Greenway Trust are working with Weyerhaeuser in advance of the harvest on Tiger Mountain to produce outcomes that will benefit the public. As David Dunphy, IATC's Board President stated, "we know a balance can be found between the working forest, wildlife needs, and the interests of recreation users." It is our goal to work with Weyerhaeuser to find ways for the timber harvest to benefit habitats, future trails, and the public.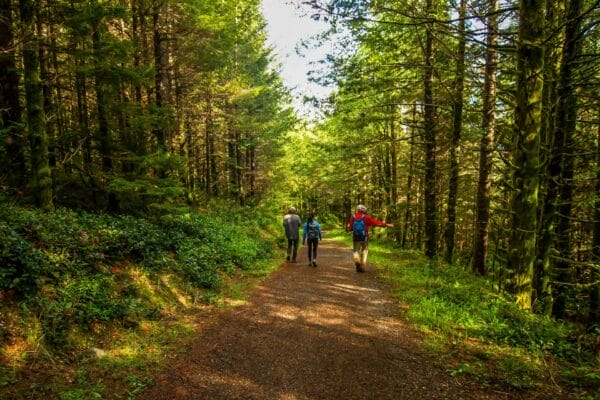 Examples of potential public benefits could include:
Consideration of future trail locations, potential relocations, and improvements.
Vista planning in reforestation and stand management.
Trail building support after harvest use.
Potential sale of harvested land to DNR for permanent conservation.
Alignment with King County and DNR goals for healthy forest management.
We look forward to working with Weyerhaeuser to represent key stakeholders and our community at large.
Information about temporary trail reroutes can be found here.
More information on results of these efforts will be available soon. If you have questions or would like to offer feedback to advocacy leaders, please email Lindsay Frickle, Executive Director of Issaquah Alps Trails Club at exec@issaquahalps.org.