The Greenway's 13 Year Partnership with Carter Subaru
As a non-profit, a lot of the work that we accomplish is through partnerships with various organizations—from governmental agencies to other non-profits. One of our longest standing partnerships is with Carter Subaru. For more than ten years, the dealership has been a dedicated partner whose forward and long-term thinking paired with their financial support has allowed the Greenway Trust to carry out countless restoration projects.
The Carter family began their business in 1960 and now, over 60 years later, it encompasses Carter Subaru, Carter Acura in Lynwood, Carter Subaru in Ballard, and Carter Volkswagen. In 2008, they decided they wanted to reduce their carbon footprint by working to offset some emissions through tree plantings. They reached out to the Greenway Trust and so began their On the Road to Carbon Neutral program and the start of a sustainable partnership. The On the Road to Carbon Neutral program is simple: for each test drive that someone takes at a Carter dealership, Carter makes a donation to the Greenway to plant one tree— as a bonus, with every purchase of a car they donate to plant three trees! Thanks to Carter, more than 200,000 native trees have been planted across the Mountains to Sound Greenway National Heritage Area landscape. 
On the Road to Carbon Neutral has continued to grow over the years and benefitted the Greenway in numerous ways, including a recent project match of $5,000 for tree plantings at Ballinger Open Space in the City of Shoreline. Carter leaned in on this carbon sequestration restoration program along with King County, American Forests, Bank of America, and City Forest Credits. The Greenway Trust has also engaged local community members to remove invasive plants, plant trees, and restore public access to this land. This project highlights the importance of trees in our urban spaces to improve both environmental and human health.
The consistent support the Greenway receives from Carter Subaru is extremely important in all our restoration projects. Beyond simply providing trees, it allows our organization to utilize this funding to continue maintaining previous sites, and do fill-in planting where previous plants haven't survived. All of these tasks are extremely important to the long-term success of restoration sites, but are more costly because they need to be done over many years. The flexibility of Carter Subaru's donations—they are for tree plantings, but can be used where they are needed most—is invaluable for our restoration efforts.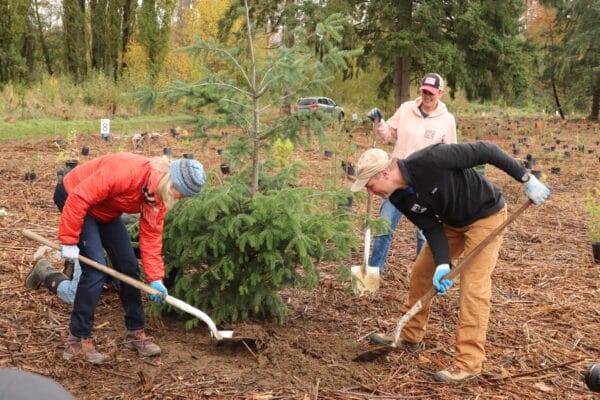 Each October, we hold a tree planting celebration with Carter to kick-off the planting season. Not only is it a great way to celebrate all the work accomplished so far in the year, it's also a fantastic opportunity to invite other partners and community members out on the landscape to get their hands dirty planting trees. In a normal year, this community event can have anywhere from 200-300 people! 
Since 2008, and with Carter Subaru's support we have been able to accomplish countless restoration projects. Strong partnerships, like the one with Carter Subaru, help the Greenway drive our mission for restoration and the long-term balance of people and nature.