The Future of the Thorp Grist Mill 
Imagine the sound of three floors of machinery, of massive gears and pulleys and canvas conveyor belts operating at full speed, turning grain into flour.  
The Thorp Grist Mill is the oldest industrial artifact in Kittitas County and includes a remarkable collection of handmade wooden mill equipment. From 1883 to 1946, the mill produced flour and livestock feed and served as a social hub of the local community. A horizontal water turbine powered the mill's original machinery, with a second turbine once powering an adjacent lumber mill and providing electricity to the town of Thorp. The adjacent Northern Pacific Ice Pond provided refrigeration for the railroad and nearby residents.  
The mill was designated a National Historic Landmark in 1977. In 1987, a local group raised funds, purchased the mill, and renovated its machinery in order to develop and open a small museum that now operates during the summer months. In 1995, members of the Thorp Mill Town Historical Preservation Society reached out to the Mountains to Sound Greenway Trust with a request: expand our eastern boundary 10 miles from its limit at Elk Heights, to include Thorp, the grist mill, and the scenic Highway 10 loop between Thorp and Cle Elum.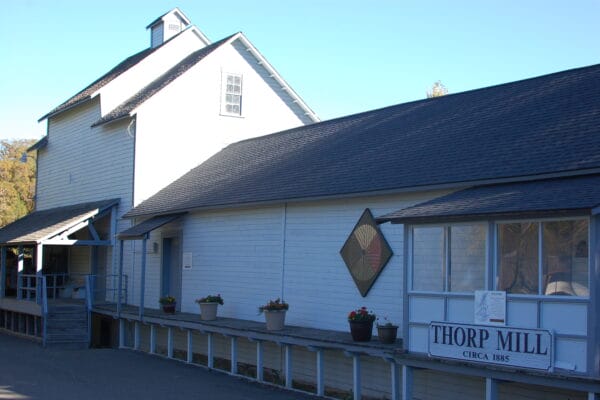 With the Greenway Trust's 2019 designation as a National Heritage Area, landmarks like the Thorp Grist Mill become even more meaningful. They serve as cultural anchors and interpretive opportunities, telling a broader story of how communities alter, and are altered in turn by, our environment. They are living snapshots of human ingenuity and perseverance, but most were either lost to fires or dismantled for parts during WWII. The Thorp Grist Mill is one of a handful still standing, with machinery intact, ready and able to tell its story. 
Like so many historical societies and museums, the mill lost significant revenue during the pandemic. The Preservation Society seeks donations from the community to help keep the museum afloat during these challenging times. They have set a fundraising goal of $20,000 to accomplish several urgent projects: 
Roof repairs, to preserve machinery and exhibits: $10,000

 

Staff payroll, to operate the museum during summer season: $7,000

 

Repairs and replacements for interpretive signage and kiosks: $3,000

 
So far, only $850 of the $20,000 goal has been collected. We hope that you will join us in supporting this unique piece of Greenway history. Please click here to make a charitable donation. For more information about the Historic Thorp Grist Mill, visit their website.