Recreate Responsibly: Reflecting on Three Years of Impact
This post is a collaboration between the current co-leads of the Washington Recreate Responsibly Coalition, Caroline Villanova, National Heritage Area Coordination Manager and Cassidy Giampetro, Advocacy Manager for Washington Trails Association.
For those who love the outdoors, Washington has it all – from river valleys to volcanic peaks, and the lush green forests and dusty purple deserts in between. It is no secret that outdoor recreation is a pastime for many who live and visit here. What is less well known is the collaborative forces that exist to keep these places vibrant, for now and for future generations.
Three years ago, the COVID-19 pandemic changed the way we interact with our world. Public lands closed overnight, creating confusion about where to go outdoors and how to stay safe. To prevent more chaos and conflict, public land managers needed a collective response to this rapidly evolving situation – and they needed the help of nonprofits and local businesses who could move more nimbly than government agencies.
The Recreate Responsibly Coalition was born.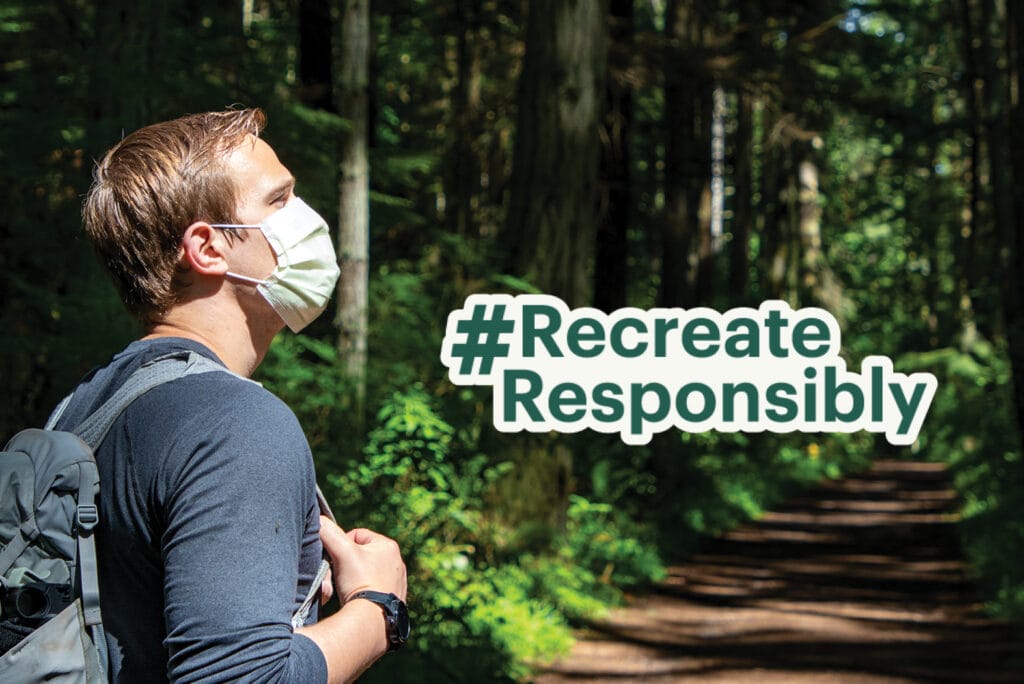 The coalition brought together partners from Tribal, federal, local, nonprofit, and private entities, including Washington Trails Association and Mountains to Sound Greenway Trust. As more and more people found respite in the outdoors, the coalition created a unified public message and public health response for the people spending time in nature. Born in Washington, the state coalition inspired a national model of cooperation and led the country in outdoor messaging to meet the moment. #RecreateResponsibly soon became a household name.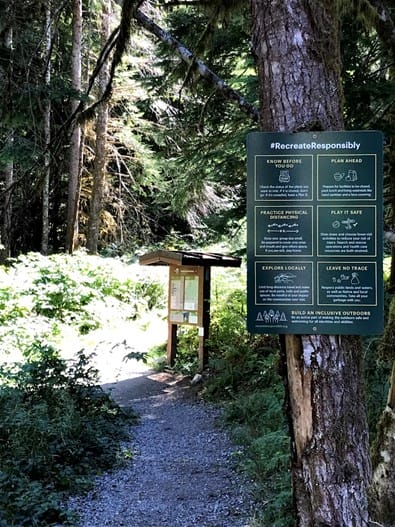 Eventually, RRC moved out of being just an immediate response to a global pandemic. We had entered a new era of recreation, one that grappled with increased visitation and a wider recognition of inequities in access. Beyond just messaging and hashtags, it was clear this coalition could be a resource for both those managing lands and those spending time in them. The coalition partners recognized this group had to be different from the past, reflective of the dynamic landscapes and communities that make up Washington.
Washington's Recreate Responsibly Coalition (WA RRC) has continued to offer a shared space to address our collective impact when we venture outside to some of the most beautiful and fragile places across the state. Three years since its start, the national coalition is still going strong, present in multiple states with more than 3,000 organizations taking part. Here in Washington, Washington Trails Association and the Mountains to Sound Greenway Trust shepherd the group of more than 190 members, including organizations such as all of Washington's state land management agencies, Y.E.T.I., Climbers of Color, Conservation Northwest, and more.
WA RRC has emerged as one of the strongest lasting spaces that not only connects land managers with each other, but also creates synergy across the recreation spectrum. While you are out on trail, partnerships and projects developed behind-the-scenes in this coalition show up in your experience outdoors.
Here are just some of Recreate Responsibly impacts since it began three years ago:
WA RRC brings diverse groups in outdoor recreation together, including land managers and the organizations that connect people and community to the outdoors. In doing so, the coalition is a place for connection around topics that impact both the users and the managers, which brings collective insight and action on issues related to public lands. This is directly impacting state-wide recreation planning, as seen in Washington Department of Fish and Wildlife's (WDFW) recently published 10-year recreation strategy. "We reference the RRC as an important player and partner in Washington's outdoor recreation space. Personally, I hope it continues to grow and do even more," says Joel Sisolak, WDFW's Lands Planning and Recreation Manager and co-lead of WA RRC's Recreation Planning and Impact Workgroup.
Collaboration is a core component of this coalition, and this shared space has built bridges and spurred countless one-on-one partnerships, campaign boosts, and new networks. Relationship building has been centric. For example, in 2023, a group of outdoor and environmental groups based in and serving South King County communities got together, propelled by the relationships they made within RRC. Through their organizing, the group connected on regionally-relevant themes related to barriers and opportunities for outdoor access. That group was facilitated by David Dunphy of YETI, who co-leads RRC's Land Stewardship and Volunteerism Workgroup.
Since COVID, the Recreate Responsibly guidelines have garnered more than 5 billion impressions, encouraging a sense of stewardship and care for the outdoor spaces we visit. You may likely see similar messaging when visiting the Mountains to Sound Greenway National Heritage Area, Mount Rainier National Park, or even a park in another state! Today, the guidelines have grown to remind us all of essential responsible recreation ethics for the various kinds of outdoor activities we may love – from water safety to camping and even what to consider when creating your own social media content.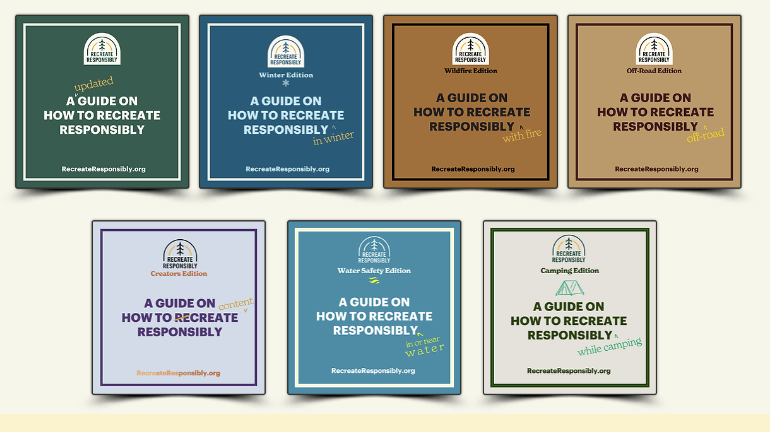 The guidelines offer a base of values to take with you on your trips, and to expand upon as you adventure and learn in the outdoors. We want the same principles that brought the WA RRC together to continue and grow – and you are a part of that. Stay up to date on the newest editions of the Recreate Responsibly guidelines by subscribing to this newsletter. Consider ways to refresh you and the folks you venture outdoors with on seasonal guidelines – like winter and fire – and practice the Recreate Responsibility ethic on trail. Through your choices and your actions, you can lead the way in creating an inclusive, informed outdoor community!
"It's thanks to so many individuals and organizations that the Coalition is continuing to bring so much value to evolving needs in our state." says Caroline Villanova of Mountains to Sound Greenway Trust and Cassidy Giampetro of WTA, co-leads of WA RRC. "We're excited about what our Coalition can accomplish in years to come."